The 2015 NFL Draft is only 11 days away. Mock Drafts have been mixed and twisted every which way to accommodate what's possible for NFL fans, though experience tells me we'll see something totally different on draft day...
At times, this whole lead up to the draft seems scripted; teams building up players with "Pro Days" and private workouts to hide their true intentions. There are the teams who ask other franchises to help them out: "You test this player for us, and we'll test another one you're interested in, for you..." All to hide draft day plans from teams who may be picking before them on draft day?
*****
Am I the only one who gets a chuckle out of the extensive background checking the NFL puts some players thru? Internal team security and private detectives dive into a player's life like they're going to be trusted with nuclear launch codes. The "red flag" tag put on a few players has an almost "McCarthy-esk" black-list feel to it at times...
*****
The hoopla around quarterbacks in the draft each year borders on the absurd. Yes, a franchise signal caller is a special breed of player. But every year the NFL seems to dredge up at least two candidates to project high, then begin to mercilessly - endlessly - dissect their college pros and cons. I'm really not sure why the media goes to the lengths they do, other than to have something to write about during the NFL off season doldrums. The sad thing is - and I'm one of them - we're more than marginally complicit in raising and dashing the hopes of kids who've dreamed of playing in the NFL all their lives...
It all seems to culminate in a torture chamber called "The Green Room" on draft day. As pick after pick is called, cameras begin to turn toward the player who "unimaginably" begins to drop. We're treated to the angst and embarrassment, while analysts posit why he hasn't been picked?
*****
I'll go on record here as saying I think Jameis Winston is going to wind up being a pain in the proverbial butt for the team who selects him. While I don't deny his football skills are top notch, there's something about him - to me - that screams: Con Man. In my opinion, the only "true" franchise quarterback in this draft is Oregon's Marcus Mariota.
My dark horse quarterback in this draft - who I think could wind up being a starter in the NFL - is: Washington State's Connor Halliday. The odds are against him, but there's something about how he stands in the pocket that impresses me.  He's run multiple offensive systems to great effect, has a pretty good arm, and possesses those intangibles every NFL coach loves: leadership and field vision. If he can shrink is small wind up before he throws - with the VERY quick release he already possesses - he'll be a late round gem for the team who selects him...
*****
I wonder just how mad New York City officials are at Radio City Music Hall for losing the annual NFL Draft extravaganza? The NFL moved it to Chicago this year, and I don't think it will be going back to "The Big Apple" anytime soon. Don't be shocked if Rodger Goodell turns this into a "Bid" event every year, with cities vying to host the draft.
*****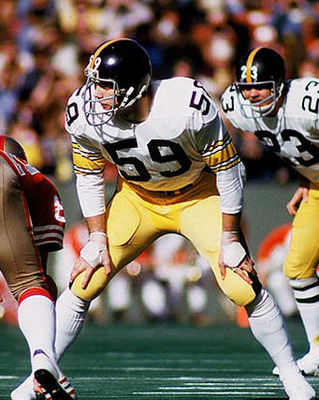 I've begun to wonder if a "true" outside linebacker is becoming a vanishing breed? If there's a position in this draft that's beyond thin, its OLB. They've morphed into hybrid defensive ends/OLBs, with pass rushing as their primary skill set.

The ability to cover tight ends has caused the "Jack Ham's" of the world toward the edge of extinction. Ham only logged 25 sacks in his career, but earned his Hall of Fame status through being the tough as nails linch-pin for the famous "Steel Curtain" defenses of the 1970s.
*****
I'm not sure I ever seen this many NFL teams who appear to be on the verge of turning into play off contenders? Conversely, I'm rather shocked at the number of teams who could very well take a big time fall in the 2015 season...
On the rise, St. Louis - filled with first and second round talent - moved on from dreaming a great young man like Sam Bradford can get them to the promised land. I have my doubts that Nick Foles is really the answer, but the rest of this team is really impressive. Offensive line help should get them into the post season discussion early on in the coming season.
In the AFC East, don't look for New England to easily prance their way to a division title in 2015. Buffalo, New York and Miami are going to make this one of the best divisions in the NFL, with an accent on "defense". Tom Brady is in for a rough outing in the AFC East.
AFC West fortunes are going to shift from Denver to San Diego, barring any "moving North" detritus. The Chargers have a VERY good roster going into the coming draft. Kansas City only needs to catch a few touchdown passes to move into the post season chatter.
On the "sinking-side": Denver, San Francisco, New Orleans, and New England could be in for a tough time this season. The Patriots have serious defensive secondary and line issues. The 49ers are in roster-free-fall right now on defense, so we'll see just how good the last two or three NFL Drafts will play out for GM Trent Baalke. The Saints went on a salary cap dumping spree, deleting quarterback Drew Bree's offensive weapons.  In Denver, the Broncos lost key players across the board. How Peyton Manning will fare in what is likely his last season is anyone's guess.
*****