Non-Playoff Teams Who Can Make It In 2014: NFL.com

After a wild, roller-coaster ride through the regular season, 12 teams moved on to the playoffs. But what of the 20 squads that missed the cut?

Top Needs For All 32 Teams In The 2014 Draft: NFL.com

With the NFL regular season completed, here's a look at the draft order, with the top three draft needs for each team. What does Daniel Jeremiah think are the Rams' biggest needs?

Clowney and Bridgewater Declare For The Draft: NFL.com

Jadaveon Clowney and Teddy Bridgewater will both enter the 2014 NFL draft. It's good news if you're a Rams' fan. The phones at Rams Park are probably ringing already.

Jeff Fisher Says the Rams are "Closing the Gap" In The NFC West: ESPN

Jeff Fisher said he believes his team was better at the end of 2013 than it was at the end of 2012. Fisher also said that his team is closer to overcoming its NFC West division foes. You can watch his Monday press conference here, via the St. Louis Rams' Official site.

Austin Far From Satisfied With His Rookie Season: ESPN

Nobody had higher expectations for St. Louis Rams receiver Tavon Austin's rookie season than Austin himself. As the first skill position player drafted last April, Austin was expected to come in and jump-start the Rams' offense and special teams with his combination of speed and elusiveness. While there were flashes of all of that -- he took over and dominated the team's win against Indianapolis -- the thing lacking most was consistency.

Analysis Notebook- Defensive Player of the Year: Pro Football Focus

Robert Quinn's name has been thoroughly embedded in the defensive player of the year discussion for a large part of 2013. How does he stack up against the other DPOY nominees?
You may not have loved the Rams' decision to move up to No. 8 to grab WVU wideout Tavon Austin. You may also not care for PFF's grading system. Well, like it or not, they're providing end of season grades to each of 2013's first rounders. Mr. Austin is the only player drafted inside the Top 10 who'll finish the season with a positive grade.
So the 2013 NFL season is in the books and while that means it's time for the awards season it's also time to give due recognition to those players finishing the season strong. Only
J.J. Watt
graded better than Robert Quinn in the final month of the season…that's some good company.
After completing his season with Texas A&M, quarterback Johnny Manziel dodged questions about whether he would turn pro early. It has been long assumed that Manziel would declare for the NFL draft. However, the question of how good Manziel will be in the NFL lingers. One scout recently compared Manziel to retired quarterback
Brett Favre
.
Will Rams Stand Pat or Keep Trying at Wide Receiver
:
St. Louis Post Dispatch
Jim Thomas raises the question that Rams' wonder ponder every year prior to the draft. It's clear the Rams' have a lot of potential in their young wide receiver corps, but the early round selections just haven't panned out to be dominant, game-changing players…at least not yet. The Rams may not have a "true number one" receiver on their team right now. Do they continue to search for one in April's draft?
Rams Must Consider Offensive Line Options
:
St. Louis Post Dispatch
The Rams have taken major steps rebuilding the roster in two seasons of wheeling, dealing, and drafting under coach Jeff Fisher and general manager Les Snead. But just when it looked like much of the heavy lifting was done, the Rams could be facing a major renovation project on the offensive line.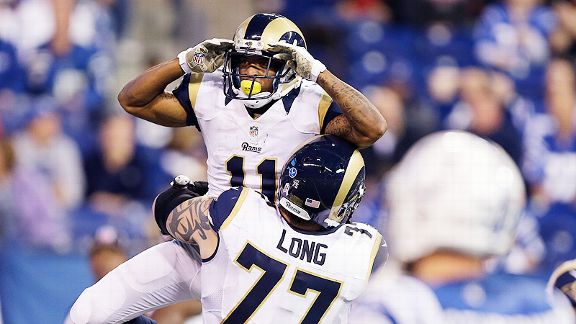 The 10 Worst NFL Franchises Over The Past Decade
:
Football Nation
It's easy to recognize the best teams in the NFL. They regularly appear in the postseason and the elite have a Vince Lombardi Trophy or two on display. Surprisingly, the league's worst teams are fairly easy to identify too. They're constantly starting over with new general managers, coaches and players. Then, three to five years later the cycle begins again.
Looking Back at the Rams' 2011 Draft Class
:
Ramblin' Fan
Let's take a look back at the Rams' 2011 draft class, and reminisce over how great an idea it was to select Robert Quinn.
Lance Kendricks
and
Austin Pettis
are still around too, but that about does it for a draft which isn't even three years old. Ramblin' Fan provides us with a little what-could-have-been if the Rams made better decisions. Passing on
Jermale Hines
[who? exactly!] could've landed the Rams with…
Richard Sherman
.
It's hard to believe that the 2013 NFL season is finally over which means for the Rams rookies, there first NFL season is in the books. They say it takes three years to fully analyze a draft class, but we will take a look at this year's draft class anyway, grade each player's season performance, and see if the Rams would have gone in a different direction if they knew what they know now.
While twelve teams are busy preparing for battle in the NFL's postseason, the remaining 20 begin preparations for the 2014 year. The league's offseason is quickly approaching, with free agency right around the corner. There could be some major trades upcoming…including one involving the No. 2 pick in April's draft.
The NFL regular reason is over, and you know what that means: Awards season has begun! It's that time of the year for final arguments about who deserves football's hardware, but rather than rehash the cases for MVP, Defensive Player of the Year, and which rookie running back ran for the most yards, Grantland decided to come up with a few awards that aren't actually handed out.
Walt got a little spry on Wednesday, and decided that it's time for the Rams to accept a trade for the No. 2 pick. The
Buccaneers
simply couldn't imagine a life without Jadaveon Clowney. What did the Rams get in return? Nothing apparently…
With "Black Monday" now come and gone the focus for many franchises turns to the roster for 2014, specifically players who may not qualify. Spotrac's compiled a list of offensive players who are rumored to be on the chop-block this offseason, detailing both the cost to cut them, and the savings to the team. You'll notice a familiar name right at the top of the list.
There's a recognizable name on this list of defensive players
, as well.
There's only one bowl game on Thursday, but it should be a great game between Alabama and Oklahoma. You probably watched about six games yesterday, so that should "tide" you over until 8:30 p EST tonight. See what I did there?
*****
You can follow Brandon Bate on Twitter at