The Rams were offered the tiniest sliver of the American broadcast audience for their game yesterday, as the marquee matchup between the 49ers and Packers took up about 98% of Fox sets across the country: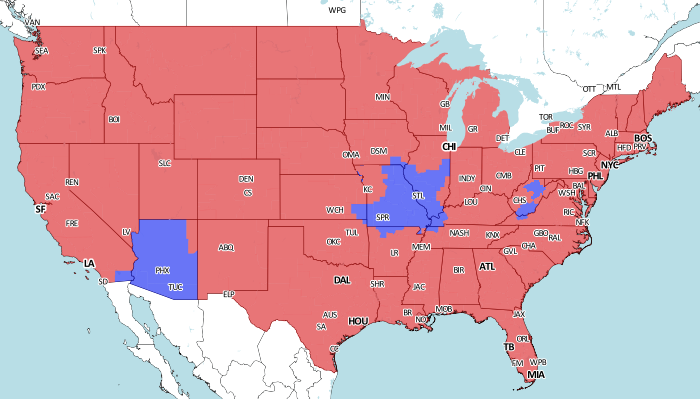 That's the Rams-Cards game in blue. Most of Arizona, the whole St. Louis area and a splinter in West Virginia -- that's who had this game broadcast to them. Sad that they missed an entertaining game, but we've got to win our way back into the national football consciousness.
Onto my notes from the game:
- I'm not sure I've been this impressed with the individual talents on both sides of the ball since the GSOT. Jared Cook, Tavon Austin (and yes, I'm still completely on that train), Robert Quinn, Janoris Jenkins, Greg Zuerlein...there are some seriously skilled players on this team. Alec Ogletree might be in that group one day. And between Sam Bradford, Chris Long and Jake Long, you've got some really, really good components to mach the flash of those guys.
- Jared Cook. For real. It wasn't just the plays themselves, it was the composure to deflect the self-doubt he had to be facing after Mathieu got to the ball just before it crossed the goalline. It was the ability to shake off two plays where he and Sam Bradford clearly weren't on the same page. It was the effort to stretch the ball over the pylon and finish a play while having the savvy to keep his feet in bounds before diving. He's set the bar really damn high...
- Sam Bradford had a really good game that was marred almost entirely by one very damaging mistake. And put bluntly, he has to avoid that from happening. Pump fake, arm angle, waiting just another half second -- however he makes sure that doesn't happen again, he has to. That one play aside, Sam was damn good. If Mathieu doesn't save that touchdown, Bradford finishes with more than 300 yards passing and 3 TDs. Of course it helps when...
- ...you're not sacked once. Arizona's passing defense was 3rd in completion percentage, 13th in yards per attempt, the second-most interceptions, tied for the 11th most sacks and fifth in yards per game allowed. This was a very successful passing defense a year ago, and they added Tyrann Mathieu. The Rams were facing a defense that can get at QBs and make them pay, and to a large degree, they won that battle.
- One area they didn't have notable success in was the running game. Was it marginally productive? Yes. Is that what I expect with Daryl Richardson taking 20 of 21 carries? Yes. Zac Stacy had perhaps the biggest hole in the game (likely because Arizona was sitting on the pass with Stacy in there for pass pro...) and took it straight into a linebacker. Daryl Richardson did Daryl Richardson, eking out 2 and 3 and 5 yard gains where available. This running game is designed to provide a series of small positive gains that sets up shorter crucial downs, and that's what we got yesterday. It's not flashy, but it can help the passing offense out.
- Back to something else that worked -- the run defense. The Rams RBs averaged 3.19 yards in their 21 carries. The Cardinals? 3.31 in 26. Neither team was moving the ball well on the ground yesterday, but credit the Rams' D-line with really impressing yesterday. That's going to affect gameplanning for opposing offenses these next couple of weeks, especially if the Rams can hold down their former centerpiece running back in Steven Jackson...
- What does Greg Zuerlein have to do to get more love? He's easily one of the best as his position in the entire league. He's a gamechanger.
- I am a bit concerned that the Rams didn't have a lot in place for Tavon to open up. The reverse and one dig are all I remember. It's a long season though and perhaps this is something to build on. Besides, I'm less worried about talent than I am a lack thereof. In order to underuse a Tavon Austin, you have to have a Tavon Austin to underuse...
On to the big two items...
- Penalties. Both teams racked them up with ease, but as Birkhead noted, this may be part of the territory. I don't know that I'm comfortable with that. The negatives are going to outweigh the positives when your tenacity and physicality is earning 15-yard unsportsmanlike conduct flags and back-to-backing your holding and false start calls, and the Rams definitely do not yet have an offense that can erase those setbacks.
And of course...
- Playcalling. It was trying at times. Others, it was [insert German word here for violence combined with a hatred for all of mankind, something like zerschlagenGewaltMenschensterben...]. The ending to the Rams' drive after the interception returned for a touchdown was the kind of overly conservative call that we've seen from previous regimes that helped ensure they were on their way to becoming previous regimes. After converting a 3rd and 3, Daryl Richardson gained 9 yards on 1st down; that the Rams didn't pick up a 1st down with two opportunities to gain one yard tells you something about the situation. The Rams knew what they were going to do. The Cardinals knew what we were going to do. They won.
We, perhaps, shouldn't do that again.
Earlier in the 3rd quarter, the Rams opened with a Trumaine Johnson interception to end the Cardinals' first second-half drive. 1st and goal from the 4 turned into 2nd and goal from the 4 turned into 3rd and goal from the 7 turned into 4th and goal from the 7.
We, perhaps, shouldn't do that again.

The Rams opted for a conservative defensive shell that cut out deep and sideline work to start the game. This forced Carson Palmer to appropriately read zone defenses and avoid the temptation to take more than what the defense was giving him. Carson Palmer, sadly, wasn't a rookie with a penchant for showing off his arm (we might have gotten the scouting report mixed up with someone else...). Given that look, he understandably went to work carefully picking apart the middle of the field and exploiting the incapability of the linebackers to commit to two roles at once. Give the staff credit for trying a couple of different things after halftime. There were more blitzes, tighter work on the outside and even something that looked like it was supposed to be a bump and run against Larry Fitzgerald in the middle of the 3rd quarter. Somehow, Cortland Finnegan (and perhaps that needs an "& Co." on it, but it was so messy, I'm not sure what the hell it was supposed to be...) let Fitzgerald get off the line unperturbed and make an easy TD play to extend the Cardinals' lead to 10, and the subsequent 11, points.
We, perhaps, shouldn't do that again.
Was it a one-game scheme? Maybe parts of it, but we've seen plenty that nightmare inducing "pushin' cushion" before. We're going to see it again. And for the most part, I'm ok with it. As I mentioned above, it takes away the edges of the field. Between the pass rush (hello, Robert Quinn national breakout season game one), the talent among the cornerbacks and not having Craig Dahl at the back, it's a strategy that can lull a lot of quarterbacks into complacency or uncomfortability. After Palmer threw that interception and the Rams scored a field goal to open the second half, the Cardinals' next drive was finished out as a 3rd and 3 saw just a paltry 2-yard gain from Larry Fitz. That sequence could shake a lot of offenses, so credit Palmer for not panicking and engineering that TD pass on the broken coverage shell to Fitz. It was a drive on which the Cardinals converted three 3rd downs and picked up another on 2nd down after a holding penalty set up a 1st and 20 that looked to be a great setup for the Rams to close out the drive. It didn't happen.
We, perhaps, shouldn't do that again.
For all the things we shouldn't do again, you'd think we were in serious trouble, yet it was the Cardinals who rode the fortunes of luck early. Without the Mathieu strip on Cook's would-be TD and Michael Floyd's ridiculous "What is that in my arm? Is that the football?!" catch, the scoreline likely looks very, very different at halftime. Who knows what that would've done to change things around for the second half.
With plenty of football left, the Rams won't be able to get out of a hole like they carved for themselves yesterday often. They did, however, summon enough when it was needed to get a crucial opening week win.
We, perhaps, should do that again.