The Rams are undefeated. This is significant.
We've talked about the season opener plenty this week. The grind of a 16-game NFL regular season is just that: a grind. It begins, it ends and in between is a cornucopia of momentary battles that determine the eventual outcome.
To begin that grind on a successful note, something the Rams haven't done since 2006 incoincidentally the last season they avoided a losing record come season's end, matters. No, it's not everything. The Cardinals team the Rams beat last weekend opened their 2012 campaign with a four-game win streak to then go 1-11 over their final 12 games.
Again, this is a grind.
But their is no bad to be had out of winning. It is the panacea. And the Rams needed the semblance of one. Badly.
So now they tug their metaphorical helmets and enter the season with no sense of Christmas giftness attached. The looking back is as important as looking ahead. And for this Sunday, the contest offers a supreme challenge in a Super Bowl-wishful (and I do not mean that derisively) Atlanta Falcons team. The season is on. The work is yet to be done.
Welcome to the grind.
For game-related info, check out the SBN page for the game. For Falcons news leading up the game, check out The Falcoholic.
Other previews: stlouisrams.com, Rams Herd, Rams Gab, Rams on Demand, Yahoo! Sports, CBS Sports, NFL.com, ESPN
Sep. 15, 1:00 p.m. ET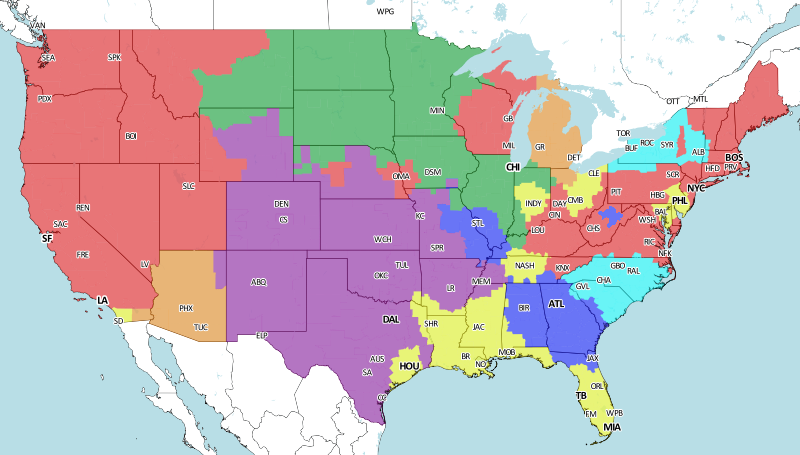 * - Rams-Falcons broadcast being shown in blue
ATL pass v. STL pass D
This could be the battle that determines the eventual victor. Focusing on the skill players and not the line, Atlanta's got plenty of talent even if Roddy White is sidelined. Matt Ryan, Julio Jones, Tony Gonzalez, Steven Jackson...that's a lot of talent to put up on a single team. So this is a unit that can do damage. The Saints did a pretty respectable job holding Ryan to a 25/38, 304 yd, 2 TD , 1 INT performance, including a huge late stop at their own goalline to close out the win. And yes, 17 points out of the 2013 Falcon should be seen as a praiseworthy defensive effort against this team. They were held to under 20 points only twice last year in their 16 regular season games and the pair of playoff contests. As was evident last week, Harry Douglas has a significant role to play in White's absence.
So for the Rams, it's a difficult situation to pose. Cortland Finnegan's coming off of perhaps his worst game as a Ram. Janoris Jenkins is going to have his hands full even if the Rams open with the "Cushion of Death." The safeties are largely a question mark, an underplayed reason why the CoD likely exists. It's a test, and honestly the Rams should welcome it. For the youngest team in the NFL, these kinds of trials by fire can either be a catapult into dismay or a force for growth. With Jeff Fisher at the helm, the latter's got the better odds.
ATL run v. STL run D
Emotions. Seeing Steven Jackson in an Atlanta Falcons uniform was odd last weekend. Seeing him running into a Rams defense in one will be completely unsettling. Welcome to the business. As much as Jackson gave to this franchise, there are question as to what he'll provide to the Falcons this season. Through one game, that was as much as one big run and a host of mostly forgettable efforts. Throw out his 50-yarder, and AxJax pulled just 27 yards on 10 attempts. Something is to be said about the O-line, but let's save that for the next spot. And yes, it's worth mentioning that SJ39 was very effective in the passing game last Sunday grabbing five catches on eight targets for nearly 50 yards. Concern should be paid.
For the Rams, it's a different test than the passing game. The run defense was improved in 2012 and through both the preseason and week one of the regular season, it's looked the part of a quality unit. It wasn't stellar against the Cardinals, but it was certainly sufficient. This is definitely an opportunity for this defense to make a statement that it's not all pass rush. Alec Ogletree was productive in week one, and for his natural talents he can certainly improve over this season. This is an opportunity for a rookie standout performance.
ATL O-line v. STL D-line
This is the odd man out. Atlanta's offensive line, particularly at both tackle spots with LT Sam Baker and RT Lamar Holmes, looked vulnerable last week. That may be too nice.
There's no reason Rams fans shouldn't be expecting the Rams' D-line to make an impact here. You can make an argument that if the Rams are to win, that impact needs to be made early to force the Falcons into a gameplan less comfortable. We'll need to see if Chris Long is 100%, but this line is deep. Eugene Sims and William Hayes are at a minimum very good backups. The Rams have to win this battle to contend.
STL pass v. ATL pass D
Ah the great equalizer of known unknowns -- the Rams' passing offense. Sure, the unit they faced was troubled with the Saints' passing offense...but it's the Saints' passing offense. And with Asante Samuel out, Atlanta was forced to plug two rookies at corner in week one: Desmond Trufant and Robert Alford. They weren't that bad, all things considered. And they've got solid safety cover in William Moore and Thomas Decoud.
So while there's a sliver of an opportunity here, it is the Rams' passing offense. And if anything, the questions loom larger in week two than week one. How productive can Jared Cook be all season with defenses paying more attention to him? How will the Rams continue to modify their usage of Tavon Austin? Will defenses force Chris Givens underneath? How long of a leash does Austin Pettis have before Brian Quick at least gets a shot to replace him outside of red zone opportunities? Why do we have all these questions about this unit? What is it like to have a playoff team and bring back most of your roster to have a sense of how good you are and what it is you want to do without flailing from an analytical standpoint into a sea of possibilities and hypotheticals? Shouldn't we just sign Steve Smith again?
STL run v. ATL run D
Well. This is going to get interesting. A developing linebacking corps for the Falcons was very effective at limiting the Saints last weekend. The natural talent of Sean Weatherspoon is always going to stand out, so the Rams will need to have a good plan to always have a hat ready to stick on him to lead the way...
...and they're going to need it, because this Rams backfield needs help. Daryl Richardson gave a very Daryl Richardson performance in week one. Slogging off handfuls of yards makes your 2nd and 3rd downs easier, but that's not what we remember Steven Jackson for. Zac Stacy probably had the best hole created all game by the Rams' offensive line, and he proceeded to take his one carry directly into the abdomen of the closest linebacker. Isaiah Pead is coming off of his one-game suspension with his stock, and appreciation among the fans, at its lowest point ever. There are easier battles coming up, so this isn't the prime opportunity for the young RBs to break out. On the other hand, it would say something if one of them do. If Pead gets a couple carries and does something positive with them, his door swings wide open. Stacy still has room to grow; a big 1st down conversion or pass block could solidify his role. And Richardson is well-suited for this offense. He's got a role to play, and as long as he plays it he'll have chances to help the offense.
STL O-line v. ATL D-line
Well Atlanta's D-line isn't without experience. Between their starting line of DTs Jonathan Babineaux and Corey Peters and DEs Kroy Biermann and Osi Umenyiora, you've got a collective 30 years of experience or 7.5 per man. Compare that to the Rams' 17 an 4.25 rate, and you're dealing with plenty of NFL savvy among the Falcons' front four.
For me, the offensive line has the chance to be the underserved storyline of 2013 for the Rams. Between the signing of Jake Long, the contract year for Rodger Saffold, the grizzled veteran skills of C Scott Wells and RG Harvey Dahl matching the question mark at LG currently held by Chris Williams ahead of Shelley Smith...we know Oline Coach Paul T. Boudreau has done a wonderful job in his tenure. But this team is improving. It's possible this incarnation of the line gets left behind. On the other hand, if he can coax out enough positive performances yet again, it could be the glue that holds this team together.
This week's top 3 storylines brought to you by my three favorite football foods:
1.) Sammiches

Don't take this incorrectly. There is a stark difference between sandwiches and sammiches, and it's beyond pastiche. Sandwiches are properly affixed conjoinders of bread, meat and legume components. They are tea sandwiches writ larger. This is not to say they are not delicious or that they should not have a place in your repast roster. They are pretty. They are delicate. And, done well and served at the right time, they're awesome. But they're not sammiches. Sammiches are hulking masses of animal flesh with tangy sauce holding some mix of vegetable and more flesh. This is a sandwich. This is a goddamned sammich.
There are games that are going to be won on technique. On execution and finesse. There are others that will require physicality. Barbarianism. Will. If I'm betting, this falls in the latter. Be a sammich on Sunday, boys.
2.) Wings
I have met a few people who do not like chicken wings. They are the oddest of people. It is a position on food that do not understand at all in any sense. There is the balanced texture of crispy outside and the tenderness of protein-laden chicken. There is the innate neanderthal-readiness of something so perfectly suited for human hands and the Freudian infant in us surfacing when somehow you've covered half your face with a sauce much like you probably did with cake or spaghetti sauce or whatever you could smear on your face when you were two years old. But most importantly, wings are versatile. You can go tangy, sweet, garlicky, acidic...hell, you can just have straight up chicken wings and they're great. They hold dipping sauces with the perfect lack of unctuousness. They're perfectly suited to a palate-cleansing raw vegetable. They can be or do nearly anything.
The Rams will have to be firing across all units to succeed here. The offense? It needs to find success in the run and the pass balancing both off one another. It needs pass pressure up front, cover in the passing shell whatever form it takes and some tenacity up front to limit Steven Jackson to a pedestrian day. Be wings on Sunday, boys.
3.) Fried Anything

Yes, I recognize this is neither specific nor universal. I don't deny my biases. I come from a family and a culture where food has a special place. We do Thanksgiving big.
We had 2 fried turkeys, one smoked turkey, ham, pork roast, ox tail, short ribs, 4 dressings, sweet potatoes, mashed potatoes, roasted vegetables, green beans, chopped salad, bread, pumpkin pie, sweet potato pie, pecan pie, oreo dirt cake, coconut cake, pecan cake, and pecan cookies.
That is not for as many people as you think it was for.
When we go big, we go big. A small farm's worth of chickens. Whole hogs. This is Louisiana made real.
I've always held that if I had Last Meal decisions to make, it would be easy. Red beans and rice. Stereotype confirmed. But for football, there is something about fried foods that my soul, my soul, requires.
Fried catfish, fried jalapenos, fried turkey, fried chicken, fried okra, fried shrimp, fried pickles, THE EINSTEIN-LEVEL GENIUS THAT GOES INTO NEW CREATIONS FOR THE TEXAS STATE FAIR (seriously click that...)...this is my manna.
The Rams are 1-0 for the first time in too long. Getting to 2-0 would indescribable. Be fried foods on Sunday, boys.
Go Rams.