The St. Louis Rams claimed former 2011 third-round offensive tackle Joseph Barksdale when he was released from the Oakland Raiders last season. Injuries on the offensive line forced the Rams to start Barksdale a couple of times. Obviously you won't confuse Barksdale with Jake Long, but during the long, brutal season, the Rams are hoping Barksdale can be a capable backup tackle.
Depth is underrated. Last year proved how much the Rams needed depth on the offensive line. The Rams were forced to play anyone that could block, as well as Wayne Hunter, because of how many injuries they had on the offensive line. Barksdale is a solid depth option for the Rams and he will more than likely end up on the final 53 man roster.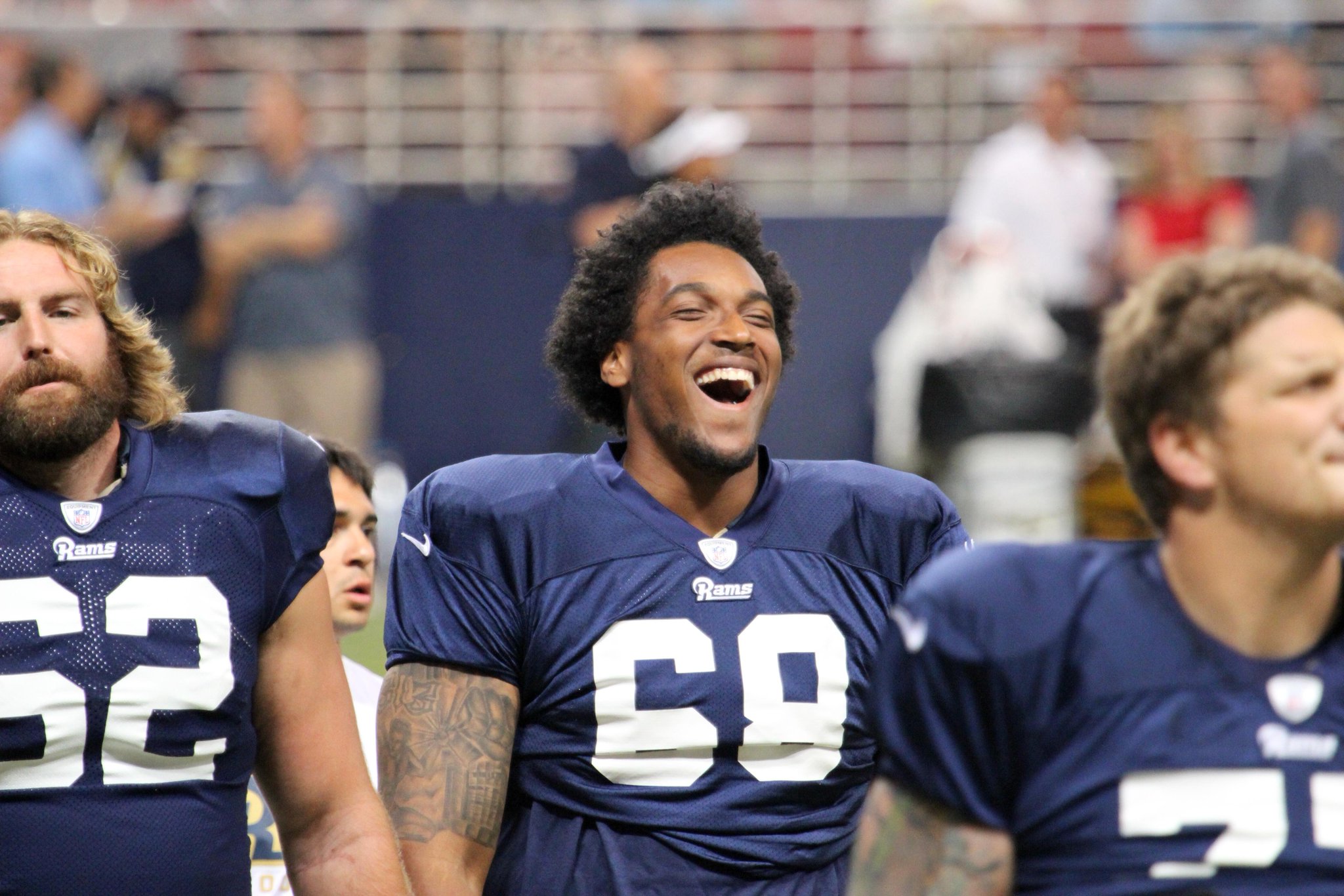 (Photo via Daniel Doelling)
Even though Barksdale might be a depth player that will only play during emergencies, he is still a member of the Rams. Here's an excerpt from his interview with Max Strauss.
Strauss: What was this offseason like for you?

Barksdale: I think it was a pretty good offseason. I was on a pretty good training schedule. I have done my college workout from LSU, which is what got me to the NFL, so I'm not going to abandon that. I also trained with Jackie Ray Slater, the Hall of Fame Right Tackle for the Rams who played about twenty years. I think it was the right move for me to take the next step as a football player.

There's a lot of stuff, being a guy that switched from defense to offense, that I still do not know. A lot of offensive linemen have been playing that since they were kids. I am getting down some technique stuff that I never learned before, from my time with him. I think he's going to be a great resource for me. If I'm having a problem with football, I now have a guy I can call up who's done it before.
Strauss: You got your first start this season with the Rams. What was it like to know that you were a starter and had that responsibility?

Barksdale: The same way, it was in college. Walking on the field, the first thing you think is "I don't want to mess up." It was an interesting experience, especially with my situation. At the end of the day, it lets you know for one, you can play in the NFL and two, you have a chance to be pretty good. It was just another motivating factor for me to keep working and keep getting better.



For the rest of the interview with Barksdale head over to Prointerviews.org.