First, it was the 400 lb. man, Terrell Brown. Yesterday, it was 2012 5th Rounder Rok Watkins. If you need to unbutton your pants after a meal, you're not Rams material. Enjoy your dressing-free salad at lunch today, Joe Barksdale!
It was a good run for the Rams' starting left guard [hopeful]. Not really a run, though, because Rok hated running. He didn't care much for any activities that didn't involve a fork. On Wednesday, he hit the showers one last time…but as you know, he did so only so that he could
EAT. MOAR. CHICKEN
Bill Belichick…The Human
:
NFL.com
The Patriots' Head Coach spoke to the media about the recent transgressions of the Aaron Hernandez case. He takes some level of responsibility, describe his disappointment, and ends it at that…
"it's time for the New England Patriots to move forward."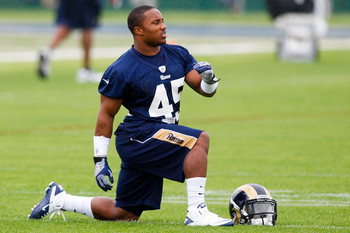 Rams' RB Benny Cunningham Works Harder Than You
:
St. Louis Rams Official Site
One of the Rams many Undrafted Free Agents, the RB from Middle Tennessee State knows the positions he's in, and is doing everything he can to take advantage of the opportunity. Benny Cunningham, who many may think is buried on the team's depth chart, has probably worked harder than most in the offseason. Whether in the gym, on the field, or in the classroom, he doesn't take days off…
Three Position Battles Poised To Produce At Training Camp
:
Rams 101
Brent Lancaster - friend of TST [RamBuck] - and new contributor for
Rams101.com
[congrats again] kicked off his three-part series on Rams' positions battles you'll want to keep your eye on as camp progresses.
Part 1
: Running Backs…
Aaron Rodgers and Ryan Braun…Akim-Bros
:
CBS Sports
If you don't have a Twitter account, I'd highly recommend you get one. First, you can follow RG3's knee situation as closely as you can George Alexander Louis. Also, you can take money from Aaron Rodgers…because he'll put his paycheck on Ryan Braun. They're akimbo. They're bros…
PFT Ranks The San Francisco 49ers as the NFL's Best Team
:
Pro Football Talk
Moving on...
Former Rams Safety Quintin Mikell Has Played Pretty Well At Safety
:
Pro Football Focus
PFF updates is "Page of Fame" at the end of each season, highlighting each positions top scores since 2008. If you're familiar with their scoring, anything over a 15.0 awards you with recognition. There are 19 spots highlighted in this piece, and three of them are occupied by Mikell. Are the Rams going to miss him in 2013?
The Rams Bring The Pressure
:
Football Outsiders
The Rams' defense was on the field for 635 downs in 2012, and they brought pressure on the opposing QB 22.4% of the time; good for 3rd in the NFL. Only the Broncos and Eagles brought pressure on a higher percentage of plays. Opposing QB's: Beware!
Which 1st Round Offensive Rookies Will Contribute Most This Year?
National Football Post
If you paid attention to College Football in 2012 - or the 2013 NFL Draft - you're probably familiar with a few names that could make the list. Which ones comes to mind first? I think it's almost unanimous…
Training Camp Position Battles:
RotoWorld
Adam Levitan highlights a few of the NFL's top RB-battles to watch through training camp and the preseason. With an added Fantasy Football touch [ADP], Levitan addresses the Richardson v. Pead v. Stacy trio and gives his prediction for the team's starter.
Jared Cook "Run Ragged" by Kids
:
St. Louis Post-Dispatch
Two things are apparent to me. Sam Bradford is taking charge of this team, and Sam Bradford and Jared Cook are forming quite the rapport. Between two-a-days and participating in Bradford's Youth Football Camp, the Rams' newest TE certainly got a workout, but he also notes the "bonding experience" for himself and other Rams' offensive players.
10 Amazing Feats You Probably Weren't Aware Of
:
Football Nation
Look, I can already tell - seeing as how you're on Turf Show Times - that you're a smart football fan. It just makes sense. But, it's impossible to know/remember everything about the game. I'm fairly confident that you're very familiar with Feat #1…
Rams' TE Mike McNeill Visits Ranken Jordan Bearing Gifts
:
KSDK.com
I don't live in St. Louis, but it appears to me as though the Rams are very active in the community, and it should make you proud as a fan of the team. Earlier this week, Mike McNeill visited Ranken Jordan - a Petiatric Specialty Hospital in St. Louis - to visit one member of Rams Nation.
Former Rams' 7th Round Pick, George Selvie, Headed To Dallas
:
ProFootball Talk
Remember him? He was picked after Sam Bradford in the 2010 NFL Draft. Way after. Like 225 picks after. In his rookie year with the Rams, he recorded 21 tackles and 1.5 sacks. That's all she wrote. In the past three seasons - in which he's played in Carolina and Jacksonville - he recorded…the exact same stat lines [21, 1.5]. He'll now head to Dallas in hopes of sacking Sam Bradford in Week 3. It will not happen.