Trying to predict how the Rams offense is going to be run - at least this early in the year - would be difficult. The only thing consistent about the team's offensive productivity - for the better part of a decade - would be it's inconsistency. But even in early June, there's a sense that things could be vastly different in the upcoming season.
Steven Jackson has been the focal point of the Rams offense since 2005. The days of relying upon a power back with ability to consistently forge his way through the stoutest of defenses is over, though. Not to say that the Rams won't have an effective running game, but
they're not going to have a rusher who can do this
.
So just how different might the Rams offense look without it's reliance on a proven running back like Steven Jackson? A lot. Bradford's been provided with new weapons of all different shapes and sizes. Adding
Tavon Austin
and
Stedman Bailey
to the 2012 WR draft crop -
Brian Quick
and Chris Givens - suddenly gives Bradford a plethora of big-play options…something he hasn't had since being drafted in 2010. There may not be a mainstay in the backfield in 2013, but the Rams certainly don't intend on abandoning the run. Bradford spoke on the matter on Wednesday:
I wouldn't say more pass happy, but it's definitely going to be a different offense. I think if you look at the speed we have now compared to the speed we've had in past years, we have significantly more speed this year. Obviously with Steven gone, we don't have a big, physical running back. The running backs we have now are a little smaller, but they're quicker in space. I don't know if it means if we're going to throw the ball more. I'd be fine with that. I would definitely think we'd probably move more to the one back world, spread people out. I think that's probably the direction we're going.
"Spread people out." Interesting and refreshing all at the same time. Let's face it, defenses have known what the Rams game plan has been for several years now, and their lack of dynamism made them a very predictable offense. Not knowing what the Rams' running backs are fully capable of may just be one of the team's strengths in 2013. The inexperience and the lack of 2012 footage - for the majority of the Rams' RB's and WR's - make the offense somewhat of an enigma for opposing defenses.
You can game plan for Chris Givens - the team's leading WR in 2012 - but he gave credence to the phrase "easier said than done" when he caught passes of 50+ yards in five consecutive games in his rookie year. Brian Quick played a minimal role in the Rams' offense last year, but his size/speed combo make him a lethal weapon in the red zone. The real question mark for Rams' opponents comes in the way of the duo of Mountaineers selected in April's draft; Austin and Bailey.
Considering they've played the same position… at the same school… for the past three years… one would assume that their rapport and on-field coexistence is not an issue. Their college stats won't prove otherwise. BUT, this is a different team for the rookie wideouts, and it's not lead by
Geno Smith
[all jokes aside]. Though expectations for the Rams' - and their rookies - might be at an all-time high, it's important to remember that a now
Sam Bradford
-lead offense may take time to cohere.
Tavon Austin and Stedman Bailey are new to the Rams' offense. There's going to be a learning curve, and depending on how long it takes to adjust will determine their impact on the offense in 2013. Bradford is encouraged at what he's seen over the past few weeks:
It's definitely come a long way since two, three weeks ago when we first started with those rookies. I've been really impressed by some of the young guys that we've had – Tavon (Austin), Stedman (Bailey) – thought they've done a great job. We're asking them to play a lot of different positions right now. Of course there's still mistakes, but for the most part they've been extremely sharp. The chemistry, I think, is really coming along. We put some time in after practice together and obviously the more reps we've gotten together on the field in practice, things have really started to click.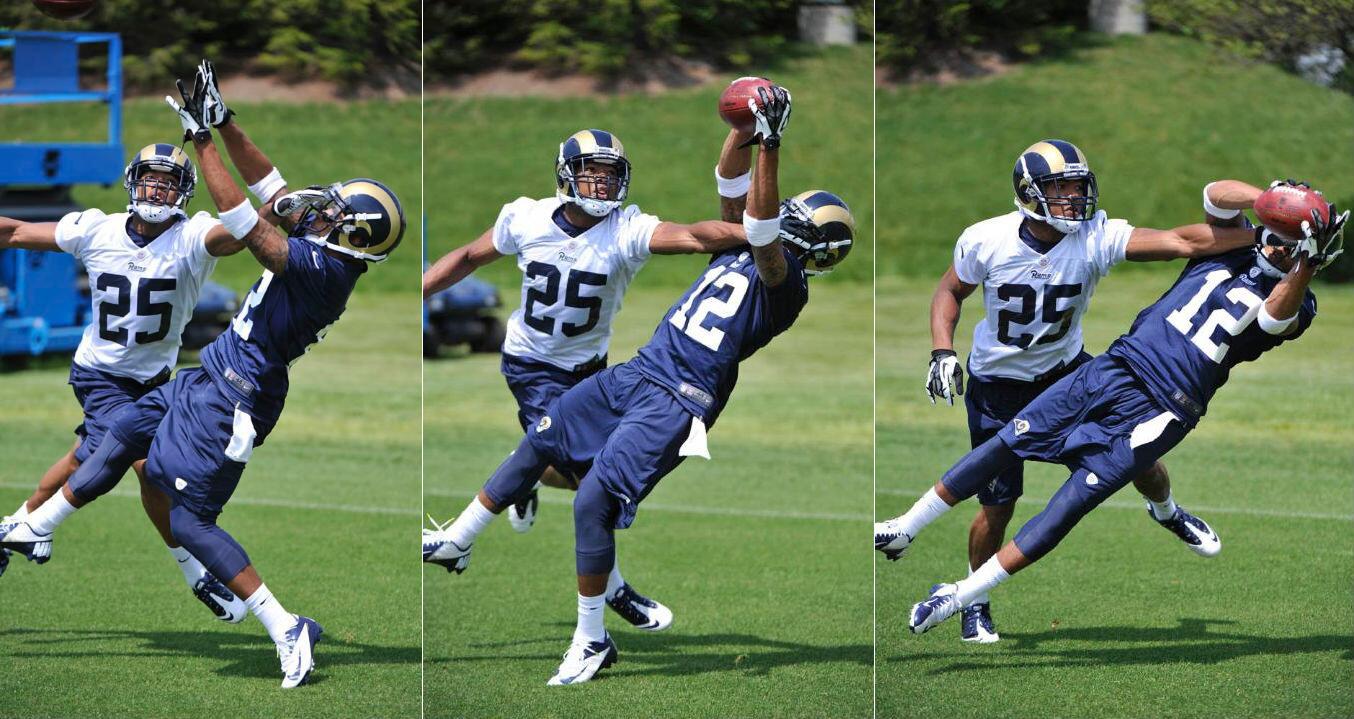 As luck would have it for Bradford - who's grown to accept change since being drafted - he's seen both players and coaches come and go. In 2013, he'll have the 'luxury' of running the same offense for the second consecutive season. It'll also mark the first time in his young career that he'll seek instruction from the same Offensive Coordinator [Brian Schottenheimer] as the year prior. His receivers, though, continue to be a revolving door; with the rookies being no exception. An immediate impact on the offense may be the expectation, but Bradford appears to appreciate the baby steps in acclimating the youngsters of an offense that now looks to him for leadership. Patience - even in imperfection - is a virtue that Bradford holds in high esteem:
A lot of it is just timing. Everyone has different steps, different speeds. They see things and anticipate things differently. Obviously, after working with Danny (Amendola) and Gibby (

Brandon Gibson

) for three years, building our chemistry, it was really good and I had a great feel for where they were going to be and how they were going to run routes. I think the biggest thing is just getting on the same page – how they see the route and how they want to run the route. Then also myself having some input on how I believe it should be run and where the ball should be caught. It's just getting all that timing and steps down
Amendola - often referred to as Bradford's safety blanket - won't be an option in 2013. He'll need to look to another receiver in crunch time. At this point, no one deserves the namesake more than Chris Givens. Givens, who proved he could blow the top off the finest of NFL defenses last year, could be an easy pick for leading receiver this year… and he could also be viewed as the one most likely to disappoint, given the potential breakout potential of Jared Cook, Brian Quick, Tavon Austin, and Stedman Bailey. There were no WR's that Bradford spoke more complimentary of, though, than his favorite target from 2012 :
I expect Chris [Givens] to have a great year. He works extremely hard. I think one of the most impressive things about him these past couple weeks, is we're starting to move him around, too. Where last year he primarily played 'Z' for us, now he's being asked to play inside. He's being asked to go backside and play 'X'. He's a really, really smart football player. He understands the game. He understands our offense. I think by moving him to different spots in our offense, he'll be able to run more routes. There's only so many routes you can run from one position, but when you move him to two or three different spots, you can incorporate him in the whole offense. It just gives him the opportunity to run different routes and be in different spots.
If I could sum that entire statement up with one word, it would be "
trust
." Bradford used the word "
really
" twice when describing how well Givens was picking up the offense, then went on to describe how one role as a wideout wasn't a steep enough test for the second year pro. Bradford wants to challenge Givens because he thinks he's a do-more kind of player. That's encouraging given the fact that he's a 4th round draft pick who put together an extremely impressive rookie campaign.
And though it's easy to look to the weapons provided to Bradford for success, it's incumbent upon him to call [and execute] the plays. Given the talent around him, one would think it would be an easy feat. Remember, though, that Bradford is just now being awarded a second consecutive season of consistent play-calling. He's working with an arsenal of players still acclimating themselves with the playbook. For Bradford, a second year in the same system provides comfort. Fans may need to temper expectations slightly, as the playbook isn't so familiar to all of his wideouts:
For the most part it's [playbook] the same. I think the installs have gone a lot faster. Last year, year one, you really have to start with the basics, with everything. You start with formations. I mean, everything is very simple and then you build your way into third down, red zone, the different situations that you get into during a game. Whereas in year two, we went back and looked at some of the areas we need to be better at and we need to be better on third down. We need to be better in the money zone. So, starting day one we were able to start working on those areas and I think that's been one of the biggest differences, is just the speed that we're able to get to different situations
The Rams are learning. Whether or not Tavon Austin or Stedman Bailey know it, they're an integral part of the progression of this offense. Though they may be attempting to 'catch up' with the WR's from 2012 - at least in terms of familiarity - they're going to have the added advantage of learning from last year's mistakes, and exploiting opportunities. Bradford is gaining experience in the offense, and it's going to bolster the chances of success for all of his receivers.
Even better news - for Rams fans - is that Bradford's enhanced optimism in his cast of wideouts isn't going unreciprocated. Head Coach Jeff Fisher made it pretty clear - when he chose the HC job in St. Louis - that Sam Bradford was a large part of his equation. Sam has confidence in his players, and Sam's Head Coach has the utmost in him: [in terms of Sam running the offense more quickly this year:
He's always had that ability, but you saw things pick up the middle part of the season last year as he became more familiar with what he was doing and his teammates. He's done a great job with that
Not to be one-upped, Sam spoke highly of the "new regime" and how their trust in him has lead to the overuse of the word 'confidence.' There's a different feel...
It's completely different. Obviously, just going into year two, we're comfortable with the coaching staff. We know what to expect on a day-to-day basis. We know how the meetings are going to be run. We know how the practices are going to be run. On the offensive side of the ball - year two of the offense - we're much more comfortable in what we're doing. We're not hearing things for the first time and then coming out here and trying to run them. We've run everything. I think the confidence, just being in year two, when everyone's comfortable, everyone's confident. I think there's just a sense of confidence in this building. We're looking to build upon what we did last year.
There's a lot to be confident about when it comes to the Rams in 2013. The team has a competent coaching staff, has had one of the league's most impressive offseasons, and has loaded it's offense with big-play potential. Possibly more important - and something to note - is that the new leader of the Rams offense seems to be very comfortable with the direction that it's heading. That should make all Rams fans very comfortable in the month of June…