In case you missed it, I recently asked Rams Nation to ponder five pertinent 'can' questions while we await the onset of the 2013 regular season. What they can do is one thing, but how they're going to go about doing it is another. I've got a few more questions for you…
1. How Will The Running-Back-By-Committee Approach Pan Out?

There are going to be several intriguing position battles to monitor this offseason, and figuring out which Rams' rusher is hungriest for playing time ranks atop my list. It's pretty simple, and it boils down to this…

Isaiah Pead will need to live up to the expectations of being a 2nd round [top 50] draft pick, and he hasn't gotten off to a stellar start; having already been suspended for Week 1 of the 2013 regular season. For Daryl Richardson - who regularly spelled Steven Jackson in 2012 - it's his job to lose. He showed off his play-making ability last year, and will look to take advantage of increased carries in the Rams' home opener [with Pead on the sidelines]. Lastly - and speaking of a sidelined Pead - is rookie Zac Stacy. Each of the Rams' RB's have differing skill sets, and maybe none more than Stacy. While Pead and Richardson do the majority of the work between the 20's, don't be surprised to see a healthy dose of Zac Stacy when the Rams head into the red zone.

Saying that the Rams will utilize a timeshare approach is vague, and probably speaks to uncertainty. I'm betting there will be a go-to back by season's end. How will the RBBC approach pan out?

2. How Does Brian Schottenhiemer Utilize All Of His New Weapons?

Potentially the most difficult in my line of questioning, and I wonder if Schottenheimer even knows the answer himself. Aside from figuring out what to do with the aforementioned running backs, Schottenheimer will have to game plan for two rookies WR's, two 2nd year wideouts, and a free agent TE…not to mention OTA standout Austin Pettis, and TE Lance Kendricks.

The recipe for success is going to be difficult to formulate. Chris Givens should be a lock to start, if you're looking at 2012 results. He certainly showed promise, leading the team in receiving yards, and will look to build on a sensational rookie campaign.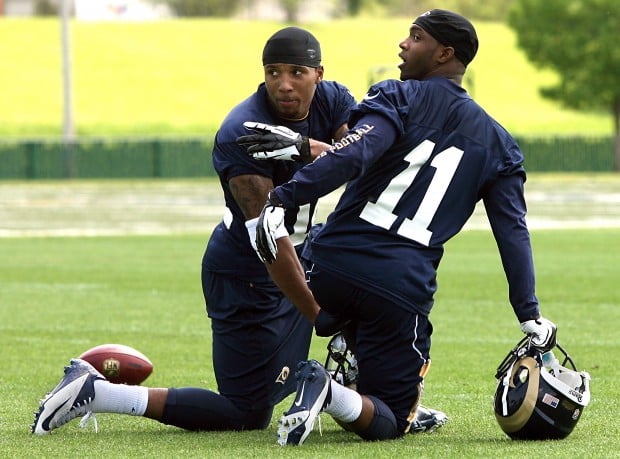 Brian Quick - a fellow rookie from 2012 - played a minimal role in the Rams' offense last year, and has been deemed 4th on the depth chart after last week's organized team activities. Does it even matter? In June, the answer is no. But Quick should be expected to contribute in September, and figuring out how to get him involved in the offense - which includes two rookie standouts from WVU - won't be easy.

Speaking of the former Mountaineers, Tavon Austin and Stedman Bailey will look to get involved in the passing game, with Austin being expected to contribute immediately… and in more than one way. Expectations for Austin are probably the highest amongst any Rams' wideouts, and he's yet to play a meaningful down for the team.

Lastly, "Schotty" has to find a way to get the tight ends (TE) involved in the offense. The TE position has certainly evolved over recent years, as they're expected to do more than simply block. Two tight end sets have grown in popularity over the past few years, as having pass-catching threats like Rob Gronkowski and Aaron Hern… well, they've proven to be matchup nightmares for many LB's and Safeties. Jared Cook made it clear [in Tennessee] that he wanted the ball more, and I'd imagine Kendricks - who's been relegated to offensive line duties - feels the same.

"Spreading the love" to all of the Rams' weapons may prove a tough task for Schottenheimer. There are certainly a slew of players capable of getting into space and making plays. It's a luxury for sure. Schottenheimer will probably be another candidate for a head coaching gig in 2014… How's he going to bolster his resumé and successfully utilize all of his offensive weapons?

3. How Long Can The Offensive Line Stay In Tact?

The best way to get the aforementioned TE's involved is by piecing together a capable, reliable offensive front. Injuries have plagued the Rams' offensive line in recent years, and - in an effort to avoid jinxing the team - you avoid thinking about it [and certainly refrain from speaking about it] at all costs.

But let's have a gander at the line. The left guard position is the least likely to suffer injury, solely because we have no idea who'll be lining up left of center this season. Shew! There's a relief.

The remaining four O-lineman, though, could be a concern. Jake Long - the Rams' new LT - finished his 2012 season on the IR list due to a torn triceps. He hasn't played a full season since 2010.

Last year, the Rams signed veteran center Scott Wells to a handsome 4 year contact, only to see him miss nine of the team's games following a broken foot in the Rams' season opener. He's played in the NFL for nine [going on 10] years, and he's played a full 16-game season four times.

On the right side of center will be Harvey Dahl and Rodger Saffold. Dahl - who's entering his 9th year in the league - played in only 14 games in 2012, having suffered a torn bicep which kept him sidelined for the Rams' last two games of the year. Prior to that Dahl was able to put together back-to-back 16 game seasons.

The Rams right tackle, Rodger Saffold, has played one season in it's entirety [2010], and has missed 13 of the team's 32 games since 2011; due to pectoral and head/neck/back injuries.

The Rams' offense - despite uncertainty at LG - could be one of the team's strengths in 2013. That, however, is incumbent upon their health. How long the offensive line can stay healthy will be a large factor in the team's success this year.

4. How Many Wins Will It Take For The Rams To Make The Playoffs?

Premature? Definitely. Possible? Yes. The Rams play in the toughest division in the NFL, so looking forward to a playoff berth in June is…well… silly. But it's definitely possible.

It won't be easy, though, especially if they don't win in a division that includes the 49ers and Seahawks. Outside of their divisional opponents, there were plenty of teams who had double-digit wins in 2012 - something the Rams haven't done since 2003.

If the Rams are in a position - come December - to still be fighting for a playoff berth, here are some team's from 2012 they may be competing against:


* Washington Redskins - 10 wins
* New York Giants - 9 wins
* Green Bay Packers - 11 wins
* Minnesota Vikings - 10 wins
* Chicago Bears - 10 wins
* Atlanta Falcons - 13 wins
* San Francisco 49ers - 11 wins
* Seattle Seahawks - 11 wins

…In case you're not aware, there are only going to be six teams who will represent the NFC in 2014's postseason. The Rams have had a tremendous off season, but it's not as if some of the teams listed above - who were already on the cusp - aren't also improving.

Getting 3 or 4 additional wins this year isn't out of the question, but it's easier said than done. The Bears weren't able to sneak into the playoffs last year with 10 wins… How many will it take for the Rams?

5. How Concerned Are You With The Rams Safety "Situation"?

Quintin Mikell played very well for the Rams in 2012, and now he's gone. Craig Dahl played very well for the Rams' opponents in 2012… He's also gone. What's left?

In short, a whole bunch of undrafted free agents, recently signed Matt Giordano, and rookie T.J. McDonald.

Undrafted Free Agent Safeties on the Rams' Roster

Darian Stewart ( ✓ )
Matt Daniels ( ✓ )
Rodney McLeod ( ✓ )
Cody Davis ( ✓ )

With that being said, there's plenty of promise on the roster. But when promise lines up in the deep secondary on September 8th: How concerned are you with the safeties the Rams are fielding?

6. How Many Players Will The Rams Send To The Pro Bowl in 2014?

The Rams sent a whopping zero players to the Pro Bowl in 2012. While the other team from Missouri sent five players to Hawaii last January, the Rams - along with the Eagles, Raiders, Chargers, Titans, Jaguars, Bills and Panthers - were shut out.

The Rams have a lot of very good players. How many of them are going to represent the team in the 2014 Pro Bowl?