Barrett Jones has a resume that would make a mother proud. He graduated with a 4.0, got his masters in accounting, won multiple Academic All-American trophies, multiple BCS championships, the Outland Trophy and Rimington awards, oh, and he played every position on Alabama's offensive line.
With a resume like that you would think that Jones would have been drafted in the first three rounds, but the St. Louis Rams selected him in the fourth round. Sometimes you get lucky in the draft, and this could be one of those instances for the Rams.
Why did Jones fall to the 4th round?
Winning lots of awards doesn't translate to being an early round selection. As with every prospect in the draft, Jones had some weaknesses.
Here's a quote taken from an article about Barrett Jones vs. Travis Frederick.
Jones will be the tough, scrappy over-achiever who cannot get movement on in-line run blocks and constantly has trouble blocking the big 320+ pound DT's, both on run blocks and in pass protection.
After watching tape on Jones it's hard not to agree with this line of thinking. In this league, being as smart as Jones is at center is a plus. However, having a guy to move the pile is important also.
RT @tommy_t_256: Does Barrett Jones project as a C, G or T? > has to play inside at next level. Very limited athlete. On the ground too much

— Daniel Jeremiah (@MoveTheSticks) January 8, 2013
This tweet also helps explain why Jones fell. A limited athlete who doesn't push the pile, not too many teams would draft a guy like that early. Also, centers don't usually get drafted early by most teams.
Notes on Jones plays after watching film.
He turns defenders, instead of pushing them back

Probably will struggle with bigger DT's one on one.

A good pass blocker

Did a lot of zone blocking

Calls out the slide protections

Not good at run blocking on the second level, ends up missing or not being able to tke the defender out of the play.

Heard he helped game plan with Alabama's coaches.

His play looked solid but isn't special
Why this pick should make you happy
Since last year, people have been thinking that the Rams will draft any player with a checkered past, but Jones doesn't have that kind of history.
He's the type of player that you would let babysit your kids, marry your daughter, help build playgrounds, oh, and he has two degrees.
For those who just care about the football aspect of Jones' play, he does a good job pass blocking. He also has an edge, and if Sam Bradford doesn't let him finish his calls (if he's the starting center), he will let him know it just like he did to A.J. McCarron.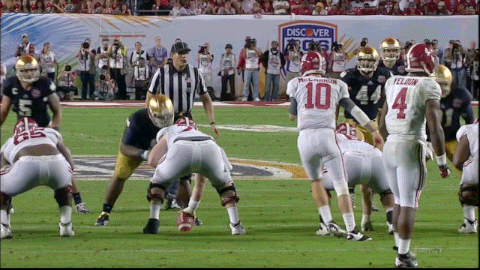 Barrett Jones discussing heated exchange with A.J. McCarron in ESPN postgame interview: "We had a snap count difference, and...I was right!"

— CBSSports.com (@CBSSports) January 8, 2013
What will be Jones' role with the Rams
There's no reason to over analyze Jones' role, because the Head Coach Jeff Fisher already laid out his plans for him.
"He gives you the comfort level knowing you've guy a guy who can backup multiple positions." - Jeff Fisher on Barrett Jones #RamsDraft

— St. Louis Rams (@STLouisRams) April 27, 2013
That's the right move for Jones, let him develop, add muscle to his frame, and put up more playgrounds for the kids. He will be a good swing interior linemen for the Rams this season.
" Part of me thinks he will be a better guard, and maybe he can be a
Marshal Yanda
down the road, if he plays guard, and that will be pretty good."- Greg Cosell
Things will be interesting next season for Jones. The Rams could need a pair of starting guards in 2014. Depending on current starting center Scott Wells (2 years remaining out of his 4 year deal), Jones could end up starting either of those positions. Just don't expect to hear much about him this season unless someone get's hurt.
Any questions?