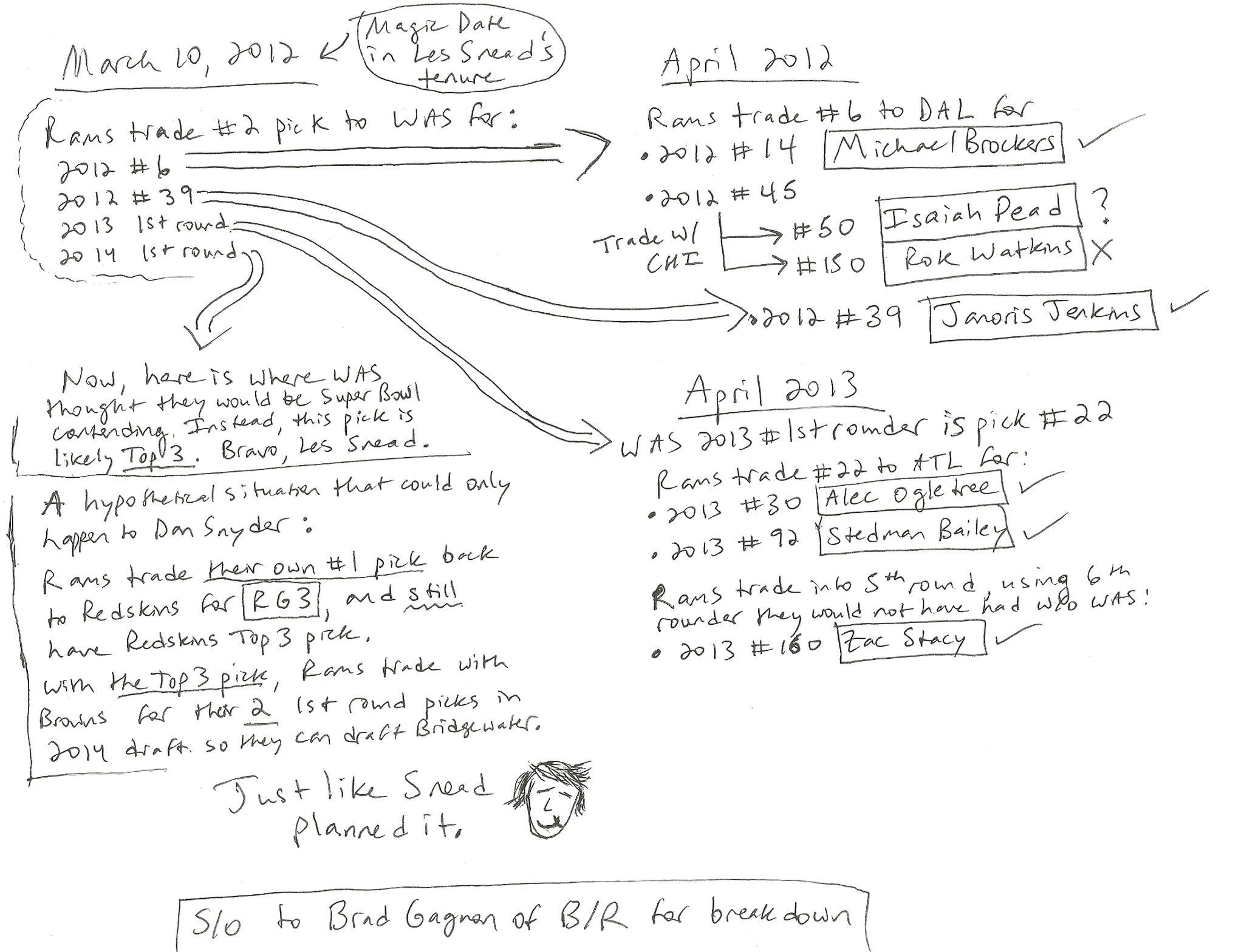 That's the recap and a special finger of a deal to Dan Snyder via TST's own RamBuck.
Of course, what's past is prologue. That's not just a thing to scratch into government buildings either. It's a reminder that as we wind down the 2013 season, it's the 2014 NFL Draft that offers us the pathway to the postseason.
With two games left to play, there's still some of the draft order to be sorted out. But the chances of trading the Ramskins pick comes down to a couple of factors regardless.
Who's worth moving up for?
So as it stands, there are three stand outs peppering the tops of mock drafts with a couple wild cards. Here's a quick look at who's in the mix for the Rams' early 1st round pick (and feel free to make the case for anyone left out in the comments):
Louisville QB Teddy Bridgewater: One of two presumptive favorites for the #1 pick preseason, it's relatively safe to assume he's a top three pick come April.
South Carolina DE Jadeveon Clowney: Although 2013 has disappointed some, he had everyone in the world watching and every coach/team scheming for him. The key is to distinguish the skills he rode to fame in the 2012 season from the lack of elite production in 2013. I'm still guessing he's one of the first prospects called up to meet Roger Goodell.
Texas A&M LT Jake Matthews: The consensus top tackle right now, Matthews' stock certainly hasn't suffered the move from right tackle in 2012 to left tackle in 2013.
UCLA OLB Anthony Barr: You can't knock the production, but he's only in the mix early as a 3-4 OLB.
UCF QB Blake Bortles: The Ben Roethlisberger comparisons are beginning to flood in.
Fresno St. QB Derek Carr: He's under bit of a wonky scheme, but he's got the cannon arm and deep placement to entice plenty of onlookers. Of course, he has a brother who played in the NFL and that's coloring some people's feelings on Derek.
Auburn LT Greg Robinson: A bit of a whackadoo pick here, but he's been very, very good this year as a RS sophomore at one of the few positions that command #1 consideration. If he shines in the national championship, this ship is going to pick up steam.
Texas A&M QB Johnny Manziel: Oh, it could happen.
Not buying anyone from the non-prime positions to threaten for a top pick this year, but that's just moi.
Who'd be willing to move up for whom?
Well, let's take it from this angle: it's only going to be teams looking to fill those prime positions. I don't think a Marqise Lee/Sammy Watkins/Mike Evans WR option or C.J. Mosley as an ILB or any cornerback is going to move the needle that early in the draft to the point that teams trade up for them. So it's going to have to be a team that needs a quarterback, a left tackle or a pass rusher...or all three.
And while we've been dreaming of RGIII-like trade scenarios where the Rams are handed a bucket of future draft selections to move back into a position where things are still awfully comfortable, that's going to take one more factor: it has to be a team that needs to jump other buyers. What helped push the Redskins-Rams deal to such costly heights was that the Skins had to pass three other teams in the Vikings, Browns and Buccaneers (who traded out with the Jags by the time the pick came) that could have offered up their spot if the Rams had stuck at #2 and taken a Matt Kalil or Justin Blackmon. They had to ensure they wouldn't be scooped by any of those teams had they been willing to trade. And since all three of Minnesota, Cleveland and Tampa Bay all traded their picks, I'd say they were willing to move in principle. So in order to get a big time deal, it'll have to be a team that's not waiting just beyond the Rams in the order.
So let's check out the teams who need prime position help and then see what the draft order looks like. (Obviously, there's bound to be disagreement, but this should give you an idea of the kind of situation the Rams need to pull off another power trade.)
Teams needing QB help
Obviously
Jacksonville, Buffalo, Oakland, Minnesota, Houston, Cleveland, Tennessee
Maybe
St. Louis, New York Jets, Tampa Bay, Kansas City, Arizona
Teams needing LT help
Obviously
Atlanta, San Diego, Miami, Arizona, Oakland, Tampa Bay, Pittsburgh, Jacksonville
Maybe
St. Louis, Chicago, Denver, Houston, Philadelphia, New York Giants, Carolina, Seattle, Tennessee, Baltimore*
*completely free agency dependent
Teams needing DE/3-4OLB help
Obviously
Chicago, Jacksonville, Atlanta, Houston, Minnesota, Oakland, Pittsburgh, Tampa Bay, Tennessee
Maybe
Detroit, Dallas, New Orleans, Washington
What's best for the Rams at this point then?
Well first, let's assume the Maybes are out from a trade standpoint. Only the desperate will be willing to move. Let's recap the Obviouslies then:
| | | |
| --- | --- | --- |
| Team | # of prime needs | Pos. |
| Jacksonville | 3 | QB, LT, DE |
| Oakland | 3 | QB, LT, DE |
| Minnesota | 2 | QB. DE |
| Houston | 2 | QB. DE |
| Tennessee | 2 | QB. DE |
| Atlanta | 2 | LT, DE |
| Tampa Bay | 2 | LT, DE |
| Pittsburgh | 2 | LT, DE |
| Buffalo | 1 | QB |
| Chicago | 1 | DE |
| Cleveland | 1 | QB |
| San Diego | 1 | LT |
| Miami | 1 | LT |
| Arizona | 1 | LT |
So you've got 14 teams desperate to fill a top tier position. That's good. The Rams aren't one of them. That's also good (assuming you're for a trade). Without having the draft order set, we can't quite lean in on any specific team, but looking at it as it sits, we an at least take out Oakland and Jacksonville since they're the other two teams in the top 3. And anyone beyond the top 10 would require too much draft capital in all likelihood to move up to the top 3. So a likely trade hinges on a mix of Oakland, Cleveland, Atlanta, Tampa, Minnesota and Tennessee...all of whom are in the table above.
What would help the Rams most in the final two weeks of the NFL season?
First and foremost would be two Redskins losses. Had Washington beaten Atlanta last week, the Rams would be in line for the fourth overall pick on extended strength of schedule. That changes things considerably. The playoff-hungry Cowboys head to the DC area on Sunday; a week later, Washington heads to New York to face the Giants. Nothing's promised, but it's far from a long shot for the Redskins to drop both behind backup-QB-turned-chaosleader Kirk Cousins.
Of course the opposite holds as well. Wins by Houston, chiefly, as well as Jacksonville, Oakland, Cleveland, Atlanta and Tampa do us a favor as well. Houston's road game against Tennessee in week 17 could well determine the fate of the top overall pick in the 2014 NFL Draft. Jacksonville has won three of their last four and four of their last six all coming after the bye with Tennessee and Indy ahead. Cleveland has a slipping Jets up next that could help them to a win too.
Beyond those two, the player performances are pretty locked in...but adding a final chapter wouldn't hurt. Reminding those teams of just how desperate they are at those key positions and how close they would be otherwise might help them feel more comfortable pitching in on a trade offer.
Jacksonville looks like a solid team in the last couple of games...with Chad Henne at QB. How much more successful would they be with even Sam Bradford-like levels of play? (Seriously though, Les Snead needs to ask them that question)
Arizona is a 9-win team with two games left. With veteran QB Carson Palmer locked up for a couple of years, maybe they see a tight window to throw some talent around he and WR Larry Fitzgerald to make a run, a window that would require a left tackle to make playoff success more probable.
Early in the season, Cleveland decided to tank their season trading RB Trent Richardson and committing to a partial rebuild. They've encountered setbacks recently, which happens to a young team, but they've got talented youths not just bodies. There's a pitch to be made to not waste the ascendant years of those talents (looking at you, Josh Gordon) by leaving the QB position unsettled.
We've got two weeks of football and a few months thereafter to sort things out. But if we're training our eyes on the potential to extend the lifeline of the RGIII trade, this is what we're after.