Knowing that these two teams have been around for decades makes it easy to find history between the organizations. Finding out who's going to win this weekends ultra-critical third preseason game was even easier. It only makes sense for teams that have been alternating wins [regular and postseason] over the past decade to continue to do so, right? Luckily, the site doesn't take into account any preseason games, so even if we win this Saturday, we're still due another victory against the Cowboys during the regular or post seasons. It's science!

If you've already clicked the link, then you know the last three meetings amongst the two teams were not close…at all. The matchups don't take place in consecutive seasons, though, which further indicates the roller coaster life of an NFL franchise. You'll see some see some names that made you smile, made you cry, and remind you why you wore a cast for a month.

Let's take a bit of a closer look at the last fives games, and how the teams have changed over the past decade in which those games were played…
| | | |
| --- | --- | --- |
| Date | Result | Attendance |
| 10/23/2011 | Dallas Cowboys 34, St. Louis Rams 7 | 80,086 |
| 10/19/2008 | St. Louis Rams 34, Dallas Cowboys 14 | 62,035 |
| 09/30/2007 | Dallas Cowboys 35, St. Louis Rams 7 | 62,866 |
| 01/01/2006 | St. Louis Rams 20, Dallas Cowboys 10 | 63,131 |
| 09/29/2002 | Dallas Cowboys 13, St. Louis Rams 10 | 66,165 |
October 23, 2011 - Welcome to the NFL Demarco Murray
[Cowboys 34
, Rams 7]
Here's a recap from SI. The first few lines sum it up nicely, so I'll put them in a gray box for you.
The only drama at the end of this one was whether rookie

DeMarco Murray

would set the Dallas Cowboys ' franchise rushing record, a remarkable feat considering it's gone from Hall of Famer Tony Dorsett to NFL rushing king Emmitt Smith.

Murray indeed pulled it off, running through a shoddy St. Louis Rams defense for 253 yards, including an early 91-yard touchdown that got the Cowboys started toward a 34-7 victory on Sunday
The game, which occurred in week six, is probably still fresh in some of your minds. It was a game marked by highlight reels from a rookie on an opposing team, and sadly it wouldn't be the last of the season. What made matters worse, other than their inability to stop the run, was that they were without QB Sam Bradford, who was recovering from an ankle injury. At that point, two more wins is probably more than most expected.
October 19, 2008 - The Game of Threes -
[Cowboys 14
, Rams 34]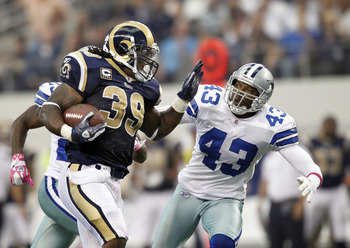 * Brad Johnson Threw THREE Interceptions
* Steven Jackson Ran For THREE Touchdowns
* Demarcus Ware Sacked Marc Bulger THREE Times
* It Marked Loss Number THREE For The Cowboys
* THREE TD's In the 1st Quarter For The Rams
T
his, being the second win of the Rams season, came in week seven. You might be inclined to think 'Oh, that must've been the glory days.' Wrong, you'd be. That win, surprisingly, came against a Cowboys team that got off to a great start to their season, and entered St. Louis with a 4-2 record.
ESPN recaps the game.
Just to remind you of how dedicated the Rams fans were to
packing the house,
chants of 'Romo! Romo!' could easily be heard as the Cowboys took the field to start the second half. The Rams then went on to win their
second
last game of the season...
I wondered if I'd be able to recollect anything from this game, as I've already forgotten what I had for breakfast this morning, but in
watching these video highlights from NFL.com
, I remember it all too well. Sadly, in this recap you'll hear a lot of things that ring true to the 2011 season for the Rams. It's a shame to know that in four years, those problems were not successfully rectified. I could go on and play spoiler with the
statistics of the game
, but Rich Eisen does such a darn good job. I'd keep a bucket or paper bag nearby for this 3:37 ditty….and don't expect that lone TD to come on an offensive play.
January 1, 2006 - A Happy New Year For Rams Fans - [Rams 20,
Cowboys 10]
I'm betting - and correct me if I'm wrong - but if I were to tell you that the Rams starting QB [
Jamie Martin
] would throw for 158 yards [4.9 yards per],
Marshall Faulk
would run for 25 total yards [2.3 yards per], and leading wide receiver
Torry Holt
would amount a whopping 40 yards receiving, YOU would not be betting that the Rams were going to succeed. You'd be wrong.
You're probably scouring the internet right now, searching for contradictory stats, because you probably DON'T believe they did. I'm not sure what to tell you, friends.
ESPN recaps the game for you here
. In what was the season finale, the Rams got only their 6th win of the season, and the loss destroyed playoff aspirations for the the Cowboys team and fans. With a
Redskins
win over the
Eagles
, the Rams New Years Day win eliminated the Cowboys chances of making the playoffs.
September 9, 2002 - The Beginning Of The End - [Rams 10,
Cowboys 20]
Thank you for allowing me a moment to rant. About the Sept. 9 game against the Cowboys…yea, it didn't go so well. As a matter of fact, the entire 2002 season didn't come anywhere close to the expectations left over from the season before. The Rams, who finished 14-2 in 2001, and fell just a field goal shy of a second Super Bowl in three years, would unfortunately reverse the wins and loss columns in 2002 season.
One of those 14 losses came, disgustingly, came as a result of a field goal by
Billy Cundiff
with approximately 4:30 left in the game. Last second, Super Bowl ending? Not even close. The Rams had a chance to tie the game with less than 90 seconds, and a missed 49-yard kick [crossbar] by
Jeff Wilkins
, which sealed the deal for the Cowboys.

Dating back to November 6, 1960, the Rams and Cowboys have played 30 times. In those meetings, the series is….TIED, 15-15. Prior to the five games covered above, the Rams and Cowboys didn't see each other in regular or postseason play dating back to 1992…when the Rams were in Los Angeles. The Los Angeles Rams actually had a 13-12 advantage in head-to-head matchups, prior to moving to St. Louis.

Over the course of their 52 year professional relationship, they've also played in eight postseason games. The Cowboys have the advantage in the playoffs, having won five of the eight. Two of those five came in embarrassing fashion, and in the NFC Championship game. On January 4, 1976 the Cowboys defeated the Rams 37-7 in route to the Super Bowl. Again, on January 9, 1979 the Cowboys defeated the Rams 28-0. Both of these games were played in Los Angeles.
As aforementioned, this Saturday is the Rams chance to win, but not because of the scientific equation that I've created to prognosticate future winners in NFL games. It's their chance to win for a variety of reasons, which include
injuries on the Dallas offense
, and more so continue their momentum and improve their ability to stay competitive in games…when it
does
matter. The new-look Rams defense should have no problem keeping Demarco Murray under 253 yards. Heck, keeping Tony Romo from turning a 35 yard loss into a four yard gain would also be a good start...