Good Thursday morning, Rams fan! Once again you've managed to make it through another hump day, and can set your declining productivity on cruise control to weeks end. Last Thursday, I did this whole 4 Years Ago, 4 Months Ago, 4 Weeks Ago, etc. Random Ramsdom. It's fair to say that in my attempt to 'set the tone' for this past Sundays game against the Colts, I jinxed us. I take full responsibility [essentially being a replacement ref] for our loss. I will not attempt such a countdown again this week...

Instead, I'll refrain from speculating on this Saturdays game altogether. I will, however, remind you that there are a couple of Thursday Night Football games again this week. Make sure you're out of work on time to catch the kickoff, and let's hope to see some more starting caliber play. Let me know if you're interested in firing up an open thread. We'll talk Rams, life, love, good books, Tebow, and the questionable deliciousness of juice from cucumbers that have been preserved in vinegar…if you catch my drift.

We will absolutely not, in this Random Ramsdom, discuss the length of time until we pummel play the Chiefs this weekend. After the game this week, I'd much rather write an article about getting on a ship, possibly even a schooner or sailboat, than jumping off of one. It is indeed preseason, so no need for haste. The only thing I do advise you jump into, is the Random...
In Rams News…

Recycling TST: Questions From Ryan, For The Rams, From August 16th…2008

It's another TST Blast from the Past. Four years ago, to the day, Ryan (who can clearly see into the future) asked the 2012 Rams a few questions unintentionally. Though, a few of them are way off (no one's perfect), there are a couple that still need to be answered. "Can the O-line shake off the rust?" and "Will wide receivers not named Torry Holt make an impact?" I can't answer 'yes' to either with certainty

5 Positives To Take Away From the Rams Loss To The Colts

What's an RR, without a touch of BR? Bleacher Report highlights 5 positives to take away from the Rams first preseason game, where they suffered a 38-3 drubbing by last years worst team. It's easy to point to the negatives, as clearly expectations were higher than a field goal. Also, Bernie Miklasz gave his 10 Takeaways from last Sundays game. No need to go writing a post about jumping ship that will infuriate the masses

Random Editorial Prowess By Yours Truly

The article highlights ways that the Rams can 'ease the workload' on an aging Steven Jackson. I'll admit, I was perusing the article and stopped when I saw this:
The 5-foot-10, 197-pound Snead had 545 carries with the Bearcats, including 237 a senior season in which he had a career-high 1,259 yards. He finished his college career with 3,288 yards and 27 touchdowns.
Secret weapon? No, just someone who needs an editor… an editor who hasn't abandoned his favorite Rams site for the release of a book that he finds more important.

Yahoo!'s Take On The Fantasy St. Louis Rams [By Position]


I've got my opinions when it comes to Fantasy Football, and certainly you're entitled to yours. As much as it may seem that it's all about drafting individual players, though, they're only going to be as good as the team that they're on. Yahoo! breaks down the Rams, by position, and gives you the scoop on how productive you should expect their players to be. In my awesomely professional opinion, though, there are some players on this list that you only draft if you're a homer. You will lose your league as a result, but no one will question your fandom.

In Other Sporting News…

A little Thursday Night Preseason for ya...


When Do We See The Last Of The Replacement Refs?


We've seen missed holding calls - which were clearly game changers - downed punts at the 3 yard line, which were placed at the 20, the Arizona Cardinals get a penalty during an Atlanta Falcons vs. Baltimore Ravens game, and a kick returner get a holding penalty…while he's running with the ball. Here's the video evidence.
Would you be surprised to know that some of these refs are getting their assignments for Week 3 already?
Let's face it, this could've gone a lot worse. If you went to college, you know what I mean. I can't say that I'd blame him - for getting hammered or passing out. When your team has one of the highest payrolls, which is coupled with one of the worst records, you can't blame a guy for buying an Orioles shirt that says Phillies on it. Don't worry, he'll wake up for a 7th inning stretch...


We'll Find Out Soon Enough How Much A Honey Badger Cares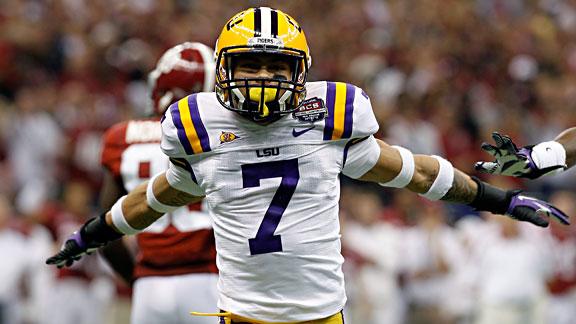 Tyrann Mathieu has a decision to make, and it sounds like he's going to take a moment to weigh his options. Last year's National Defensive Player of the Year won't be playing for LSU this season…and he won't be playing for any other National Champion hopefuls…at least not in Division 1A. He does, however, have the opportunity to play, and to win a Championship. Will he choose to do so, or opt to wait until next year and enter the draft? Sounds like there are at least 20 schools interested…

Step Aside Maxim…GQ Is Bringing Sexy Back

The only thing that could make this magazine any sexier, would be to let it jog through the rain. Controversy, you say? Nooooo! How in the world did controversy makes its way to the Big Apple? Is it possible for the country's largest producer of apples to have any kind of controversy? Oh wait! Cue the rain and jog, you sexy magazine you

Random Advertisement…






Plain Ol Random…

Genius! I Can't Think of a Better Place to Take a Nap

Sometimes I surprise myself when I find these gems. Please watch this video. If you like zombies, you'll love this one…but then you'll be disappointed. But then you'll laugh. I know sometimes I slip into a nice bubble bath (sans salt, plus elmo), read only the back of a good book, and nearly drift into unconsciousness. I'm apparently not the only one...


A Dotted Line Means I Can Pass In Your Lane, Right?

Ever been on a long road trip, through some state that you feel probably contains the inhabitants of Deliverance, and you're starving? I thought so. It's happened to all of us. You don't need gas, but probably have gas, and your body requires immediate satisfaction for it's hunger pangs. Pennsylvania, known mainly for it's pedophiles, is one of the most courteous states when it comes to fast food on the open road…

I've Been Hammered Before… But Never Compacted

You've probably seen the ads before: Drink Responsibly. That's easy to do when you're drinking non-alcoholic beverages. When you're not, the slogan is unattainable. But that doesn't mean that there aren't alternatives to putting yourself and others in danger by getting behind the wheel. This Oregon man would make sergey proud...

Ran-dumb Quote of the Day…

"I made a 1,600 minus 800 minus 200 on the SAT, so I'm very intelligent when I speak" - Shaquille O'Neal

This Day In Sports History…




1927 - 1st HR hit out of Comiskey Park Chicago (NY Yankee Babe Ruth)
1936 - 11th Olympic games closes in Berlin
1948 - Babe Ruth, Baseball legend (NY Yankees), dies in NY at 53
1954 - "Sports Illustrated" magazine begins publishing
1965 - AFL awards its 1st expansion franchise (Miami Dolphins)
1981 - Highest score in World Cup soccer match (New Zealand-13, Fiji-0)
2008 - Usain Bolt sets a new 100 metres dash world record of 9.69 seconds at the Beijing 2008 summer olympics.



Happy Birthday to…

1958 - Madonna. singer, songwriters, actress, dancer, and entrepreneur. Not 'like a virgin' at all
1961 - Christian Okoye, American football player. Fatty
1962 - Steve Carell, actor. The Office, 40-year old Virgin, Anchorman, and some other terrible movies
1965 - Todd McNair, NFL running back/kick returner (Houston Oilers)
1966 - Ed Olczyk, Chicago, NHL center (Winnipeg Jets)
1967 - Matt Vanderbeek, NFL linebacker (Washington Redskins)

1968 - Eric Jonassen, offensive linesman (Arizona Cardinals)
1969 - Ben Coates, NFL tight end (NE Patriots)
1970 - Adrian Hardy, NFL cornerback (Cin Bengals)
1970 - Eric Swann, NFL defensive tackle (Arizona Cardinals)
1971 - Willie Jackson, NFL wide receiver (Jacksonville Jaguars)
1972 - Eddie Goines, NFL wide receiver (Seattle Seahawks)
1972 - Michael Reed, NFL cornerback (Carolina Panthers)
1972 - Zach Wiegert, tackle (St Louis Rams)
1974 - Ryan Longwell, NFL kicker (Green Bay Packers-Superbowl 31)
1983 - Colt Brennan, NFL Quarterback, Washington Redskins

Here's to Wishing You All a Great Thursday - Unlimited Success to Douglas M - and [Injury-Free] Good Fortune to the St. Louis Rams...