Good Thursday, Rams fans! I hope this morning finds you well. Take out your red marker, head over to your calendar, and 'x' off another day. No, you're not one day closer to death… you're one day closer to the NFL season. I may have lied about the first part of that, but that latter should still make you grin.

Many will say that "it's the slow time of year," and "it's hard to find good news." I disagree. Though the NFL offseason is in a bit of a lull, that doesn't mean that more Lions aren't on the cusp of getting arrested, the Saints aren't hating Drew Brees for some odd reason, that people aren't getting excited over Nash to the Lakers, the baseball All-Star game just wrapped up (with my Nats in 1st place, I thank you), and Mounty-gate. If you needed a recap of the past year in sport…well…hopefully you watched the ESPY's last night. For just about everything else, get out of your pool, and take a jump into the Random...
In Rams News…

All The Rams Needed Was a Checklist


Fire the old regime; check. Hire an experienced coaching staff; check. Bring in tenured position players on both sides of the ball; check. Why not a few pro-bowlers; check. Impactful draft; check. Not sure what took so long, but the Ram's seemed to have put something together, and the recipe seemed simple enough. It's a no brainer they're one of the top five improved teams. #2 though, eh?

Ranking The Last Place Teams Heading Into 2012

Profootballweekly takes the eight bottom-dwellers from the 2011 season and predicts whether or not they can make a 'magical' turnaround like we've seen some teams do recently. With only two wins in the 2011 season, and not much else to brag about for the past 5 years or so, the Rams have nowhere to head but up. Just how far up? Click the link….but you probably won't be thrilled with the projected result

Free Football From One of the Rams Greats

I would do a lot of things if I were retired. One thing I wouldn't do is work. Actually, it's probably the only thing I would ensure never happened. There are those, however, that love what they do so much, that they simply cannot let it go. Imparting valuable lessons, about football and life, is what Isaac Bruce is doing…for free. Great Ram….Great Man!

A Walter Mock From Charlie

You know what I always say…"it's never too early for a mock." Actually, that's the first time that I've said it, and I'd like to tell you it felt right, but it…well…I digress. At any rate, I've put up a few of Walter's mocks on my RR before, but this one is from Charlie Cambpell. Sir Charles has a different take on how the 2013 draft will play out, and it has implications for the Rams. In the first two Walter mocks I linked, the Rams took WR Robert Woods (early in the 1st), and OT D.J Fluker (later in the first). Sounds good to me! Not to Charlie…

The Rams See Their Fair Share of Two-RB Sets
Football Outsiders points out that the Rams are one of last years teams that saw the most of Two-RB sets. Why's that? Well, simply put, the fourth quarter probably didn't mean a whole lot for the opposing offense, and starters took very long breathers. They point out teams that are able to make quick turnarounds.

The Rams will looks completely different on D in 2012…are they one of the teams that's going to turn this stat around?


In Other Sporting News…

Some Classic Sporting Movies… with a PC twist


Let's face it…times have changed in both life and sport. There's no better reminder than taking a look at some of cinemas best sporting flicks and giving them a slightly more…2012… mood. Although a lot of these movies end in typical 'feel good' fashion, think about how much they would've sucked if these were the underlying messages being sent…

History To Be Made In the PGA Starting Thursday?

The list of pro golfers who have won the same golf tournament four years consecutively is very short. Only four have done it. Yes, Tiger is one of them. Steve Stricker, however, could join that group this weekend with a win at the John Deere Classic. He's a soft-spoken guy. Here's to seeing a bit of history come Sunday!

Joe Paterno Defends His Football Program

There are certainly mixed emotions surrounding the involvement of the late Joe Paterno, and [the extent of] his knowledge of the current-day Jerry Sandusky debacle that tarnishes the image of Penn State. On Wednesday, 7 months after it was written, Joe Pa still defended his football program - in a statement released - pointing out that allegations against Sandusky aren't a part of a 'football scandal.' The man lived and breathed Penn State football. Even after his passing, that program - those kids - are most important to him

When The Athletes Are Done Competing, That Doesn't Mean They're Done Workin Out!

Olympians…what can you say? Amazing athletes. The worlds best. The pride(s) of a nation. True…they are those things. They're also near-perfect bodies, with busted faces. And what do fugly people do when gathered around one another, with no more competitions in their future? They do the things that make their countries proud!

In Other Ran-Dumb News…

Ever Wondered Why There Is a Net In Your Board Shorts (swimming trunks for you old guys)

A lot of great things have come from Illinois. There is a ton of history for Chicago sports teams. There are, however, some terrible things that happen in Illinois. Namely, the Derrick Rose injury, A.J. Jenkins, and Pacus. Not familiar? Well, A.J. Jenkins is the new rookie WR for the 49ers. Oh…you're not familiar with Pacus. Well, get familiar. Because whether or not you know it….they don't have nut alergies

"Longest…Horiz…Horizantical…Horizantal Mustache"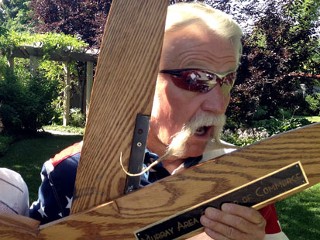 A Monumental Mustache in Murray City of the Mormon state. This is a must watch! I'll apologize in advance for the intro ad (Romney v. Obama). If you can make it through that 15 seconds, this video is hilarious. Want to run for office? If you don't think you can, you'll change your mind after this little ditty.

It's a 'political mustache in American History.' This is how I'd want my Mayor spending his time…



Lose 98 Pounds The All Natural Way

We've all seen em. Advertisements for the new miracle weight loss drug. Advertising dollars spent either highlight how their product will turn you from a pasty, fat loser to an extremely buff and well-tanned dynamo. OR, you can eat terrible Subway sandwiches for 4 years (in stead of french fries for 35), and you'll slim down and become really annoying. Both are hard habits to keep, and one is extremely bad for your body. There is one, very carnal, way of losing weight. If you need to lose a few pounds, just ask her how...






This Day in History…
1804 - Former United States Secretary of the Treasury Alexander Hamilton dies after being shot in a duel.
1843 - Mormon leader Joseph Smith say God OKs polygamy
1862 - Congress authorizes Medal of Honor
1901 - Cy Young wins his 300th game
1914 - Babe Ruth makes his baseball debut, pitches for Red Sox
1920 - Panama Canal opens
1928 - 1st televised tennis match
1933 - 34th US Golf Open: Robert T "Bobby" Jones wins
1933 - Congress passes 1st minimum wage law (33 cents per hour)
1949 - LA Rams sign Norm Van Brocklin
1962 - Rolling Stones 1st performance (Marquee Club, London)
1970 - Blues-Rock singer Janis Joplin debuts in Kentucky
Happy Birthday to…
George Washington Carver - 1861 - African American scientist, who found
many uses for the peanut
Bill Cosby - 1937 - Comedian. The "Cosby Show." Funny sayer of 'Jello pudding pops.'
Richard Simmons - 1948 - Fitness personality. Weirdo
Rick Hendrick - 1949 -
American NASCAR team owner
Brock Lesnar - 1977 -
American mixed martial artist and professional wrestler. Owner of large trapezius
Topher Grace - 1978 - American actor…..and dumb ass!