So long October. For yours truly, I can't say I'm so sad to see the month of October wave bye bye. My Washington Nationals were absolutely punished in a Game 5 loss in the MLB playoffs. The Washington Capitals are now playing somewhere in Moscow since the NHL continues it's lockout. The NBA season kicked off for my Wizards, who lost to the Cavaliers…the King James-less Cavaliers, and a hurricane just devastated a lot of the East coast. But that's not even the worst of it. The St. Louis Rams, who entered the month of October at .500, lost three of four games while being outscored 95-58. The month of October was scary…and that's not including Halloween.

In Rams News…

Daryl Richardson is Becoming Popular

Daryl Richardson's name has been brought up in conversation quite a bit this past week, and not necessarily because of what he's done on the field. As trade rumors swirl about Rams mainstay Steven Jackson, the question of whether or not Richardson (and his rookie co-hort Isiah Pead) can carry the load in St. Louis. The Rams weren't the only team eyeing him. Had they not taken him at 252, you'd be seeing a lot more of Isaiah Pead.

Rams Offensive Leaders at the Midway Point of the Season

Nathan Kearns over at Ramlin' Fan highlights the Rams offensive leaders after Week 8. There probably aren't many surprises here, and I'm guessing that 99% of Rams fans could've guessed this prior to the season's kickoff. Statistically though, the implications of the midway numbers make things on offense look grim. Week 10, with the addition of Saffold, Wells, and Amendola should provide more stability in both the rushing and passing attack.

Steven Jackson Has Gas in the Tank for Playoff Bound Team

Thursday will mark the final day of the NFL trade deadline. Since flying back from London, we've heard mixed reports about whether or not the Rams are/were willing to trade Steven Jackson. At first, it was that the Rams were receiving a lot of calls. Let the speculation begin. Then it was a '55% chance he would be moved. This morning, however, Coach Fisher spoke up about how the Rams aren't fielding calls and aren't shopping their lead RB. "Rumors are rumors" Are you buying that they're not shopping?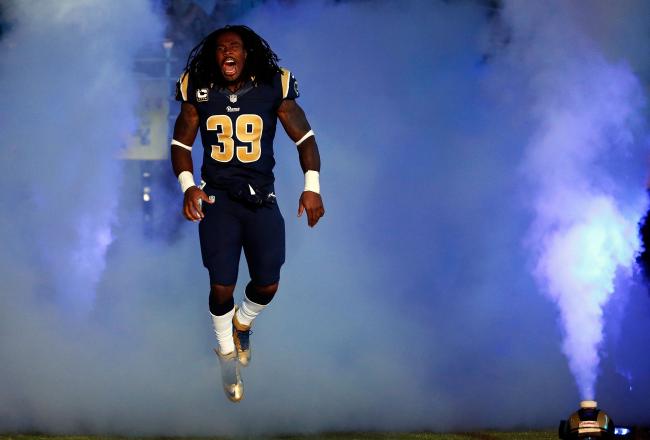 Isaiah Pead Quadrupled His Carries In Week 8

At this point, I'd say it's fair to say that the 2nd round selection from Cincinnati has failed to impress. With that being said, it's far too early to call him a bust. His bland preseason, coupled with frequent explosive plays from 7th round pick Daryl Richardson, have limited Pead's touches outside of special teams. He had only ONE carry through the first 7 Weeks of his NFL career. In Week 8, he got touches two, three, and four. They all came in garbage time…

Why Being Mad at the Rams After the Loss to the Patriots is OK

The Rams, after a great free agency period and draft, certainly raised the expectations for the 2012 season. Some have even gone as far as to believe that the Rams could win double digit games. Not to say that a double-digit win season is completely out of reach, but winning seven of the next eight seems a bit of a stretch. Bernie Miklasz tells you why it's ok to be pissed at the Rams.

Yahoo! Breaks Down Each Team's Potential Trade Bait As the Deadline Nears

Guess which St. Louis Rams RB made the list? No surprise there. A bit of a surprise, but Quintin Mikell was another Rams mention. I say a bit of surprise because the Rams are only partially terrible at safety. Anyone on these other teams lists that you wouldn't mind making a go at?

The Rams 2013 Free Agency Wish List

If it's not glaring enough, there are certainly positions of need for the 2012 Rams. There is no possible way they can rectify those areas of opportunity by Thursdays trade deadline. Heck, they may not address any of them. Bleacher Report, however, gives us a look at some folks that will be fielding calls in 2013, should the Rams need their services.


In Other Sporting News…



Thursday Night Football has really put something together here. If you didn't want to watch last weeks Tampa Bay @ Minnesota game, then I'm betting you'd love to tune into this AFC West matchup. Being the strongest a division in AFC should make this an exciting game. Yahoo! Sports has your preview. What could be more exciting? A lot of things… a lot!




…if you want my super in-depth expert opinion about which one of these games to watch, I'll go with the middle one. Not only because it'll probably be the only one your TV will pick up with adjusting the bunny ears on top of it, but because it features two teams who should probably be ranked in the Top 25. If you have questions about how they fell from the ranking, email 3k at www.3k.hotmail.yahoo. If you're a bit timid about doing so, just read this preview.

World Series Update…oooooooh, nevermind

The Most Exciting NHL News Around

Ha! Suckered you in… There's actually nothing exciting about this news. Did you know, however, that the NHL has already missed/cancelled 326 games as of Wednesday night? I did not. It's probably better that they're still in a lockout for the Pittsburgh Penguins. They were going to have to face the Washington Capitals, or whatever is left of them

Sandusky Heads to His New Home For 30-60

Haven't heard much about this guy lately, but he arrived at his new apartment today where he'll most likely spend the remainder of his days. He will eat his meals in his cell. He will get an hour of exercise five days a week, and he will get to shower THREE times a week. That...is...bleak...

DeAngelo Hall Awaits His Post-Sandy Goodell Punishment

I heard - on local radio yesterday - an interview with DeAngelo Hall. He stated how proud Mike Shanahan was that he'd stood up for himself, yet didn't go to blows with Steelers WR Emmanuel Sanders. He also stated that his helmet was already pulled halfway off by Sanders, and that a TV….not a Redskins timeout was the reason he took it the rest of the way off. Interesting stuff. Not believable, but interesting. You pointed your finger in a ref's face and let the camera see you drop about four F-bombs, DeAngelo. Your helmet might be half way off, but your logic is loooooooong gone.

Seven Quick and Easy Sporty Halloween Costumes

Did you struggle to come up with a relevant costume this year. Take note of a few athletic costumes that would've been killer in 2012 and use that same imagination to create an unforgettable ensemble in 2013. Want to know their inspiration? Check out the favorite candy of some of the elite athletes in sport.

On This Day In History…


1924 - 1st US NHL franchise, Boston Bruins founded
1950 - 1st negro player in NBA, (Celtic's Charles Cooper)
1959 - 1st NHL goalie to wear a hockey mask (Jacques Plante)
1959 - Jim Brown scores 5 TDs in Cleveland Browns 38-31 win over Balt
1966 - NFL awards New Orleans its 16th franchise (All Saints Day)
1990 - Sandra Miller awarded $100 for Mike Tyson fondling her breasts
1992 - NY Jet Al Toon becomes 10th NFL to catch a pass in 100 straight games


As always, Turf Show Times is the first place you should be getting your Rams news. If not, you're probably not getting it first. For first hand knowledge of what's in my dishwasher, what kind of lunch meat I prefer, and an infinite amount of smart-assery Follow Me On Twitter You can also find me in the comment threads at "Crochet Today"... Give me a Granny Square anytime! It's way safer than kayaking. Just sayin'...