No matter where your football psyche lies, this game has something for you.
The storyline of the coach who left LSU seeking greener pastures and finding them in 2009 with a national championship. The other coach who is as zany and lovable and unpredictable and professional as any in the business. The rematch of the two best defenses in the game and who, if the other didn't exist, would be in the discussion as one of the best of all time. And a boatload of NFL prospects (including plenty who barely see the field if at all since they're playing behind day 1 and 2 guys.).
It's going down. Stuff after the jump.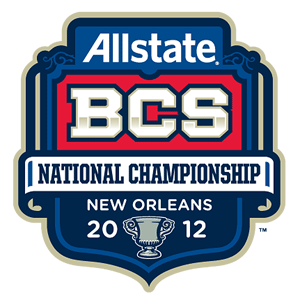 References:
- the EDSBS rootability index (might be good for those of you without a dog in the fight)
- Bill C's (less than usual) stat-heavy preview and prediction that follows his earlier work focusing on the difficulty of scoring against Bama and LSU's pass defense
- Roll Bama Roll, the SBN community for fans of Alabama
- And the Valley Shook, the SBN community for LSU fans
So let's get to the prospects. Obviously, two defenses of this caliber are going to have defensive prospects at the top level.
On the defensive line, LSU offers four redshirt sophomores who are all difficult to say no to: DEs Barkevious Mingo & Sam Montgomery and DTs Michael Brockers & Bennie Logan. Scary that freshman Anthony Johnson arrived on campus with more fanfare than any the aforementioned four... Bama, on the other hand, runs a 3-4 and anchors their line with NT Josh Chapman flanked by Jesse Williams and Quinton Dial, both strong prospects themselves.
Behind the line, it's Bama who offers the better prospects in guys like Don'ta Hightower, Nico Johnson and the insanely powerful Courtney Upshaw. LSU MLB Kevin Minter might well be the only NFLer among the Tiger LBs.
Of course, it's the LSU secondary that always grabs attention with CBs Morris Claiborne and R (as in rover - Honey Badger don't care about playing CB) Tyrann Mathieu as well as FS Eric Reid who sits at the back with SS Craig Loston. Alabama's secondary is hardly a poor group. They're not even mediocre. CB Dre Kirkpatrick, FS Robert Lester and SS Mark Barron could all be gone by the end of round 2.
Offensively, the cupboard's barer with two power running offenses that lack strong QB play. Bama RB Trent Richardson is the best RB in the draft, and both LSU WR Rueben Randle and teammate OT Alex Hurst are going to be first round candidates.
So hit it up here for the national championship. This one's for all the boudin balls.