BREAKING NEWS: "The St. Louis Rams have shocked the NFL world today with the appointment of Norb Vonnegut as the trouble franchise's new General Manager..."
[Note by Ryan Van Bibber, 12/08/11 11:43 AM EST ] Obviously, we're kidding here.
Shocking news, eh? I knew something was going to break soon, so I decided to dig for the truth myself. I knew my days as a reporter for my grade school paper would come in handy. I'd dabbled in the newsman game off and on over the years. How my article on the Alien presence in Congress didn't win a Pulitzer Prize...
I had just put my rumpled trench coat in the dryer, when the phone rang. It was one of my millions thousands hundreds three sources that keep me informed about the inner workings of the St. Louis Rams Organization. Lucky for me, I knew the person my contact told me about at great risk to herself. I then placed a long distance call for an order of Bubba Steinberg's Beans & Kreplach to be delivered to her workplace as payment for the information.
I have to admit, when the name Norb Vonnegut was mentioned as the new Rams General Manager it stunned me. The Norb I know is one hell of a best selling author. How did he land an NFL GM job? Maybe Stan Kroenke owed him money? The author of "Top Producer" and The God's of Greenwich" was now the Rams General Manager?
Knowing that the story came first at any cost, I set aside the thoughts of the restraining order and phoned my old friend. He was kind enough to give me an interview before he called his attorney to have the restraining order expanded to include phone calls. Here, in a Turf Show Times exclusive, is that interview:
DouglasM - Congratulations on being hired as the St. Louis Rams new General Manager. What can we look for in a Norb Vonnegut regime?
Norb - "First things first - Doug, thanks for inviting me to visit with your readers at Turf Show Times. St. Louis has the greatest fans in the world, and they all seem to congregate on this website. It's an honor to be here. You know, a few years ago Arnold Schwarzenegger announced his gubernatorial campaign on the Jay Leno show. We hope to make a similar splash. And that's why, in the age of new media, I'm announcing my appointment as the St. Louis Rams new GM on SBNation's Turf Show Times.
"The GM position is a dream come true. And my job is to get that post-Superbowl call from the President. I'm not a patient guy. So I'm bringing all my skills from Wall Street to bear on the mission.
"Starting with trades. I don't want onesies and twosies, say Sam Bradford plus our top-two draft picks for Peyton Manning. There's just too much hype about Andrew Luck. I want big trades. Under my regime, you'll see the blockbusters that keep Terry Bradshaw and Fox buzzing into next season.
"Right now, for example, we're in advanced negotiations with LSU to swap the Rams for the Tigers, our entire team for theirs. We think we can pull this trade off before the college bowl games. I know it won't save this season, but we're building for the future."
DouglasM - What are your strengths when it comes to evaluating NFL players?
Norb - "Other teams use standard measures, height, weight, and the 40-yard dash. After a while, the metrics all look the same. And it's tough to differentiate theme players from future Hall-of-Famers. I take pride in identifying grit and determination, qualities you can't measure with a stopwatch. Under my tenure, we'll evaluate all our picks through rigorous trash-talking drills. We want guys who stand in the end zone and run their mouths nonstop. Like in the Jets versus Bills game: Stevie Johnson mocked Plaxico Burress with that shot-in-the-leg routine. Now, that was a thing of beauty."
DouglasM - You've been a Raiders fan for years... Can you promise Rams fans you won't channel Al Davis?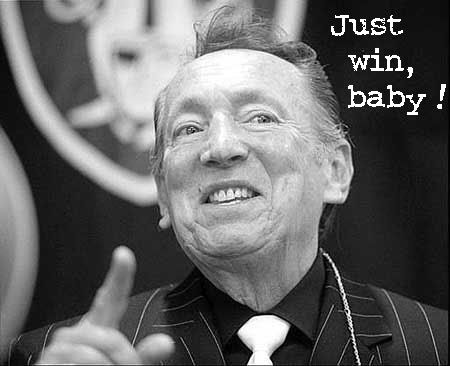 Norb - "What's wrong with Al Davis? We should all have NFL owners with his vision. Prior to taking my position as GM of the Rams, I joined the board of Al Davis Forever("ADF"). To date, the organization has raised over one million dollars in donations from fans of the Silver and Black. And now, we're in advanced discussions with Madame Tussauds Wax Museum.
"If ADF's plans come to fruition, Madame Tussauds will create a life-sized wax figure of Al Davis in time for this year's playoffs. We intend to install Wax Al Davis,otherwise known as "WAD," in the owner's box. Al Davis is a storied owner. The Raiders are a storied organization. And WAD's hawkish stare over the gridiron will serve as a source of inspiration to Raiders for generations to come."
DouglasM - Are the rumors true that your first move as GM will be to bring Ryan Leif out of "retirement" and to trade Sam Bradford to the Philadelphia Eagles for head coach Andy Reid?
Norb - "We have a problem, pal. In the hedge fund world, people go to jail for that kind of information. Who do you know on the inside? But look... Now that word is out, let me address the Leif naysayers. I don't care what happened in San Diego. Our scouts fished with Ryan near his hometown in Montana. That kid can still cast a country mile. Our challenge is to lure him away from the brown trout and Woolly Buggers.
"Think about it. We have Andy Reid. We swapped into the number one collegiate football team in the nation. And we have Ryan Leif to help develop our young quarterback from LSU. It just doesn't get any better."
DouglasM - This just in: Cub reporter Ryan VanBibber has learned that you plan to move the Rams to Des Moines, Iowa and changed the team name to "The Caucuses". Care to respond?
Norb - "Doug, again your sources are outstanding. You're right about Des Moines and "The Caucuses."
"We're also making some changes to the coaching staff:
"Herman Cain is the new defensive secondary coach given his experience at getting burned. Our offensive coordinator proved a more difficult choice.
"Rick Perry and Michele Bachmann can coordinate being offensive with the best of them. I like long passes, and those two know more about bombing than anyone.
"We offered the position to Newt Gingrich for those timeless remarks about his first wife: "She isn't young enough or pretty enough to be the President's wife." No word back whether Newt is interested.
"We couldn't ask Mitt Romney to be head coach. He's never even tried marijuana. Nor could we decide who was dopiest among the remaining GOP candidates, Ron Paul or otherwise. So we went with Andy Reid. We expect big things from him. And you heard about our selection first on SB Nation. Gotta go. I have work to do."
***********************************
I'd like to thank All-Knowing-Super-Being Norb Vonnegut (he doesn't like the "GM" tag, so he changed it) for giving me this exclusive interview. Even though no one will believe the St. Louis Rams chose a Best Selling author as their new General Manager, it doesn't mean that it couldn't be impossibly untrue...