Our beloved Rams appeared to have nailed the draft this year. The job Les Snead and Jeff Fisher have done since arriving in St. Louis has not yet shown up in wins (IMO because of their division), but the roster transformation is night and day from the previous regime. The days of below average talent such as David Vabora in the starting lineup are now a distant memory. Last year the talent was evident and brought some much needed excitement for a franchise and city that desperately needed it. There were still roster issues that held them back from making the next step though. These issues largely included experience and depth. The experience can only come with time and patience but Snead deserves a standing ovation for the depth and talent gained in this draft. In result of another talented draft class, the uphill battle for this years UDFAs is steeper than ever. Having said that, the rams acquired some players that could prove to be great assets for this year and many more to come.
I have listed the UDFAs below in order of those that I believe have the best chance of making the team. With scouting reports and videos of the most likely.
1. Marcus Roberson, CB, Florida
6'0 191lbs
The most well known UDFA the rams signed and perhaps the most talented. Before the year Roberson was widely considered a first round pick. An injury plagued 2013 season knocked down his value but was still valued as a day 2 pick by most media experts. With the secondary being the obvious weaknesses of this talented defense, Roberson fits in at both a talent and need aspect for this roster.
Ultimate Marcus Roberson Highlights | HD (via TheFootballman175)
2. Ethan Westbrooks, DE, West Texas A&M
6'3 267lbs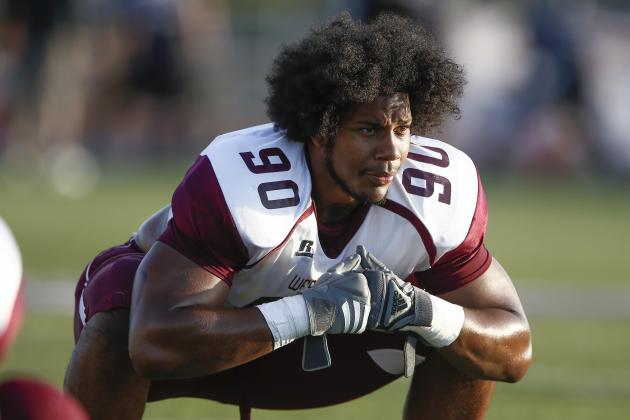 The defensive line talent and depth for the Rams is well known throughout the league. Making this a tough pick but I believe Westbrooks has a better chance than Sam of making the team. A small school guy but has the measurables and talent to make it in the league. Here is a scouting report done by NFL.com. "Talented, enigmatic Division II edge rusher who marches to the beat of his own drum, but has intriguing, raw, natural ability to harass quarterbacks. Wild-card prospect with diamond-in-the-rough characteristics if a defensive line coach is able to refine the technical aspects of his game and stoke his fire."
2014 Combine workout: Ethan Westbrooks (via nflhardesthitseewdf)
3. Tavarius Wilson, LB, North Alabama
5'11 245lbs
This may be my favorite signing of the Rams and could fill a need if he can prove to be a viable backup to JL55. He was a dominate presence and playmaker at North Alabama, the same school of our very own Janoris Jenkins. Even though I failed to catch many UNA games this year, his highlight film and stats make the talent he poses evident.
Tavarius Wilson #30 2013 senior year HIGHLIGHT (via t wilson)
4. Austin Franklin, WR, New Mexico State
5'11 189lbs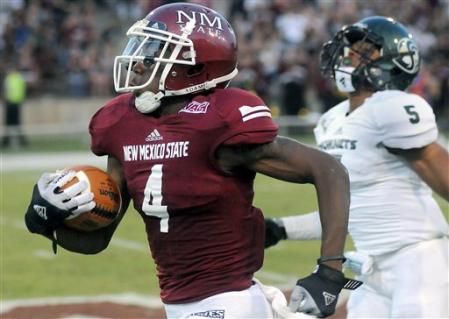 The Rams have plenty of WRs but with the recent suspension of Steadman Bailey, Franklin has an opportunity to make the practice squad and possibly the active roster for the start of the season.
Austin Franklin NMSU highlight (via 10BATboy262)
5. Alex Bayer, TE, Bowling Green
6'4 258lbs
"Try-hard, effort blocker with enough athletic ability and blocking strength to fend for a No. 3 "Y" role, where he could bring the most value as a move blocker. " - NFL.com
#82 Alex Bayer, TE, Bowling Green vs Pittsburgh '13 (via SportCutups)
6. Julius "Trey" Watts, RB, Tulsa
5'11 190lbs
Trey Watts 2013 Senior Highlights (via Trey Watts)
7. Avery Cunningham, S, Central Michigan
5'11 200lbs
#36 Avery Cunningham DB (via Jay McDowell)
8. Emmanuel McCray, OL, Ole Miss
6'5 320lbs
9. Jarrid Bryant, S, South Dakota
6'4 195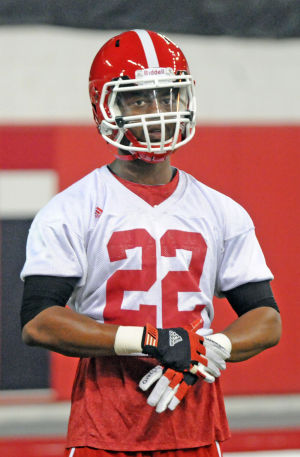 Arizona State Transfer
10. Aaron Hill, LB, Minnesota
6'2 231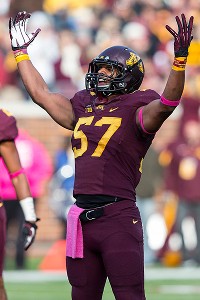 11. Deantre Harlan, DL, Bacone
6'4 260lbs
As seen above, Harlan was a two way star for the Bacone warriors.
12. Johnny Millard, LB, Cal Poly
6'3 240lbs
13. Jamaine Sherman, WR, East Texas Baptist
6'3 205lbs
14. Kadeem Jones, FB, Western Kentucky
5'11 246lbs 15. Abasi Salimu
6'5 290lbs