Jadaveon Clowney Finished His Pro Day on Wednesday. How Does He Think He Faired?
Rams' GM Les Snead was front and center.  Peep. The. Denim!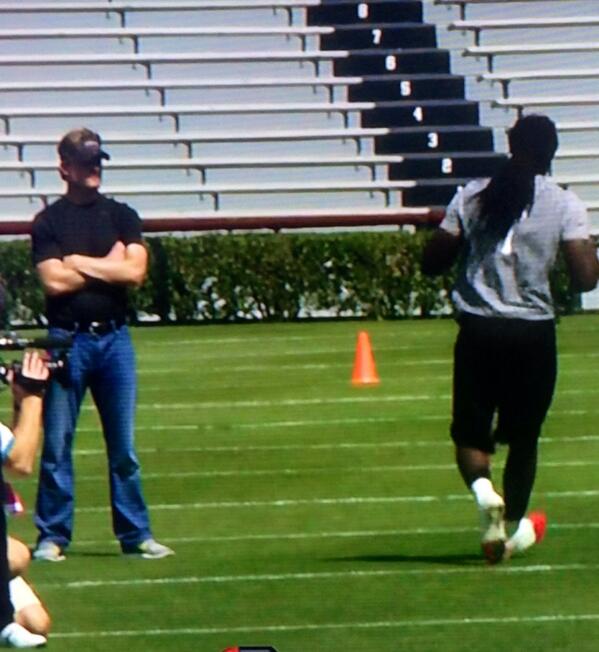 Rams "Top 30" Visits Underway: ESPN NFL Nation

Each team is allowed to bring up to 30 prospects to its facility for a pre-draft meet and greet. Those players are not allowed to work out at the team facility, and if the team wants to work that player out, they must venture to the player's college campus or home base. ESPN's Field Yates offered some excellent insight into what teams are hoping to accomplish with each visit.

Rams Hosting Auburn OT Greg Robinson:  NFL.com

It was more a question of when than if, but the Rams are reportedly hosting former Auburn offensive tackle Greg Robinson on a visit to the team's facility Wednesday.

Michigan OT Taylor Lewan Visiting Rams:  National Football Post

Lewan visited with the Falcons on Monday, flew out to Detroit to visit with the Lions on Tuesday, and met with the Rams on Wednesday.  All three teams have top 10 picks, but could Lewan be available with the Rams second first round pick [No. 13] if they don't address O-line with the first of their two first-round selections?

Sammy Watkins Knows He's Got "Freakish Talents":  Pro Football Talk

It's not hard to find people calling Clemson wide receiver Sammy Watkins as the top wide receiver in this year's draft class and Watkins isn't going to argue with them.

Mel Kiper Jr. and Todd McShay Cover NFL Draft Picks 13-16:  ESPN

Want to know what the ESPN expert think are the Rams [and the teams drafting 14-16] should take with these first round picks?  It's an hours worth of audio.  The good news for you is that - at 13 - the Rams audio starts off the segment.
Is Sam Bradford a Legitimate Franchise QB?
:  
Sports Glory
The St. Louis Rams drafted quarterback
Sam Bradford
with the first overall pick in the 2010
NFL Draft
, and quite frankly he hasn't lived up to the expectations. Through his first four seasons in the league, he hasn't had one breakthrough year that he has been able to push aside all of his doubters. There have been some points throughout the past four years that have shown bright spots to his game, but the consistency aspect hasn't been there.
Rams' Top Remaining Offseason Priorities
:  
Bleacher Report
The St. Louis Rams have a number of needs that must be addressed before the offseason is complete, and filling these spots will not be easy.
St. Louis Rams 7-Round Mock Draft
:  
Fansided Mock Drafts
If the Rams don't land Sammy Watkins or Mike Evans in the first round of the upcoming NFL Draft, are you ok with them nabbing one in the second?  
Fansided
sure is!  Forget about the
Donnie Avery
's and
Brian Quick
's of the world...just keep trying until you get it right!
Five Biggest Draft Blunders in Rams' History
:  
Sports Rants
While every NFL team's goal is to hit on every draft pick they make, the truth is that's an impossible task. Even the best organizations have their fair share of misses. When it comes to the NFL Draft, teams usually have one of two regrets; either the player they choose or the player they passed on. With that in mind, let's take a look at the five biggest blunders in St Louis Rams history.
Greg Reid's Next Step Another Misstep
:  
Valdosta Daily Times
Last week, Greg Reid appeared ready to finally reach the dream of playing in the National Football League. He's only going to get so many chances though. See what Jeff Fisher has to say about Reid and the workout - which he personally held - at Rams Park last week.
New Rams CB Greg Reid remains in Lowndes County (Ga.) Jail today, with no bond set, after weekend arrest for probation violation.

— Jim Thomas (@jthom1) April 2, 2014
Signature Stats. Yards Per Route Run & Drop Rates
:  
Pro Football Focus
Tavon Austin
was a player the Rams targeted early in the draft in a bid to add a dynamic playmaker to their offense but, while there were flashes of skill in his rookie campaign, the overall production was lacking.
Breaking Down Shaun Hill's Contract:
ESPN NFL Nation
Hill's contract comes in around the going rate for a backup quarterback, though the Rams didn't have to overextend themselves for a multiple years. Hill will be expected to come in and back up starter Sam Bradford and potentially serve as a mentor for a likely drafted rookie to come in May.
Signing Britt Means No "Wasting" Early Draft Picks on a WR
:  
Rant Sports
What the one-year, $1.4 million deal should signal more than anything is that the Rams are not going to take a receiver with either of their two first-round picks or potentially at all in the 2014 NFL Draft.
Best/Worst Case Scenarios for Rams' Free Agents Signings
:  
Ramblin' Fan
The Rams capped off a modest free agency period with the signing of former Tennessee Titan wide receiver
Kenny Britt
, as first reported by NFL Media insider Ian Rapoport. The former 30th overall pick inked a one-year-deal worth $1.4 million, with a mere $550,000 in guaranteed money. General Manager Les Snead and Head coach Jeff Fisher have executed a smart strategy this off season, and it centers around potential rewards that outweigh the risks. With that risk/reward dichotomy in mind, we wanted to break down the "best case" and "worst case" scenarios for each of the Rams (re-)signings this off season.