Disclaimer: At this point my mock is a complete shot in the dark. So many things can happen(injuries, free agency, combine results, off field issues)that the draft will most likely not go the way i expect. So if you are unhappy with the results that i expect you are free to voice your opinion below.
Picks: Alright so the season has concluded. While watching the Redskins be so terrible it netted us the #2 pick in the draft, its still hard to swallow our 7-9 record. However the past is the past and its time to move on. In this draft we have ourselves the #2 picks as well as the #13 pick. At the time of this writing Les Snead has announced that the #2 pick is up for grabs to the highest bidder. I believe strongly that this pick will be traded down.
Draft Day: I dont believe our team is a Super Bowl contender yet and still has plenty of holes to fill which is why our regime has been so eager to trade down and stockpile picks. Now over the course of the time before the draft they could fall in love with a prospect and sit at #2 and take him or trade down only one or two spots to secure that player, my draft is going off the assumption that this is not the case. So with that being said i do believe we trade down with the Atlanta Falcons. It's easily the most logical fit as far as trading partners are concerned. Other potential trading partners include Oakland, Minnesota, Tampa Bay, Buffalo, Cleveland and Jacksonville in descending order of probability. I dont think we are interested in offers to drop out of the top 10 unless the price to due so is outstanding. On par with what the Redskins gave up in 2012. Rams give #2, receive #6, #37, #68 and a 2015 2nd.
Selections: Finally its May 8th, after reading and hearing every day since the Super Bowl about the draft, it is finally upon us and after all the trades and agonizingly slow previous picks, you hear "With the 6th pick in the 2014 NFL draft the St. Louis Rams select....."
#6 Jake Matthews, OT, Texas A&M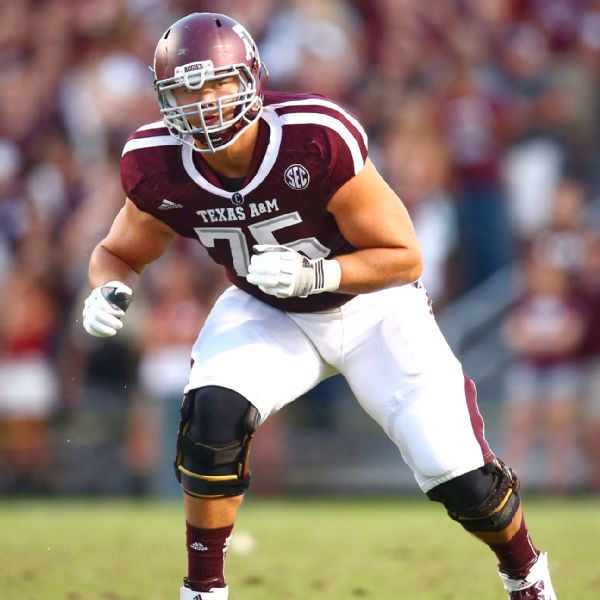 This pick is still very hard to predict at this point and i have doubts that they will select Matthews but this selection seems the most probable for many reasons that i will explain. First off by the time this selection at #6 is made Bortles, Clowney, Manziel, Watkins and Evans are gone. As far as elite prospects go that leaves Matthews, Robinson and Mack. One of these guys has to be the selection based on value alone. I think both Robinson and Matthews have the potential to play Left Guard or Right Tackle out of the gate. Both are flexible enough to shift around the line in case of injury or if Long isn't back in time for the season to start. However i believe that Matthews is more so then Robinson. I don't tend to read into combine numbers as much as nearly everyone else. Game Tape for me tells me about 90% of what i need to know about a prospect. Matthews is far more advanced in Pass Pro then Robinson but of course isn't the same kind of Mauler as Robinson. I wouldn't have a problem with Robinson however with Bradford just coming off the ACL injury the O-Lines room for error is thin. The likely hood of Robinson making a potential error like that is higher then Matthews. I won't argue that Robinson has more upside because based on his athletic skill set he does. But im not sure we are in the position to take players based on potential when Fisher and Snead know the time to win is now. I think they go the safe option here with Matthews. For those of you clamoring for a wideout im sorry to say i don't think we will pick one up in the draft let alone the 1st round. We have over the past two years selected 4 wideouts. One in the 4th round, one in the 3rd, One in the 2nd and one in the 1st. These are all guys Fisher and Snead decided to take so you can't make the excuse that they aren't attached to this regime. To take a wideout would be result in Pettis getting cut and everyone moving down as far as playing time is concerned. I honestly believe that everyone is short changing the talent that we have. Givens is a solid deep threat with great speed who hasn't necessarily been a bust for being a 4th round pick. Bailey is coming into his second year and i believe out of all wideouts you will see the most improvement from him. His hands are outstanding and his catch radius has the potential to be an elite skill. He didn't get his starting spot on the roster last season handed to him based on draft status. He worked his way there which says a lot. I think he can be a top level #2 in the mold of a Donald Driver or Hines Ward. He show's great effort and it's evident on the tape in which he is asked to run block. Quick is the real question to me. Quick has all the tools to be a #1 and he just has to hone in on that potential. I don't think its in the teams best interest to just call it quits on Quick after 2 seasons which is what they will be doing if they select a wideout in the top part of the draft. If they do intend for Quick to be a #2 then this means they are admitting that Givens and/or Bailey are simply backups who will see occasinal rotation in 3+ wideout sets. In case you didn't notice the Rams for a better part of this year decided to run a lot of heavy jumbo sets with only a couple wideouts. Add to that In 18 years as a head coach Jeff Fisher has had only one player consistently post 1,000 yard seasons (Derek Mason 4 times) and it just doesn't make sense to keep stacking receivers like that. I think it is worth giving our very young group of receivers another year to develop before we start thinking about adding more youth. Don't forget the average amount of experience for the elite wideouts in the league to hit their breakout year is typically 2-4 years. None of our receivers have more then 3 years besides Pettis who at this point is an obvious backup. Take a look at our fellow NFC West opponent the Super Bowl champion Seattle Seahawks. None of there receivers are elite in terms of talent. Rice was hurt for a large part of the year and so to was Harvin. However Tate, Baldwin and Kearse stepped up and made plays. Just an FYI it was Tate's 4th year, Baldwin's 3rd year and Kearse's 2nd year. We have to give some time for our Receivers to develop before deciding to hit the reset button. Besides i don't know that either Watkins or Evans will have a AJ Green, Julio Jones type impact considering the style of offense we run. O-Lineman on the other hand will fit nicely with what we are doing on offense especially someone as versatile as Matthews.
***Other Possibiltes inculde...
Jadeveon Clowney, It wouldnt surpise me if we stick with the #2 pick and decide to take Clowney. Fisher knows a good D-Lineman when he see's one and to me Clowney is best we have seen coming out of college since Julius Peppers. Fisher also knows the Risk/Reward factor of taking someone with a lot of athletic potential (Drafted Jevon Kearse in 1999).
Greg Robinson, I very well could be wrong on the assesment that they would rather have immediate production then potential. Robinson would obviously be a big asset in the run game.
#13 Aaron Donald, DT, Pittsburgh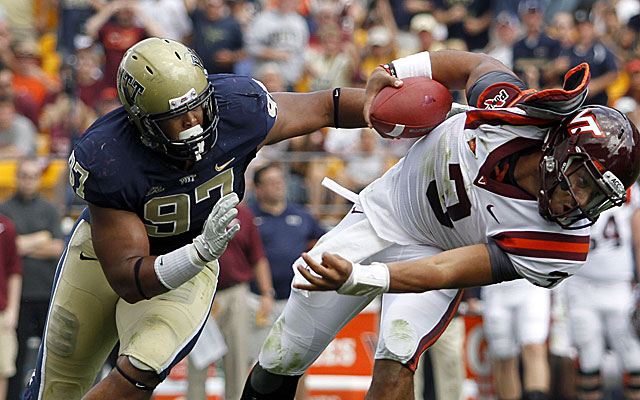 I presume this pick will get the most scrutiny but please here me out. It's no secret that Fishers defense lives and dies through the play of the defensive line. Currently we have in my opinion the best rotation of defensive ends in the league. And at defensive tackle we have Brockers who is coming into his own nicely and Langford who is serviceable. However it was evident last year that Langford was the weak link. About 70% of the time we got burned on a long run up the middle it was because Langford didn't keep gap integrity. It was frustrating to say the least but he cleaned that up and did better as the year went along. But a curious sign popped up that made me wonder about Langfords future with our team. When the Rams brought in Henry Melton it signaled to me that they were looking for more then just depth at the D-Tackle spot. Also something that grabbed my attention in last year's draft. Peter King of SI had the chance to sit in on the Rams war room last year during the 2013 draft. When he was talking about what the Rams were going to do at pick #22 he mentioned something peculiar. Ogletree was #1 on their board with Larry Warford #3. #2 however was DE Datone Jones from UCLA. Jones was considered a 3-4 End or a 4-3 D-Tackle. If Ogletree had gone the Rams seemed content with Jones being their pick. My guess is they would have had him as rotational D-Tackle last year which again brings up questions about how they view Langford Add to that the Rams met with Donald at the combine and had a private workout with him id say it's safe to say there is a good amount of interest in Donald. Now this doesn't mean that Donald will start over Landford. But i do see Donald being rotated in to start the year and to see his snaps increased more and more as the year go's on. This would free us from Langford and his contract next year. Donald as a player is a freak. He may be small but he has great technique and has unheard of speed and agility for someone at his position. This kid to me is a clone of Geno Atkins. He can hold up well against the run but would bring in an upgrade over either of our starting D-Tackle's as a pass rusher.
***Other possibilites inculde...
Cornerback, Gilbert/Dennard, If they decide to go Corner here it will be either Gilbert or Dennard. I don't think Gilbert falls this far but even at that i think that Dennard may be rated higher on the Rams board then Gilbert. Williams will bring in a heavy press man scheme which play directly into Dennard's strength as a player. Add at that he is a scrappy Corner that isn't afraid to come up in run support which is exactly the kind of corner Fisher has coveted in his career as a Head Coach.
Safety, Clinton-Dix/Pryor, If they decide to go safety they will choose either Clinton-Dix or Pryor. They may even try and trade down a bit to maximize the value of picking them a bit later because picking either at #13 is a bit of a reach for either of them. Between the two i like Pryor more but regardless i don't think Fisher values Safety's as much as other coach's.
#37, Jimmie Ward, S, Northern Illinois

Everyone knows that Free Safety is a position that the Rams are lacking talent at. Rodney McLeod did fine last year in holding the back end but we need better then fine. We need a playmaker that makes QBs think twice about throwing it deep. We will need our Safety to be a sure tackler who can close space quickly in case our corners get beat in press coverage. We also need a quick ball hawking player who will be able to play Cover 1 in a robber sort of role. Williams defensive scheme will call for McDonald to play box (especially against San Fran/Seatlle run heavy offense) and have Ward play deep. Ward has the athletic billing that's great for a Free Safety. He ran a 4.47 unoffical 40 at his Pro Day as well as a 38 inch vertical and a 125 inch broad. He is a fearless player who plays hard every down and is a willing hitter. Some are concerned about his size. I for one am not. The top free safety's include Earl Thomas, Jarius Byrd, Eric Weddle and Devin McCourty. And all four measure in around 5'10. Of course Ward's weight is a bit less at 195 but that is the same weight McCourty's at and he seems to be holding up just fine.
#44, Lamrcus Joyner, CB/S, Florida State

This pick serves two purposes. One it gives the Rams a starting Nickel corner. Two it can be considered a pick of depth at both Corner and Safety. Joyner while in College played both Safety and Nickel Corner. With the Rams grabbing Ward they dont need a starting safety but they do need a starting Nickel Corner. Joyner is an aggresive player who can hit well for his size. He can play the run well and wouldnt be considered a liability in this regard. Whats awesome is his versatility. If McDonald or Ward went down with injury Joyner could step in and start at Safety without being a huge liability. On top of that Williams could use him and Ward in various blitz schemes having one blitz and the other drop back to deep safety which will add a ton of versatility and help confuse QB's.
#68, Jimmy Garoppolo, QB, Eastern Illinois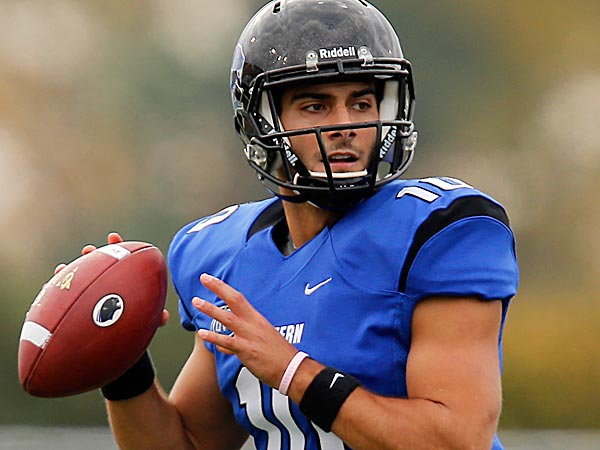 Sam Bradford for as much heat as he has taken will be our starting QB next year. But the chance of him getting hurt are prevalent so we need a plan B. If Bradford go's down again we need someone who is capable of stepping in and winning us games, not a QB who will manage to not lose the game and let defense, special teams and gadget plays win them games (.......Kellen Clemens.) Jimmy Garappolo has done wonders to get teams to notice him in both the Shrine game and the Senior Bowl. Some people are projecting him as a 2nd rounder but this seems to happen every year. A QB gets hyped up and people start thinking he will be a 1st or 2nd rounder. Happened last year with Ryan Nassib and that didn't work out to well. I understand Garappolo has the hype around him but i don't see him going until 3rd/4th round. That's where the Rams step up and take him to be a backup to Sam and maybe a replacement if things don't get better on the Bradford front.
#75, Gabe Jackson, OG, Mississippi State

You may be asking yourself where exactly would Jackson fit on the line with Matthews being drafted at #6. Well he may not start immediately. As crazy as that may sound we didn't give Bailey a starting spot though he was a 3rd round rookie. Also take into consideration that there is no guarantee that Long is ready to start this year. If that's the case you would assume Saffold would hold down the fort at LT, Matthews at LG, Wells at C, Jackson at RG and Barksdale at RT. If he is ready to start the season who is to say Barksdale get's the nod at RT. The Rams could easily choose Matthews over him and have Jackson play LG while Barksdale serves as a backup lineman who rotates in from time to time. Jackson reminds me a lot of Larry Warford who the Rams had high on there draft board last year.
Conclusion: So there you have it. I will be updating this mock when news comes along(player decides to go back to school, off field incidents, trades, combine results ect..) and will be adding more rounds as we get closer to the 2014 NFL Draft and i have more of a chance to look into lower round prospects. Thank you all who have read the entire article i know it was very long and there is a lot of information. Please if you see any error in stats let me know and if you have any thought on the mock please comment below and let me know your thoughts.