First off, let me say that I am no scouting expert and do not want to call myself one. This mock is based on what I would do if I were the GM and had complete control.
Round 1, Pick #2
I have no idea who we will end up trading out of this pick with, but I most definitely think it is going to happen. For the sake of this mock I will say Atlanta is fed up with their pass rush and they know it is so disastrous that they are willing to give up their 1st round pick this year, their second, and their 1st, 2nd, and 4th next year (As opposed to 3 1sts like the RGIII trade) so that they can pick up Mr. Jadeveon Clowney.
Some people may say that Clowney is the way to go for us, but I disagree. For us he would merely be a luxury, and for a team who hasn't made the playoffs in almost 10 years, you don't take luxury picks. Especially considering Jadeveon's work ethic and his true desire to play football, he is no sure thing to say the least.
With the 6th pick in round one we take.... (Drumroll please).
Greg Robinson, OT- Auburn
I have always been a fan of Robinson's since I saw him destroy by beloved Missouri Tigers in the SEC Championship game. Greg Robinson is one strong dude. Some would call in natural strength, while some would actually call it unnatural. To me, either would be correct. I'm convinced he can move mountains in the run game and create holes large enough for even Kenneth Darby to run through (if you can even remember him). His pass blocking seems to be decent, but you never know what will happen in the NFL. Maybe the speed of Chris Clemons or Aldon Smith will prove to be too much for him on the edge. Luckily for the Rams, if Robinson does not succeed at LT we can always try him at RT or even better, kick him inside to Guard (most athletic enough for pulls and what not) and solidify that position for at least 10 years. He is that kind of a prospect.
Round 1, Pick #13
Calvin Pryor, S- Louisville
Remind you of anyone? That picture in particular reminds me of Richard Sherman and stupid Earl Thomas in the backround going crazy over some big hit or INT he just made. I WANT SOME OF THAT TOO!
Gone will be the days of Quaterbacks throwing freely over the top, Calvin Pryor will either leave you seeing stars or you'll be seeing the back of his jersey headed to the endzone. Pryor to me simply fits the St. Louis Rams defense a little better than Ha Ha Clinton-Dix. Perhaps TJ McDonald can be Kam Chancellor and Calvin Pryor can be Earl Thomas. I don't know about you but I'm pretty siked about that combo.
Round 2, Pick #37
Ra'Shede Hageman, DT- Minnesota
Ra'Shede Hageman out of Minnesota is an athletic freak for his size. At 6'6 and 315lbs he can move quite well, and we will see that at the combine, which might bring his stock up too far for the Rams to be able to pick him up with the 2nd round pick we picked up from the Falcons. If that does happen, I would think that either Timmy Jernigan or Ego Ferguson will be available. My first choice though, far and above the rest is Hageman because I believe he would be going into an ideal situation. Hageman has been bashed a tad for standing up and playing too high sometimes, but he has no immediate pressure to play at an elite level (although that would be nice). With Micheal Brockers, Robert Quinn, and Chris Long to his left and right, who do offensive coordinators double team? Do they keep a tight end or a running back in to block? Or maybe even both.... Either way with our improved secondary it will be difficult to find a hole in our defense.
Round 2, Pick #44
Xavier Su'a-Filo, OG- UCLA
Honestly, this pick was tough for me. I was making up my mind between Xavier and Zack Martin. Ultimately I went with Su'a-Filo, but they are interchangeable if one is already off the board. Both are good run blockers, not near to the level of Greg Robinson, but pretty darn good nonetheless. Pass protection seems to be a plus on both of their resume's, although Martin may grade out a little higher. In the end, I went with Xavier Su'a-Filo because he can always comfort good ole Sam if he is having a bad day, as shown above.
Round 3, Pick #75
EJ Gaines, CB- Missouri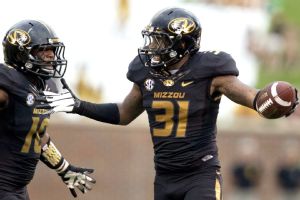 I'll say it once, and I'll say it again. He held Mike Evans to 4 catches and 8 yards.
A local favorite around here, I think he can be a steal in round 3. Gaines picked off 5 passes for Missouri this season and was instrumental to the defense that lead them to the SEC Championship and a Cotten Bowl victory. In fact, if Janoris Jenkins ever is demanding a little too much money -hard to imagine huh- I think Gaines could fill in for him in 2 or 3 years without any drop off. Now keep in mind, right away he would be primarily a third corner, but a very solid one at that. Like everyone always says "You have to have three good corners now."
Round 4, Pick #106
Tajh Boyd, QB- Clemson
Tajh Boyd is another one of my favorites at his position. It only boosted my interest when I saw his speed against Ohio State in the Orange Bowl. To me, he is an ideal back up. If Bradford once again goes down then we try out Boyd, and if not, then we can rest assurd that we have a formidable backup that can take over if need be. 'You may say that it is way too late for Tajh, and you might be right. If he is off the board then we can go after Aaron Murray or AJ McCarron.