Though Sammy Watkins and Mike Evans are the top two receivers according to most sites, this topic is up for much debate and these men could make or break a the combine. This segment, however, features those "sleeper" receivers who may shoot up from their performance at the combine. These guys are not talked about as much, but they may still prove to have a lot of potential.
So Let's Get it Started Shall We?
Kelvin Benjamin FSU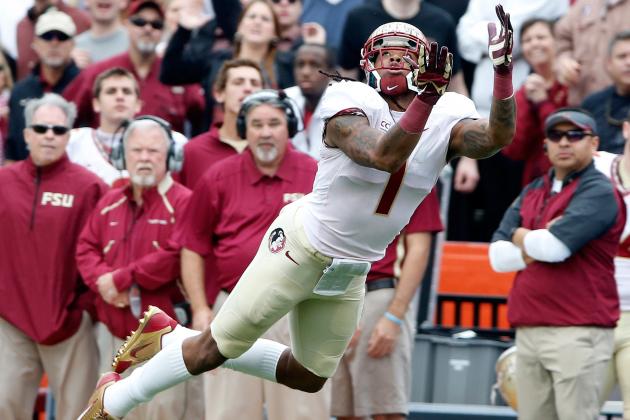 Let me start off by saying this kid is truly something special. Standing at 6'5 234 lbs running a 4.5 40 and wielding massive hands, to me, he may have the brightest horizon in this entire draft. Accelerating quickly after the catch, Kelvin also fully utilizes his advantages, hitting defenders with destructive stiff arms. With a style that mirrors Randy Moss and numbers similar to Megatron (6'5 235 lbs, 4.4 40 at combine), he has every asset to follow in these men's footsteps. Though there is some trouble with dropped passes and his route running, I'm sure he will come around to make a massive impact for his team as well as on the league.
Marqise Lee USC
(Sick photo right? Yeah I know)
If Kelvin has the most potential in the draft, this kid has gotta be close. At 6'0 195lbs and running a 4.49 40, he's tall enough to contest every defender in the secondary as well as blow by them with his speed. Explosiveness may be what sets him apart from everyone else, though, showing the ability to stop and go with ease. He won't break many tackles, but he'll break your ankles the minute you give him an inch. Lee's only worry is his small figure, which has plagued him with injuries in the past and could continue to be a problem at the next level. As long as he stays healthy, it is highly probable that he'll be going places.
Odell Beckham Jr. LSU
Though he may not be one of the most dynamic players, Beckham Jr. Is certainly a force to be reckoned with. His size may prove to be a disadvantage at this level, but his athleticism, and ability to shake defenders will most definitely not. Occasionally deals with trouble hauling in passes, but he has managed to catch balls before that, frankly, seemed uncatchable. His only weaknesses are his overall muscle mass and lack of blazing speed, but he has plenty of time to enhance these areas before the season starts.
Allen Robinson Penn State
With a 4.5 40, the numbers don't do justice to the speed with which this man possesses. Maybe his 40 yd dash isn't too exciting, but his game speed is, without a doubt, fantastic. Weaving in and out of would be tacklers, following blockers, and making people miss are this guy's specialties, making him seem a lot quicker than his 40 time gives him credit for. He seems to do best in tight spaces, emerging from mobs of defenders with ease. Standing at 6'3, his height will prove to be an advantage as well against small CB's. Needs improvement in his route running as often times he will unwillingly tell DB's what direction he is headed. Best comparison I can make to his skill set is Anquan Boldin.
Thanks for the read and if you guys want me to do another analysis, just comment what players you'd like me to do below. Be sure to keep an eye on these guys at the combine and Go Rams!