Disclaimer: At this point my mock is a complete shot in the dark. So many things can happen(injuries, free agency, combine results, off field issues)that the draft will most likely not go the way i expect. So if you are unhappy with the results that i expect you are free to voice your opinion below.
Picks: Alright so the season has concluded. While watching the Redskins be so terrible it netted us the #2 pick in the draft, its still hard to swallow our 7-9 record. However the past is the past and its time to move on. In this draft we have ourselves the #2 picks as well as the #13 pick. At the time of this writing Les Snead has announced that the #2 pick is up for grabs to the highest bidder. I believe strongly that this pick will be traded down.
Draft Day: I dont believe our team is a Super Bowl contender yet and still has plenty of holes to fill which is why our regime has been so eager to trade down and stockpile picks. Now over the course of the time before the draft they could fall in love with a prospect and sit at #2 and take him or trade down only one or two spots to secure that player, my draft is going off the assumption that this is not the case. So with that being said i do believe we trade down with the Cleveland Browns AND the Atlanta Falcons. The Cleveland Browns are a team that has talent on both sides of the ball. They have been missing a Quarterback for roughly 20 years and a Quarterback now could potentially put them in a position to contend for a playoff spot. The Browns Front Office will feel pressure to make a move a secure Johnny Football who would draw not only attendance and memorabilia but also wins. For the #2 pick we get the #4, #26 and #71(3rd Round). At #4 Jadeveon Clowney is still available. This creates quite a conundrum for the Rams. On one hand Clowney is easily the best player available on the other hand we have Long, Quinn, Hayes and Sims. I believe the Rams will see this as an opportunity to bolster depth and will trade back yet again to the Falcons who could be only 1 or 2 players away from playoff relevance. Obviously the Rams and Falcons have good trade relations if you look at past drafts. These past relations help move this trade through and the Falcons give #6, #37,#135(5th Round) and 2015 2nd rounder. This give the Rams #6,#13,#26, two 2nd round, two 3rd round and 2 5th round picks. More then enough to put the finishing touches on the masterful trade we pulled with the Redskins.
Selections: Finally its May 8th, after reading and hearing every day since the Super Bowl about the draft, it is finally upon us and after all the trades and agonizingly slow previous picks, you hear "With the 6th pick in the 2014 NFL draft the St. Louis Rams select....."
#6 Khalil Mack, OLB, Buffalo

This pick is still very hard to predict at this point. This pick does not fill any major need on our part. But there are several factors at work here. We have taken 4 Wide Receivers in the past two drafts and i don't honestly believe that's the direction we go. For a while i thought this would finally be the year that Fisher takes a Tackle in the 1st but the more i think about it its just an unlikely option......at least this early into the 1st. At this point no Defensive Tackle, Corner or Safety is worth taking. So we go with BPA that we can use in a versatile way. The Greg Williams hire gave me more confidence in mocking Mack to the Rams. Even though he wont be on the field for every Defensive snap he will be in a TON of Hybrid formations designed to bring pressure which just happens to be Macks strongest attribute. On top of that Mack is a stout defender against the run who has a knack for creating turnovers. This for the Rams creates a stacked front seven capable of bringing unfathomable amounts of pressure under Williams defense that hasn't been seen before while at the same time creating a brick wall of a run defense.
#13 Calvin Pryor, FS, Louisville
I originally had the Rams taking Pryor in the 2nd. That's before the hype train on Pryor began. Now it look that he is a lock to go in the 1st round. Right now his stock is in the #31-#17 range. With a solid combine he could go as early at #9 to Buffalo if Byrd decides to leave. To me Pryor reminds me a lot of Michael Griffin of the Tennessee Titans who is the only Safety that Jeff Fisher has ever taken in the first round. Physically they are similar (Griffin 6'0 215lbs/ Pryor 6'1 210lbs) and more importantly they play similar. Both are big for Free Safeties and both play with a mean streak. Pryor for a Free Safety he is a hard hitter which is something Fisher values out of his Safeties. A Safety tandem of McDonald and Pryor could be menacing, both can lay the wood and support the run well. Now there isnt much highlight footage of Pryor yet but you will start to see them pop up as the draft approaches. He is a player that makes splash plays but could work on consistency. But at that this defense could use some more of those splash play especially from our safeties. Pryor reminds me of a bigger and stronger version of Earl Thomas when he came out of Texas, Weighing in at 6'1 210lbs he has all the size you could want from a Free Safety and i will be interested on how his combine performance will go. As far as stats in Pryors Freshman year (in which he didnt start in every game) he posted 43 tackles, 1 sack, 2 interceptions, 7 pass defends and 2 forced fumbles. Sophmore year he posted 100 tackles, 1 sack, 3 interceptions, 7 pass defends and 5 forced fumbles. His Junior year which is this season he has posted 68 tackles, 0 sacks, 3 interceptions, 5 pass defends and 2 forced fumbles. Now his Junior year stats indicate he has regressed from his sophomore year but Pryor didn't post stats in 3 games. Against FIU and Central Florida both were blow outs so its understandable. But the 3rd game against Memphis he wasnt allowed to play for violating team rules. As you all know that last bit wont concern Fisher or Snead a bit. For those who question small school safeties look at Jonathan Cyprien of Jacksonville. A former Florida International Strong Safety he has come into the NFL and played very well for the Jaguars.
#26 Zach Martin, OT, Notre Dame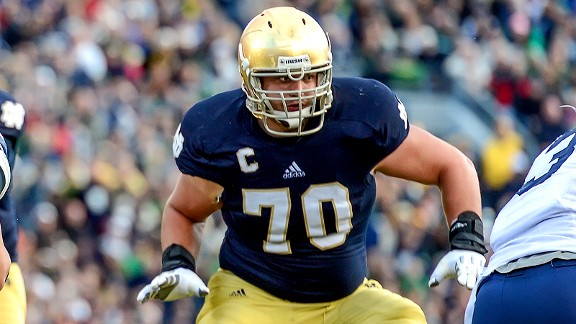 Remember when i said Fisher dosent take Offensive Lineman in the first round. Well Fisher has never had three 1st round picks before. Zach Martin is Roger Saffolds replacement. He is a offensive lineman that can play Tackle or Guard. Martin would be capable of playing Left Tackle if Long isnt back to begin the season while Barksdale is at Right Tackle. Once Long comes back you can move Martin to Guard. He would serve as a backup tackle if either Long or Barksdale go down. To me Martin projects as a Left Guard who is used as a pulling guard quite often.
#37, Loucheiz Purifoy, CB, Florida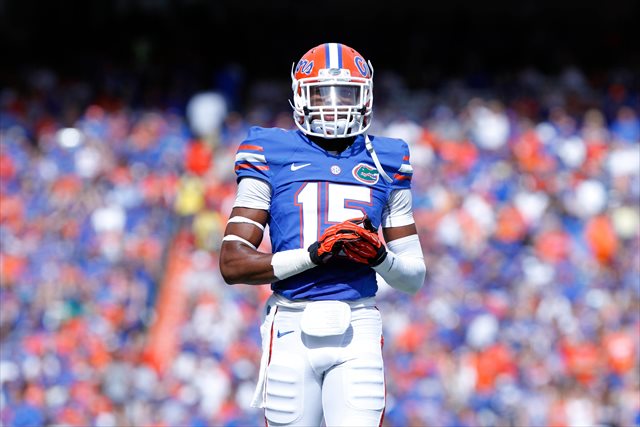 This is a pick to me that may not produce immediate dividends. Loucheiz Purifoy has the size and athleticism to be a shutdown man to man corner in the NFL. But his technique isnt all there yet. That wont be a problem for Fisher and WIlliams as they already have Trumaine and Janoris locked down on the edges and Finnegan (yes i believe we keep him, possibly under a restructured contract) as the nickle corner. Purifoy would have time to develop and could replace Finnegan if he continues to struggle. Purifoy plays the kind of football Fisher loves from corners. He is solid against the run and isn't afraid to make tackles. Florida used him on blitz's a lot something im sure Williams will do as our D-Coordinator.
#44, Gabe Jackson, Mississippi State
This would be another case of drafting outside of Fishers comfort zone. However as i pointed out with the Zack Martin selection Fisher has never had this many selections in a draft before thus allowing him to draft positions he normally wouldn't this early. Last year in the 3rd round we selected TJ McDonald. In an interview Snead mentioned that there was a player in the 3rd that was falling but was selected a few spots ahead of them. The only reasonable conclusion i could come to as to which player he was referring to was Larry Warford who was selected in the 3rd. I firmly believe this was the player they wanted as they had a private workout with Warford, the only player in the top half of the 3rd round who did. Larry Warford is a big, nasty road-grader, something that Gabe Jackson can be considered to. Jackson reminds me a lot of Warford. Is a big big Guard who will project as a right guard and be counted on as a bulldozer for Zac Stacy on the right side. Now you may be saying wait that was the 3rd and this is the 2nd, he wont take a guard this high well let me reference Peter King, he is a analyst i have a ton of respect for. Last year he accurately predicted the Rams were going to sign Jake Long when everyone else was throwing the notion out the windows. If you didn't read the article in the link King was allowed to be present in the Rams draft room and Fisher had plans to trade down and take Warford in the 2nd if Ogletree wasn't there at #30. Well he will get his chance this year to grab someone a lot like Warford in the 2nd, that guy being Gabe Jackson.
#71, Jimmy Garoppolo, QB, Eastern Illinois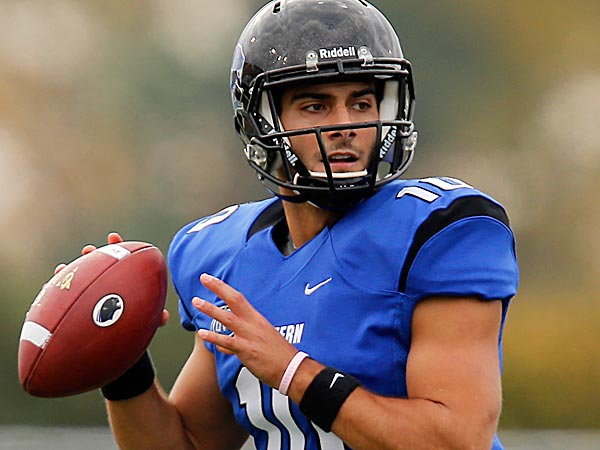 Sam Bradford for as much heat as he has taken will be our starting QB next year. But the chance of him getting hurt are prevalent so we need a plan B. If Bradford go's down again we need someone who is capable of stepping in and winning us games, not a QB who will manage to not lose the game and let defense, special teams and gadget plays win them games (.......Kellen Clemens.) Jimmy Garappolo has done wonders to get teams to notice him in both the Shrine game and the Senior Bowl. Some people are projecting him as a 2nd rounder but this seems to happen every year. A QB gets hyped up and people start thinking he will be a 1st or 2nd rounder. Happened last year with Ryan Nassib and that didn't work out to well. I understand Garappolo has the hype around him but i don't see him going until 3rd/4th round. That's where the Rams step up and take him to be a backup to Sam and maybe a replacement if things don't get better on the Bradford front.
#75, Ego Ferguson, DT, LSU
While i do believe Kendall Langford will be a Ram next year i do believe he is on thin ice. If he dosent perform to the worth of his contract he will be cut next offseason. It seemed that Langford struggled early in the year and was responsible for a lot of the gashings we got from running backs. He cleaned his game up and was better later in the year but we need that consistent play all year. Ill give him a little bit of breathing room considering he went from 3-4 end to 4-3 tackle. But this is the put up or shut up year and he has shown some promise so he is worth keeping around for a year to find out. Ego Ferguson will be brought in as depth and possibly insurance if Langford ends up being cut next year. Ferguson is an athletic tackle who has a ton of potential but needs some time to grow. Having alum Michael Brockers as a mentor would be beneficial for Ferguson in his first year and he would add depth to the interior of the Rams D-Line.
Conclusion: So there you have it, my first mock of the year and initial thoughts as well. I will be updating this mock when news comes along(player decides to go back to school, off field incidents, trades, combine results ect..) and will be adding more rounds as we get closer to the 2014 NFL Draft and i have more of a chance to look into lower round prospects. Thank you all who have read the entire article i know it was very long and there is a lot of information. Please if you see any error in stats let me know and if you have any thought on the mock please comment below and let me know your thoughts.