Vote Tavon Austin For the Pepsi Next Rookie of the Week Award:  NFL.com
Need I say more?  That's right…you're obligated.  Click away!

The Rams Can Now Look Forward To Playing Trent Richardson:  NFL.com

The Browns now find themselves 0-2 and without their best offensive play-maker.  Bernie Kosar's parents would be disappointed.  Regardless, the Browns weren't on the Rams' 2013 schedule…but the team can now look forward to seeing him in Week 10.

Rams Sign Veteran Tackle, Max Starks:  St. Louis Post Dispatch

Rodger Saffold will most likely miss a few weeks after suffering a knee injury in Sunday's matchup against the Falcons.  A lack of depth at the position is nothing new for the team.  Starks - a 10 year veteran - was released by the 49ers this preseason after allowing three sacks.  I already like him…

The Reason We Call Them "Whiners":  CBS Sports

The Seahawks pretty much dismantled the 49ers on Sunday Night Football this past week.  As expected, a few of the Whiner faithful wrote letters [who does that?] to the San Francisco Chronicle about how the Seahawks fans are "juiced on noise" and how it creates an unfair advantage.  Waaaaaaaahhhhhh!!!!

Jake "The Snake" Somehow Continues to Make 'Expert' Picks:  CBS Sports

I know, I know… you too want to know why a former professional wrestler continues to make 'expert' picks.  The answer is simple actually.  The answer was best summed up by Joe Dirt's long lost father…
How exactly is a rainbow made?  How exactly does a sun set?  How exactly does a posi-trac rear-end on a Plymouth work?  It just does.
…you're welcome.
NFL Nation Buzz: St. Louis Rams... http://t.co/W3hMj8idUW

— Nick Wagoner (@nwagoner) September 18, 2013
Would The Real Joe Barksdale Please Stand Up
:  
ESPN
As scheduled, Rams' RT Rodger Saffold has suffered an [knee] injury, and is currently being deemed "day-to-day."  That being said, it's relatively unlikely he takes the field on Sunday in Dallas.  And despite the acquisitions of
Mike Person
and
Max Starks
, it's Barksdale who'll likely be given the opportunity to as a starter.  Opportunity knocks!
A Closer Look At the Rams' Injury List On Wednesday
:  
ESPN
The Rams' injury report - on Wednesday - contained it's largest number of players thus far this season.  It was ten names, to be exact.  Don't fret.  Some of them were precautionary, "take a day off," scenarios.  There were, though, those that wouldn't have been physically able to perform.  Nose injury?
A Pair of Cowboys' Play-Makers Shrugging Off Injuries
:  
ESPN Dallas
QB
Tony Romo
practiced on Wednesday despite bruised ribs.  Meanwhile, the Cowboys biggest offensive threat -
Dez Bryant
- was sidelined due to a back injury.  When asked whether or not he'd be a go for Sunday's game:  
"What kind of question is that?  Come on, man, you know I'm playing."
Glancing Back, Looking Forward - Sam Bradford
:  
ESPN
Sam Bradford
has had an impressive first two games of the 2013 season.  After putting up solid numbers last week, Bradford - and Rams - now look forward to the
Dallas Cowboys
.  ESPN's Nick Wagoner provides some insight on the Cowboys' defense, and a prediction for Sam in Week 3.
A Very-Rams Week 3 Power Ranking Roundup
:
Turf Show Times
I don't need to tell you how important power rankings are….do I?  They're of the utmost importance, in case you needed help there.  Actual results are secondary.  At any rate, our very own 3k did a tremendous job of snagging several
NFL power rankings
.  Here's one more
from the staff at Pro Football Focus.
Three Predictions/Trends For the 2013 Season
:  
National Football Post
The first involves one particular NFC West team who will be good "
for a long time.
"  The second involves the leagues' move towards a two-tiered system of player compensation, and the third…player safety.  Some interesting stuff from Jack Bechta…
Rams' Diverse Passing Attack Causing Fits For The Opposition
:  
St. Louis Rams' Official Site
For the first time - in some time - the Rams' offense can make it's opponents pay as a result of WR-mismatches and pure athleticism.  In Week 1, the Rams unleashed their newest TE, Jared Cook, to the tune of 141 yards and two touchdowns.  Last week, vs. ATL, it was rookie WR Tavon Austin who found the end zone twice.  Opposing defense no longer have just one receiving threat to focus on…and Cowboys Head Coach, Jason Garrett, knows it.  
Week 3 Game-by-Game Predictions
:  
Football Nation
Do you need help rationalizing your choices for NFL Week 3 Pick 'ems?  Of course you do!  Make sure you circle "Dallas Cowboys" as your winner…by three points.
The NFL City Re-Draft
:
SB Nation
You'd better hope the NFL doesn't catch wind of this article because, if so, the Rams will no longer reside in St. Louis.  No, they'd be packing things up for the Bluegrass state.  They wouldn't be the only team leaving town…
Is Week 3 v. Cowboys a "Must-Win" Game?
:  
Ramblin' Fan
After winning the home opener for the first time since 2006, the Rams' record was evened out last Sunday, with a close loss to the Falcons.  It's early in the season but - with a short week ahead [v. 49ers Thursday Night] - is Week 3's matchup against the Cowboys a '
must win
'?
Rams' Poor Pass Def. Will Actually Hurt Cowboys In Week 3
:  
Rant Sports
That's right, "
poor
."  Those aren't my words, of course.  But, as this article suggests, the Cowboys need to focus more on running the ball…you know, because Demarco Murray set a team record against the Rams.  Also, successfully implementing an aerial attack against a "
poor
" defense - like that of the "
overrated
" Rams - will only make Tony Romo and Jason Garrett more comfortable with their "
moronic"
play-calling.  Enjoy!
And, via
Bleacher Report
,
re-designed logos for each NFL Team
.  Thoughts?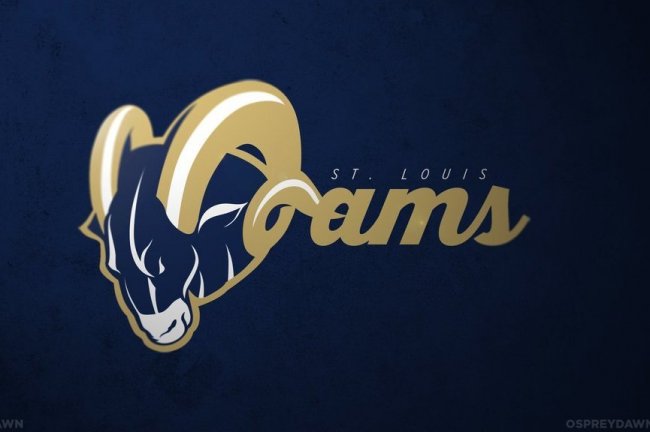 2014 Updated NFL Mock Draft:  Walter Football

No, it's not too early for this!  So, Walt's got the Rams picking at 6 and 15 in the first round.  In short, he's projecting both teams to finish in the bottom half of the NFL.  For the Rams, I'd say, maybe this was expected…but after going 0-2, it's the Rams who are taking advantage of a certain RG3 trade and earning the 6th overall pick [via Washington Redskins] as a result .


Week 3 Player Rankings by Position:  ESPN


Need a bit of professional opinion to help you iron out your final Week 3 fantasy football roster[s]?  They've got Matthew Berry!

[More] Week 3 Player Rankings by Position:  Yahoo! Sports

Oh…not a fan of the Talented Mr. Roto?  Why didn't you say so!

Three Heads Are Better Than One…In Certain Situations, Of Course:  CBS Sports

Jamey Eisenburg, Dave Richard, and Nathan Zegura all rank their top fantasy prospects for this week.

Start 'em, Sit 'em, Week 3 : NFL.com

"Em" is short for them, and these are the players Michael Fabiano thinks you should be starting, or sitting, in Week 3.