Things have gotten a mite slow since all the draft excitement died down. Nice to see the Rams still not gettin much love from the media - wouldn't want that to change - but it's slowly comin around. That's OK. We'll kick the love door down soon enough. Then it'll be "That Brady's like an old version of Bradford. He should retire soon before he hurts his hair."

So now's the time for a little reflekshun. Don't know if you've seen this interview with Animal Jr. and his father, but it's pretty cool. It's from November 2010, but I hadn't noticed it before.

NFL Network - Animal and the Ram
Animals - Jr. and Sr. Ugh!
MAYBERRY!!!! YEAH!!!! (O for Opie Cunningham)
Let's head on down to Mayberry
One of my favorite TV shows growing up was "The Andy Griffith Show." I grew up in North Carolina, and I knew the show was shot in Hollywood somewhere; but I never gave it much thought. More on that a little later - may be of particular interest to the LA area folks.

After a night of heavy drinking and TV Land, I started wondering: Hmmm, if the Rams were "The Andy Griffith Show"(TAGS), what Rams (recent past or present) could be the various citizens of Mayberry. So I thunk on it a spell, and what I came up with is rite-cheer. (Thanks to the IMDb web site for providing the names and show statistics for the actors and to Mr. Bate for help figuring out how to make a table that you can actually read.)


| | | | |
| --- | --- | --- | --- |
| TAGS Character | Actor | Ram's Personnel | Comments |
| Andy Taylor (249 episodes, 1960-1968) | Andy Griffith | Jeff Fisher | - New Sheriff in town, kickin a$$ and takin' care uv business |
| Opie Taylor (209 episodes, 1960-1968) | Ron Howard | Sam Bradford | - Jeff's boy - Opie Bradford |
| Aunt Bee Taylor (176 episodes, 1960-1968) | Frances Bavier | SJ39 | - SJ39 was always looking out for the boys til he finally took off with the "Butter 'n' Egg Man" from Atlanta way |
| Helen Crump (66 episodes, 1963-1968) | Aneta Corsaut | Brian Schottenheimer | - Jeff's Offensive Soul mate |
| Barney Fife (142 episodes, 1960-1968) | Don Knotts | Spags | - Poor Fella. He meant well but was over his head from the start. "We gotta nip these posters of past stars in the bud. Nip 'em, I say!" |
| Floyd Lawson (80 episodes, 1961-1967) | Howard McNear | Billy Devaney | - Learned everything he knew about the draft from shaving cats as a kid |
| Howard Sprague (38 episodes, 1966-1968) | Jack Dodson | Les Snead | - Knows his way around an adding machine - that smart young feller with the good hair you can count on |
| Otis Campbell (32 episodes, 1960-1966) | Hal Smith | Rok Watkins? I. Pead? | - Now, they didn't mean no harm - just boyz bein boyz is awl |
| Gomer Pyle (23 episodes, 1962-1964) | Jim Nabors | Mardy Gilyard | - Gah-uh-ah-lee! Look at the size of that there playbook |
| Emmett Clark (16 episodes, 1967-1968) | Paul Hartman | Paul T. Boudreau | - As in Emmett's Fix-it Shop - he can fix anything on an O line |
| Johnny Paul Jason (12 episodes, 1962-1966) | Richard Keith | Danny Amendola | - Was Opie Bradford's best friend till he moved away to Mt. Cheatriot |
| Mayor Pike (11 episodes, 1960-1962) | Dick Elliott | Stanley Kroenke | - Always has the best interests of the good folks of St. Louis in mind - (and maybe their wallets too just a little bit) |
| Ernest T. Bass (8 episodes, 1963-1965) | Howard Morris | Danario Alexander | - He done throwed a brick thru DC's hart when he up and left like he did |
| Briscoe Darling (6 episodes, 1963-1966) | Denver Pyle | Harvey Dahl | - I think he's played the jug in the neighborhood band a time or 2 |
| Sam Jones (4 episodes, 1968) | Ken Berry | Kevin Demoff | - The calm, cool, quiet one that gets things done |



















Maybe you can think of a couple more. Here's some names to play with if you are so inclined:


While researching the characters, I found out a lot about where the show was made and what else actually happened on the set and back lot. Here's some excerpts from Andy Griffith Show and Mayberry Filming Locations in Southern California that You Can Visit by LoonCreative, Yahoo! Contributor Network.
"The Andy Griffith Show" is arguably one of the most successful TV shows of all time. For over forty years, the show has never been off the air. And while you may not be able to visit the fictional Mayberry, it is possible for fans to visit many of the locations where the show was filmed.
The first stop on a visit to Southern California's Mayberry is the Cahuenga Studios in Hollywood. Now called Witt-Thomas Studio, it was on this tiny gathering of sound stages that all of the interior shots for "The Andy Griffith Show" were filmed. The courthouse set was here, as was the Taylor living room, the interior of Floyd's Barber Shop, Barney's Room, etc. "The Andy Griffith Show" was filmed in Sound Stage One, the sound stage that sits on the very northeast corner of the property. A bit of trivia: this was the very same sound stage where much of "I Love Lucy" was filmed. Other classic TV shows filmed on the Cahuenga lot included "Gomer Pyle," "The Dick Van Dyke Show" and "Hogan's Heroes." More recently, "Ally McBeal" was filmed here.
The former Cahuenga Studio is located at 2121 Cahuenga in Hollywood. Although not officially open to the public, (it is still a working production lot), it is possible to view some of the sound stages from the edges of property. If the main gate on Cahuenga looks familiar, it's because it was used as the gate of the fictional "Belmont Studios" when the Taylor family visited Hollywood. This same gate was also the entrance to the Marine Base in the pilot episode of "Gomer Pyle." Unfortunately, most other traces of Mayberry are now gone.
Another "Andy Griffith Show" location is the former Forty Acres back lot site, located just to the south of Higuera Street near the Culver Studios in Culver City, California. This was site of Main Street Mayberry, as well as Wally's Filling Station, the Taylor home exterior and virtually every other Mayberry building. The Forty Acres back lot had a long history. It was used for several scenes in "Gone With The Wind," and many vintage TV shows including "Star Trek," "Gomer Pyle," "Batman," and "Superman." Although all of the back lot buildings are gone, the small street that runs through the property sits very near the spot of the Mayberry Main Street. At the intersection of Higuera and Hayden Place, you are very near the site of the original Mayberry Courthouse.
A final must stop for any Mayberry fan is the lake where the famous opening shot of Andy and Opie walking to the Fishin' Hole was filmed. This spot is located in the Franklin Canyon Reservoir, along the western edge of the tiny lake that still occupies the property. (You should be able to find exact driving directions by doing an Internet search.) The area is now a public park. The lake looks much different today (there is not much water left in the spot where Opie threw the rock into the lake), but it is probably the most authentic Mayberry site you will find. Even though the park is situated in the heart of Los Angeles, it is very easy to imagine yourself at a small lake in the North Carolina hill country.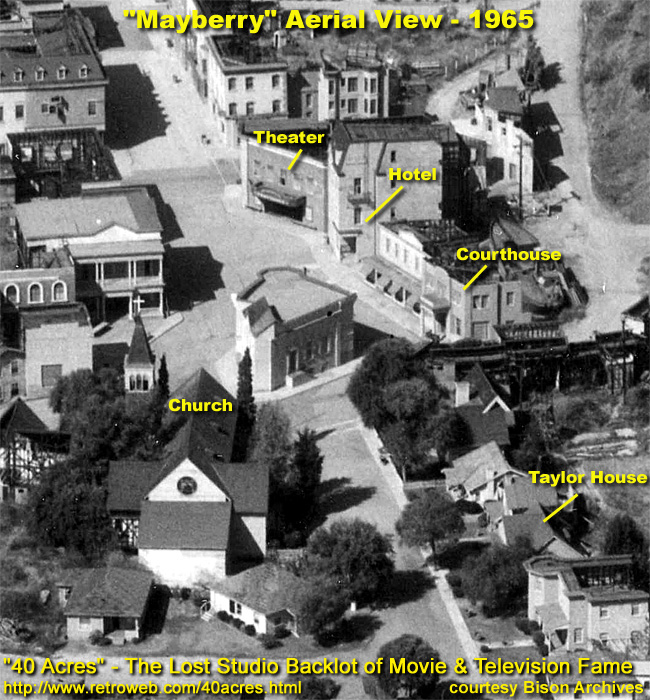 The photo to the left is also bordered in red in the photos to the right. Above the red area to the left (blue arrow) is the site for "Gomer Pyle, USMC" and to the right is "Hogan's Heros." So Gomer didn't have to go far when he joined the Marines. You can click on the photos to expand them.

If you want to see or read some more, here are some GREAT SITES:

www.retroweb.com/40acres - lots of photos of all the stuff shot at this location (movies, "Star Trek," "Superman," etc.) - highly recommended!

www.telovation.com/articles/andy-griffith-show - Nice history and also the source of the photo cluster above so you can see it better. From here, you can learn that Mount Airy's Snappy Lunch diner is the reference used for "the diner" in Mayberry and much, much more. "Kick yer shoes off - set a spell" to borrow a phrase.

A Moment of Silence Please...




Have a good week-end, folks! Stay DRY and SAFE!
And most importantly, GO RAMS!!!!



via i.imgur.com
via i.imgur.com
via i.imgur.com