Happy Easter, Rams fans, and welcome to the end of March!
If you've been keeping up on your homework, you know full well that the 2013 NFL Draft is now only 25 days away. You can practically smell it in the air! Or is that just rotten eggs?
Anyway, we're still left with plenty more time to kill between then and now. So sit back, relax and enjoy some good old brain-melting television. Mmm ... Brains!
Tonight marks the season 3 finale of one of America's favorite programs, AMC's The Walking Dead. Obviously, that's more than enough to keep any nerd occupied for the rest of the evening, but like anything else that can possibly be considered Rams related, I'm going to beat it to death.
Which members of the St. Louis Rams would survive a zombie apocalypse and what would their roles be in deteriorating society? Put down that remote and find out.
And now, the premier of TST's The Walking Rams...

Rick Grimes - Coach Jeff Fisher
After a brief MIA period - during which their worlds struggled in their absence - both of these men found and took control of a group of misfits who most certainly would have else endured further suffering. Seriously, in seasons past, the Rams may as well have been eaten alive. Jeff Fisher may not have the same hot-headed, borderline insane demeanor that Rick has at times, but his sideline fury has brought a long overdue spark to the fan base. And let's get real - both have played renegade cops on film. I would follow either of these two leaders into battle.

Carl Grimes - Quarterback, Sam Bradford

"Run! Look out! You're going to get yourself killed!"

Survivors against the odds of the past three seasons, no two members of their respective teams receive more combined praise and blame than Carl and Bradford.

"He's just a kid," they say. "Boys will be boys."

While all the troubles of the group cannot - and should not - be blamed on these two young lads, each has been the cause for frustration at one time or another. Still, he is maturing, he is getting better and he is the future of this post-apocalyptic wasteland, er, the St. Louis Rams. Time to grow up and take charge.

Daryl Dixon - Cornerback, Cortland Finnegan

Were either of these two strapping gentlemen not playing for the home team, they would absolutely be hated - and feared - by all. Fortunately, such a problem doesn't exist. As Daryl is Rick's second-hand man, Finnegan was Coach Fisher's first addition to the team to play that role on the defense. These guys handle the dirty work, the "it goes without saying because I'm not allowed to" work. Just get it done, but don't die or get flagged in the process. Their knack for timely trash-talk makes for some humorous situations in an otherwise gloomy world.

Glenn Rhee - Middle Linebacker, James Laurinaitis

You don't see the resemblance?

Both of these two men are only entering their prime and are seemingly unstoppable. Laurinaitis has never missed a game in his 4-year career. Glenn can be mercilessly beaten to within an inch of his life and fully recover in days, all the while holding onto a girlfriend who is vastly out of his league. Glenn, a notorious nerd, surely attended his share of comic book conventions before the outbreak, whereas Laurinaitis grew up in the family of WWE professional wrestling. It's a stretch for a comparison, but it works. Sort of.

Michonne - Cornerback, Janoris Jenkins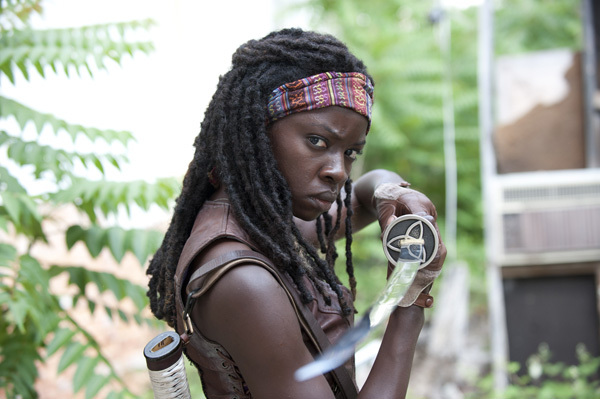 The feisty, young newcomers who no one saw coming before they immediately stole your hearts. Both Michonne and Janoris Jenkins continue to supply their share of "what's going on here?" moments; however, they always seem to make up for it with some highlight quality hits and boosts in the Nielsen ratings. They may worry you from time to time, but they have your back covered and that's all that counts. Plus, those dreads.

Tyreese - Left Tackle, Jake Long

He doesn't know it yet, but just as Jake Long did merely a week ago, Tyreese is only a short time away from joining the "good guys." With such a bulky, intimidating frame, there is no better man left to become Carl's blindside protector. RIP T-Dog.

The Governor - Pete Carroll/Jim Harbaugh

The villain. The foe. The psychopathic killer who you love to hate. Maybe all are not completely in the same, but you get it. NFC West rival head coaches Pete Carroll's and Jim Harbaugh's sole purpose - from this vantage point, at least - is to obliterate the St. Louis Rams. This cannot be tolerated. Heart-pounding drama and stressful Sundays will continue until Rick (Jeff Fisher) finally puts his enemies in their place.