I wrote a series post in the weeks just before preseason. It was actually fun to do, and it got positive reviews so I am back at it again. Welcome to The Domino Effect Chronicles! In this series I will highlight certain players/situations/groups and explain their current success and/or struggles using the relations of their surrounding.
There has been a lot of talk about Tavon Austin lately. Things like he has disappeared and not living up to expectations, he is only another disappointing week or two away from being called a BUST! But let's put his current situation in perspective.
Tavon is on a team built for a speedy spread it out approach. But he has a coaching staff that is only good at the power run scheme and short crossing routes. Simply put, this coaching staff, more-so Brian Schottenheimer, has no clue how to use this kid. He is a space player who is getting no space. Everyone talks about the NFL speed is too much for him. That is a silly notion considering not many people in the NFL has the speed and quickness he has. And truthfully there is not one player in the NFL on the defensive side of the ball with the speed and quick's to match, that even comes close to comparing with Austin's. I checked. Because of this, once he masters the art of route running, and enhances his understanding of defenses he will be a nightmare!
He runs three routes, speed outs, digs, and flats. This would be ok if everyone else was running deep routes to "clear out" the underneath routes. But that has not been the case. With every eligible receiver running their route so close to the line of scrmmage, its almost like all the pass plays are run plays. In this scneario, when the receiver catches the ball he is literally surrounded by the opposition and must make a Marshawn Lynch "Beast Mode" type of play happen every catch in order to score or create an explosive play (20 yards or more). And in case you forgot
Marshawn Lynch "Beast Mode" 67-yard TD run - best playoff run ever, in HD (via James Barr)
I honestly don't know of a single receiver in the NFL that could do HALF of this.
The next issue is DROPS! As of right now Tavon leads the league in drops.
Sporting Charts lists 308 players and Austin has more drops than all of them. His drop rate is a ridiculous 17.1%. BUT!!! let's have a look at his drop rate from last year.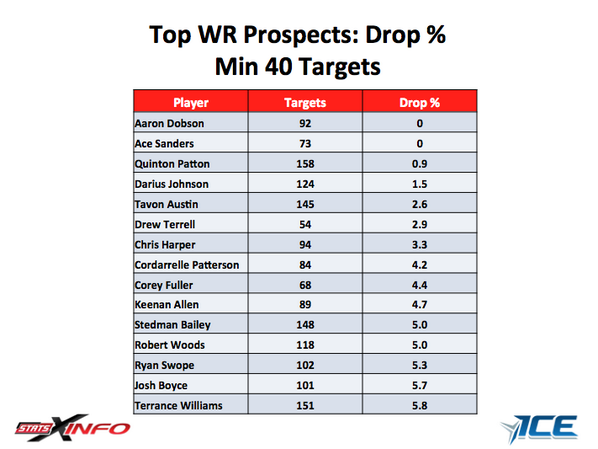 Of every Division 1-A college player in the country last year with at least 40 targets, only FOUR had a lower drop rate. And of those four only one had more targets, while two of them did not come within 50 targets of Austin.
Any person that has ever played the game of football and was not in the trenches (sorry big boys, nothing but love for you though), knows there are only two reasons for drops. That's it! Either you simply can't catch, or you're thinking too much causing you to lose focus when trying to reel the ball in.
There's multiple factors to losing focus. You might not know what the hell you're doing (routes, reading defense, etc). You could be a wimp and scared of contact, causing you to look for the defenders and taking your eyes off the ball. Or you simply could be so eager to make a play that you are trying to run without the ball. The latter seems to be Austin's problem. The play calling has caged this animal and now he is so eager to break out, he has lost trust in the scheme no longer believing he can break loose "their" way. So now his focus is on making a move and getting loose before fully bringing in the ball. The common mistake of a young player.
THE DOMINO EFFECT:
The domino effect here is Austin's struggles is directly related to the limitations of the offensive play calling. Poor play calling has caused a play maker to be a dud forcing the competitor within to try to do too much and resulting in poor performances. In an offense where the ball is being spread out and now with even less attempts because of the use of more tightends, the bad is even more noticeable.
Austin is still explosive and every bit of what we thought he could and would be coming out. Remember if not for penalties he would be leading the league in punt return yards and would have a touchdown on his resume as well. Just a reminder that with a little space and opportunity he can do A LOT of damage.
Tavon Austin Rams 81 Yard Punt Return [Preseason] (via DeviantAmaZed)