Dilip Vishwanat
Good Thursday morning, St. Louis Rams fans. Sadly, this'll be the first of many Random Ramsdom's that I'll have to post with no matchup ahead for the Rams, as the regular season has now come to an end. Don't fret, though! Enjoy the playoffs, the Super Bowl…heck, enjoy the Pro-Bowl if you can. But don't sleep on the offseason. If yesterday was any indication, NFL - and Rams - news doesn't rest.


In Rams News…

And Williams Goes Down!!!

After just one year with the organization, Rams' Linebackers Coach Blake Williams has been fired. If you assumed he might somehow be able to fill in full-time in the absence of his father, Gregg, guess again. His 'brusque and tactless' manner of dealing with players and colleagues has landed him out in the free market. Just a piece of advice for your next interview: wear a suit, and hope no one knows who Blake Williams is.

Putting Two and Two Together…

The exodus of the aforementioned coaching free agent means that he can now join his father in the unemployment line. Gregg Williams won't be re-instated any time soon, and well - as luck would have it - Jeff Fisher wants a defensive coordinator in 2013. I don't know that Fisher intends on filling this position with any amount of haste, but there are certainly some folks from Black Monday still lookin' for a job. Who could it be? Not sure, but @3k_ said it best [in < 140 characters, mind you]…"Fisher's trying to clear space on the defensive side to land a premier DC the same way Demoff cleared out to land a premier HC" …boom!

Bad News For the Mock Mania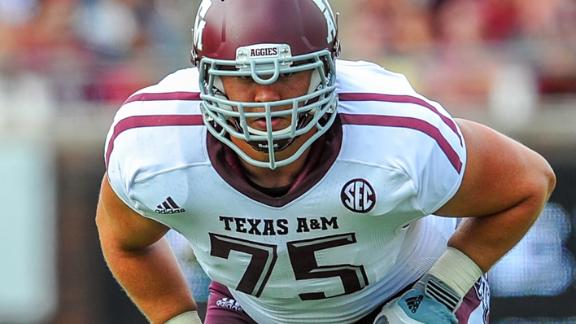 It's probably no secret that the Rams are in need of a bit of help along their offensive front. Well, there are a few offensive lineman heading into the 2013 NFL draft who just had their stock rise. Jake Matthews [OT - Texas A&M] has decided to return to college for another year. This coming just a few days after top-tier LB - who the Rams would certainly welcome - Kyle Van Noy stated his intent to return to BYU in 2013. It'd be nice to see some of the positions that the Rams aren't in need of deciding to stay. What are the the cornerbacks and quarterbacks doing?

Where Did It Go Wrong For the Rams in 2012?

For the most part, I think that many Rams fans are willing to chalk up 2012 as a success. No, the Rams didn't make the playoffs, but the team certainly made an about-face, and looks to be under the guidance of a coaching staff who know what they're doing. Novel idea! There are, however, areas of opportunities that the Rams need to address in the offseason. As this young team get's experience, many of their deficiencies will subside.

And For Those About To Mock…

Yea, the season is indeed over for the Rams. I'll admit, I don't typically get caught up in mock drafts. At this point, it's too early to tell…but, I'm finding that it's still very fun. Check out a few of the most recent ones. With players like Matthews deciding to return, these are obviously going to change. Keeps 'em fresh, I suppose. Have at 'em!

** CBS Sports NFL Draft Scout ** Mock Draft HQ ** DraftTek ** WalterFootball ** Yours Truly **

In Sporting News…


Thursday, January 3
TIME (ET)
MATCHUP
TV
PPV
MOBILE
TICKETS
8:30 PM
No. 4 Oregon vs. No. 5 Kansas State*
TOSTITOS FIESTA BOWL
Tickets

Oregon vs. Kansas State - For the first time in their school's histories, these two college football powerhouses will face off. This is one of the most anticipated bowl games in 2012. You don't want to miss it! Here's a preview from the Associated Press

Ray Lewis Will Reportedly 'Call It Quits' After The 2012 Postseason

"It's time for me to create a new legacy," Lewis says. Isn't that kind of the thing you'd expect him to say upon leaving the game? He may be leaving the game of football, but still intends on putting his footprint on some aspect of life. At any rate, the game will certainly miss him. I would imagine that Lewis is a first ballot Hall-of-Famer. He's definitely regarded as one of - if not the - greatest linebackers of all time. It's been a pleasure seeing him play. How about a highlight reel?


Oh, You Want To Be Kept Abreast Of The Head Coaching Vacancies?

I got you! Here's a full list of the team's that sought fit to start anew…so to speak. As speculation swirls, only appointments can lead you to an informed - though uninformed - assertion. Gregg Rosenthal from NFL.com has it all for you here.

Awww….That's Cute, RG3 Has Words of Wisdom For Tony Romo

"Hey Tony…..up here……it's me, playoff-bound Robert Griffin III! Yeah, up here. Hey man, I just wanted to say that I'm in the playoffs, and so I thought I'd give you some sage words of advice, and that's not to listen to your critics. It's not like this has happened you to before. Oh…what's that? Gotta run!"

Plain 'Ol Random…

Ever Had Your Brains Eaten By a Dead Fish?

If you're reading this, I'll assume that the answer is no, though I often receive fan-mail from some of George Romero's finest. At any rate, flesh-eating humans are the only creature that you've got to worry about inhaling some 245 Trioxin. You might want to start wearing a helmet when you go swimming!

Practicing Doggy Style


I thought that'd get your attention. Now, while you're shamefully removing your mind from the gutter, let me share something with you. I, like Kip from Napoleon Dynamite, am training to be a cage fighter. Before actually stepping into the octagon, I find it easier to practice moves like the omoplata on my Australian Cattle Dog. The difference is that I have clothes on….and it's my dog

Happy Birthday To…


Eli Manning [01/03/1981] - Quarterback of the New York Football Giants, and owner of twice as many Super Bowl rings as his older brother, Peyton. Enjoy your birthday, Eli! Enjoy it with little worry of this weekend's matchup…because there is none. Now watch your brother go to work…

Thanks for swinging by Turf Show Times for your early morning read. Don't kid yourself into thinking that because the offseason has already begun, that there's not breaking news surrounding your favorite NFL team. When you want it, you know where to head. Hit me up on Twitter for more Rams chatter!