This is a quick look at what I think the rams are going to do on draft day:
....
....
.....
Round 1 pick 16- Eric Fisher, OT, Central Mich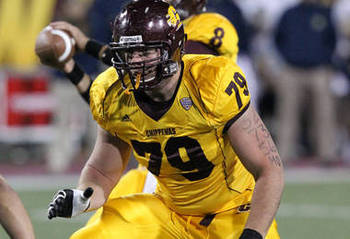 He is a balanced athlete and plays with excellent coordination and length for a 6-7, 305-pound blocker. Fisher is a smooth mover in any direction and does a nice job breaking down in space to handle speed rushers, showing the eye discipline to mirror defenders.He has added "good" weight the past few years and even though he lacks much bulk, he plays with a strong frame and core.Fisher is a fiery competitor and plays with more pop than expected, delivering power in the run game.Naturally because of his height, Fisher will allow his pads to rise at times and can be walked backwards because he doesn't have a stout anchor. But he looks comfortable in pass protection and has worked hard to improve his technique and instincts at the position. -cbs
fisher will be an immediate upgrade over Barry Richardson. Solidifies a weak line.
Round 1 pick 22- Eric Reid, S, LSU
As the "centerfielder" on a team blessed with such talent at pass rusher and cornerback, it would be easy to characterize Reid as simply a product of the system, but he is a terrific prospect.He possesses the ideal build and athleticism for the position, shows excellent instincts and is a scrappy, tenacious defender whose big hits and ball skills make him a legitimate weapon in the deep patrol. Reid is a fantastic downhill athlete with quick read-and-react ability to attack the play with steam spurting from his ears. But his biggest strength is also his greatest weakness, playing with nonstop aggressiveness and intensity, but he doesn't always control that hostility in a smart way on the football field.He throws his body around and might be the most violent striker in the SEC, but if Reid doesn't learn how to play smarter and harness his fierce playing style then he'll have a tough time making a living in the NFL. -cbs
Reid sure would look nice next to Janoris Jenkins and Cortland Finnegan. The secondary would become elite with Reid and without Dahl.
Round 2 pick 46- Jonathan Cooper, O-guard, NC
Cooper is a smooth, coordinated athlete with fluid footwork and outstanding balance, blocking well on the move and constantly getting to the second level. Cooper lacks overpowering strength and needs to cut down on the penalties, but is an extremely effortless mover with explosive quickness in tight quarters. With an impressive senior season, Cooper, who is almost fully recovered from January shoulder surgery, could be the first offensive lineman out of North Carolina to be drafted in the first round since 1987 -cbs
Cooper would be another great addition to the rams line. The rams have had sucess drafting O-linemen in the second round.
Round 3, pick 78- Da'Rick Rogers, Tennessee Tech, WR
Rogers can be taken down!!! Look how many players it took.
Strengths: Despite playing in the ultra-physical SEC, Rogers proved too strong for most teams to consider pressing. He's also versatile, showing the ability to line up outside, as well as in the slot. While it is easy to get excited about Rogers' size-speed potential, one of his greatest attributes is simply his toughness, as he absorbed several big collisions on games viewed and never dropped a pass due to a hit while at Tennessee. Rogers is a powerful runner who fights for additional yardage and has the agility and speed to run away from the pack for explosive plays.
Weaknesses: Generally a reliable pass catcher, but will occasionally look to juke the defender before securing the pass, resulting in an occasional bad drop. Until he cleans up the conception that he's a troublemaker, it may not matter how talented Rogers is, NFL teams will be too concerned to give him the first-round grade his talent deserves. -cbs
Rams need an explosive receiver. This may be the guy to step up. This player has the skill set of Julio Jones, but also off the field issues. Lets if if Jeff Fisher can work some Janoris Jenkins magic.
Round 4, pick 110- Gerald Hodges, Penn St. OLB
A starter in all 25 games the past two years, Hodges was No. 4 in the Big Ten with 109 tackles. A semifinalist for the 2012 Butkus Award and a two-time All-Big Ten honoree, he led the team with seven pass breakups and was tied for second on the squad with two interceptions. He also ranked third with 8.5 tackles for loss, while adding one forced fumble and one sack. -cbs
Maybe this OLB can finally be the answer???
Thanks for reading. Let me know your thoughts.