http://insider.espn.go.com/nfl/story/_/id/8406436/nfl-young-talent-plethora-picks-make-future-bright-st-louis-rams
The NFL draft is not a crapshoot. Tom Brady (sixth-round pick) can complete a million passes toWes Welker (undrafted), and it won't change this fact. Brady-to-Welker situations happen because the league turns over players at such a high rate that those not drafted inevitably get their shot. You'll see it again and again, because at just seven rounds, the draft isn't designed to fill rosters completely. This is why roughly 15 percent of the league is made up of undrafted players. But the best players are, on average, drafted high.
The Pro Bowl isn't a perfect measure of greatness, it's not where number-crunchers and scouts sip scotch together and agree, "Yep, these truly are the best guys." But it's not a bad one. And if you took every Pro Bowl player drafted in the last 10 years, 100 were drafted in Round 1, 36 in Round 2. That means 71 percent of the NFL's best players were drafted in the first two rounds.
Pro Bowlers
Pro Bowl players based on draft round, 2002-11, per ESPN Stats & Information:
| Round | Players |
| --- | --- |
| 1 | 100 |
| 2 | 36 |
| 3 | 16 |
| 4 | 23 |
| 5 | 15 |
| 6 | 10 |
| 7 | 6 |
Go back another 10 years, when the draft extended to 12 rounds in some years, and the percentage dips to 63 percent. Subtract kickers, punters and special-teams aces from the equation -- most of whom were drafted late or not at all -- and the first two rounds are even more dominant. It's already happening this year -- 28 of 29 healthy first-round picks have started or played big roles in the first two games; same with the second round.
So I'll say it again: The draft is not a crapshoot. And that's why by Week 1 of 2014, and perhaps well beyond, no team in the NFL will be more loaded with talent than the St. Louis Rams. And it won't just be because of the draft.
When the Rams traded the No. 2 overall pick to the Redskins last spring, forgoing the chance to draft Robert Griffin III, they received a total of three first-round picks, and one in the second round. One first-rounder counts as a swap, as many of you will note, but in accounting terms, three first-round selections and a second-round pick was the total haul. That's the biggest package ever given to move into the top five, and could even end up in the ballpark of the ridiculous haul Dallas pulled on Minnesota in 1989 when they dealt Herschel Walker to the Vikings. No exaggeration. That deal helped build the Cowboys' dynasty of the 1990s, and could be rivaled because, as one NFL evaluator told me, "This one, it just gets huge when you consider the economics."
For years, drafting high was seen in front offices as the ultimate mixed bag. Sure, you were more likely to get a star, but at what price? It's why you had Lions GM Martin Mayhew complaining this offseason that in drafting Calvin Johnson, Matthew Stafford and Ndamukong Suh -- all Pro Bowl players -- the Lions might have aced the draft, but he would have to restructure their deals to even stay under the cap, much less add talent. Trading away high picks was a chore under the old rules, and teams like New England have consistently traded down to get more cost-effective, high-ceiling spots.
Now look at the Rams' trade with the Redskins through the prism of the new collective bargaining agreement.
St. Louis didn't just land picks in this trade; it landed an exorbitant amount of cheap talent that will be locked on the roster for years to come, creating flexibility. Under the new CBA, rookie salaries were slashed. This year, the Rams had four picks in the first two rounds, but face a cap hit for Michael Brockers (No. 14 overall), Brian Quick (33), Janoris Jenkins (39) and Isaiah Pead(50) that only totals about $4.5 million for 2012.
[+] Enlarge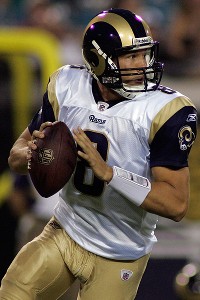 Phil Sears/US PresswireSam Bradford looks much improved thus far in 2012.
How cheap is that? It's less than a third of Sam Bradford's cost of $15.6 million. Consider that later picks Trumaine Johnson, Chris Givens, Greg Zuerlein and Daryl Richardsonare already seeing action, and the draft looks ridiculous. And even if these guys become stars, the Rams won't need to re-sign them for a few years.
If the Rams use all four first-round picks and the two second-round selections over the next two years -- no team in the NFL has more -- they could lock in all of them for a total price that still won't approach the total they paid for Bradford alone.
And that's if they use the picks.
In the new economy of the NFL, the cost certainty of picks makes it easier than ever to trade down. The six high picks St. Louis has for 2013 and 2014 could easily be turned into eight to 10 picks, or create a glut of picks that extend well past 2014.
And that's only the start.
This offseason, the Rams rebuilt a weak secondary not only with the pick of Jenkins (a top-10 talent), but with the signing of another Pro Bowler inCortland Finnegan. Even with Finnegan, the Rams are still well under the 2012 salary cap. So not only will the team be starting more high picks than any other franchise by 2014, but it should maintain significant flexibility to pick and choose the right free agents to fill the roster.
In reality, the stockpiling has already begun. Anybody who saw St. Louis nearly beat Detroit in Week 1 and take down the Redskins in Week 2 knows this is a team with some talent. The Rams should spike on defense this year, not just with the aforementioned remade secondary, but based on the fact that now three of four starting defensive linemen will be first-round picks. Two of them coming into their own? Chris Long and the immensely talented Robert Quinn. Long signed a reasonably team-friendly deal this offseason, creating even more flexibility. The Rams need help on offense, at both O-line and receiver, but will have plenty of picks to fill gaps there, and the flexibility to shop for it.
The joke among NFL coaches when evaluating college coaching is that it's easy to win when recruiting means you have the equivalent of twice as many first-round picks as the other teams. St. Louis will be that team in the NFL.
The trade that delivered RG3 to the Redskins won't just create a team deep with young talent; it has created a team capable of adding veteran talent year after year.
Of course, this will all come back to Bradford, the reason the Rams had to pass on the potentially brilliant RG3. It's a QB-driven league, we know. The No. 1 overall pick in 2010 had an auspicious rookie season, but regressed in 2011 and was injured -- his regression in part due to a total lack of pass-catching weapons, his injury in part due to an offensive line that ranked 30th in pass-blocking per Football Outsiders.
But in two games this season, he's completing 72 percent of his throws, has a passer rating of more than 112.4 and a QBR of 58.0, which puts him on an early pace for his best season yet. He looks as good as he ever has, and for a team in the best position to help him over the next few years.
When Dallas swung the Walker deal, it looked far worse off than St. Louis does today. The Cowboys' young QB was coming off a rookie season that saw him picked off 18 times against nine TD passes while completing just 52.9 percent of his throws; worse still, he went a putrid 0-11 as a starter. But Dallas was locked into Troy Aikman as a recent No. 1 pick, just as the Rams are with Bradford. They had to build, and hope.
Things may not turn out as well for St. Louis as they did for Dallas. But the draft isn't a crapshoot, and like the Cowboys back then, no team is in a better position to prove it.