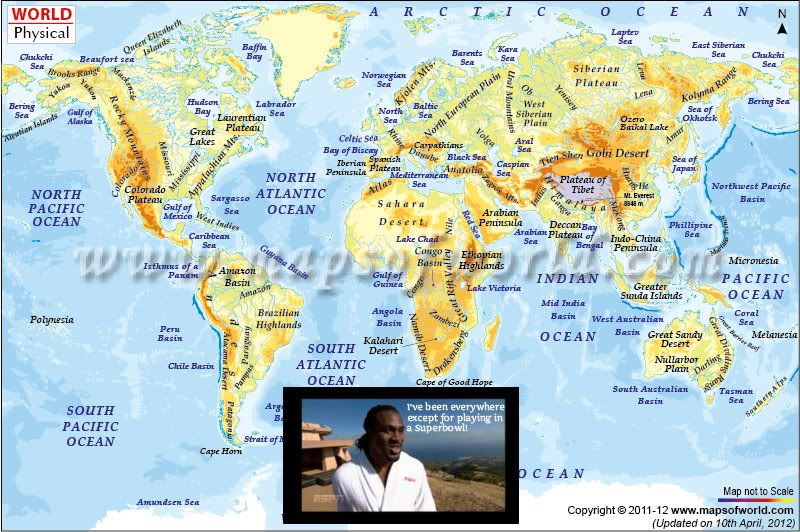 Nothing is more difficult than the art of maneuver . What is difficult about maneuver is to make the devious route the most direct and to turn misfortune to advantage. Sun Tzu 'Art Of War'
Steven Jackson has traveled the world, seen it from the air, sea (literally in the sea too) and been to many lands in hopes of filling the many voids from his N.F.L. career. While he's still considered a top back, age and some recent injuries have slowed him down marginally. Discouraging, not really. As long as the holes are there, his vision and experience will get him though the gaps. He did get some things going last year once he was playing at 100%. He was at his career averages in attempts and average per attempt and a little over his total rushing yards per year. Are you surprised, and even considering the state of the team last year, I wasn't!!!!!
Always noted as a leader on the Rams team the last few years, he has transformed into a more verbal yet even more articulate player. You would have been under a rock last year not to see the lashing he gave to a starting offensive lineman during a game. And even more so this year with his opinions on the state of things. I personally find this to be a very refreshing thing being he's the elder statesman on the team.
Last year a couple of retreads were added to spell #39. Turns out the guy with a car name (more of Vega than a Cad) was a blessing for a minute, then a curse the next minute. And the other guy? Who was the other guy? Oh yeah, Norwood, a couple carries and a couple returns , that's it. Another waste of free agent money (Echos of clapping still ringing in my head).
Returning with Sjax this year are good old Bret Miller at fullback. But the faces behind Steven at running-back resemble more of a nursery than an N.F.L. unit. Quinn Porter and Chase Reynolds the old guys at one year each experience (but no N.F.L. carries) along with rookies Todd Anderson, Calvin Middleton, Isaiah Pead and Nicholas Schweiger. Because of his drafted status, Pead figures to have the inside tract as the #2 back. I do believe however, with coach Jeff Fishers notion to run and the trend of having two better backs, another veteran may be signed in the near future.
With the issues with the offensive line being (hopefully)addressed, the influx of youth on the outside, this years team more than likely will be run first, run on short yardage, screens and plenty more play-action. How the running game opens up the passing game will be a process in the making. The rebirth of the West Coast in St. Louis is most welcome and will give every fan the best hope this year for success.
The Cast
In all fairness to Daryl Richardson (Abilene Christian)and Todd Anderson (Michigan State), it was hard to evaluate them due to the lack of good film. But their draft numbers weren't too bad. Richardson (4.4 40) seems to be a very long shot (and has past injury issues) with Andersons' best chance being back-up fullback (even though listed at R.B.) or another long-snapper. Nick Schwieger was good vs. the level of competition he faced at Dartmouth as was Chase Reynolds at Montana but their transition to this level will be slow. Jackson State has given us some great talent in the past (Jackie Slater) and I think there may be another gem in Calvin Middleton. Quinn Porter is also listed at Running-back but his best chance to make the team will be on special-teams.
For the first time in a great while, the Rams finally drafted a player who may replace 'The Ying' someday in Isiah Pead. He gives a very good break-away threat and has shown me some tackle breaking ability. His vision, while not great, will get better with more reps. While some may not think it's important, he really needs to work on pass blocking. He becomes less of a pass catching threat, if he can't make the push on his blocks. And we all know that Bradford needs to be upright for the Rams attack to succeed.
The Star
The mutual admiration society of Steven Jackson and Jeff Fisher is the best thing that has happened to prolong #39's career. McDroppings departure really reduces Sjax's injury risk too. Those multiple sets with Steven on the outside were just STUPID. The threat was never there since they didn't throw it to him. I do expect that Jackson's carries will decrease, but will be more of a factor in the passing game. You may also see a more visible leader on the sidelines. This is what Fisher looks for in his veterans and may help extend Jeff's tenure here.
The Show
The Bonus Feature
In another recent posting, the question asked was famous of Ram players in movies. I decided to add this video about Fred Dryer. Bonus question, what N.F. L. record does Fred Dryer hold? Answer in video.
Predictions
So with the group on hand now, this is how I see it play out: