"When I wish to give battle, my enemy, even though protected by high walls and deep moats, cannot help but engage me, for I attack a position he must defend" Sun Tzu 'Art of War'
In a era long ago, The citizens of Jericho were faced with letting the walls that surrounded their city stronghold crumble, repair the wall or rebuild it. A situation very similar to the 2012 Ram's offensive line. Gone are the I got my money, under evaluated, formerly over hyped free agents (Jason Brown and Jacob Bell- the crumbling wall). Also the repair squad: Adam Goldberg, Mark Levoir, Tony Wraggle and Thomas Welch (who all did a fair job considering the huge injury situation). This leaves Harvey Dahl, Jason Smith and Rodger Saffold to set the rebuilding foundation for this years unit. Both Smith and Saffold are recovering from injuries and their recovery seem to be on schedule. Dahl is well, Dahl.
Many new faces pepper this unit. Veteran Pro-bowler Scott Wells will anchor the middle with Robert Turner and Bob Hubert backing him up. Rokevious Watkins, Kevin Hughes, Brian Mattison (#1 at left guard as of this posting) and rookie Michael Hay will vie for the guard spot opposite Dahl. Competing with Smith and Saffold at Tackle will be: Veteran Barry Richardson, re-tread Quinn Ojinnaka, Ryan McKee, rookies Joe Long and Jose Valdez.
You've read that I have used the term 'serviceable' when describing units in my postings. But, this unit, as well as the defensive backfield resembled a M.A. S. H. unit that Hawk-eye Pierce wouldn't have enough punch-lines in his joke-book for the state it was in last season.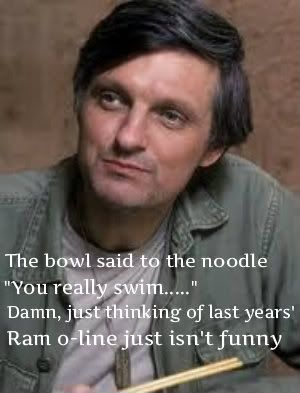 What differs here though from the defensive situation is that the line never meshed because of the injuries for sure, but mostly from force feeding the diverse playbook, which I believe was a factor in the large amount of penalties and expecting Sam Bradford to make line-calls.
Those of us who remember the many years running of very good to great o-lines may of been spoiled by this. Orlando Pace made it look so easy, that rumors were that he didn't give his all. We know that's not true due to the trend he helped innovate in technique. His footwork was graceful but athletic and his balance rivaled high-wire artist. Anyone who has watched film on the line can see how apparent the terrrrible footwork issue is.
Another missing element was leadership on the line. Another truly missing factor since G.S.O.T. Dahl was brought in last year to possibly fill that role and showed some diversity, but the new playbook and short preseason made for a major task for all. I believe Wells will fit that bill nicely this year, leaving Dahl to wreak havoc as we expect him to. Could we see either Smith or Saffold rise to new heights to surprise us all, not likely. But we do expect the staff to have everyone very motivated.
Effects of 2011
There were many glaring problems across the line not visible to the laymen. The very obvious scoring issue truly was a main factor in a 2-14 season. The units' other dings like penalties and sacks too, were excessive. The numbers don't lie. Even if the defense was top flight, last years issues on offense were just crappy enough to be in plenty of 13-10 loses.
Rankings
Line experience- 22nd
407 Rushing attempts- 23rd
1667 yards- 23rd
4.1 Average per attempt- 19th
7 touchdowns- 29th
Rushes to the left- 30th
Rushes to the center- 26th
Rushes to the right- 30th
Sacks 55- 32nd
Quarter-back hits 114- Tied for 31st
WPA negative factors- 5th
EPA positive factors- 30th
Analogy of a play
Everyone remembers for the first few seconds of the game vs. the Eagles last year after the defense stopped their offense, the Ram offense looked unstoppable. The N.F.L. network even said that the play was worthy of being on their top ten plays of 2011. Yes, the cause and effect spelled the doom for the game as Steven Jackson missed the remaining 59+ minutes. But, what a play! (video in introductions)
The Action
The following are clips of how the play was set-up. Gave the flow a catchy title A.A.R.F. (The Action, The Adjustment, The Re-action and The Finish)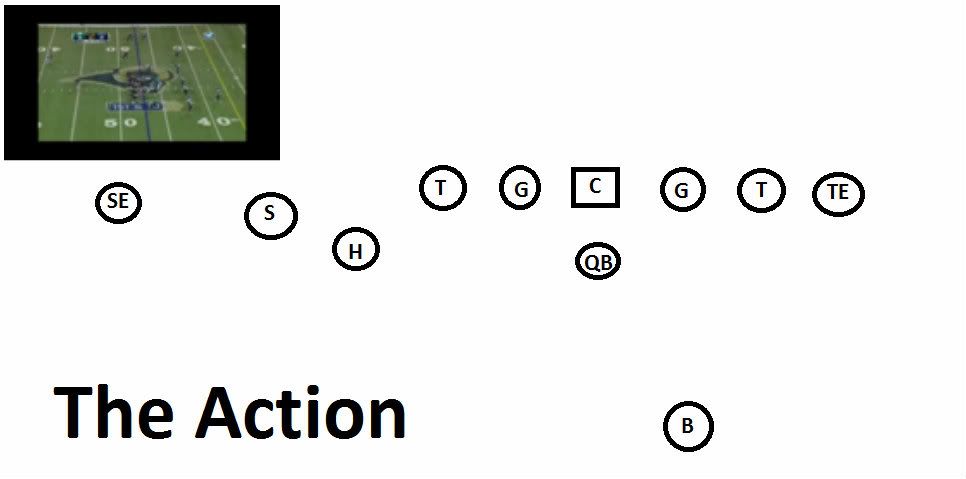 The Adjustment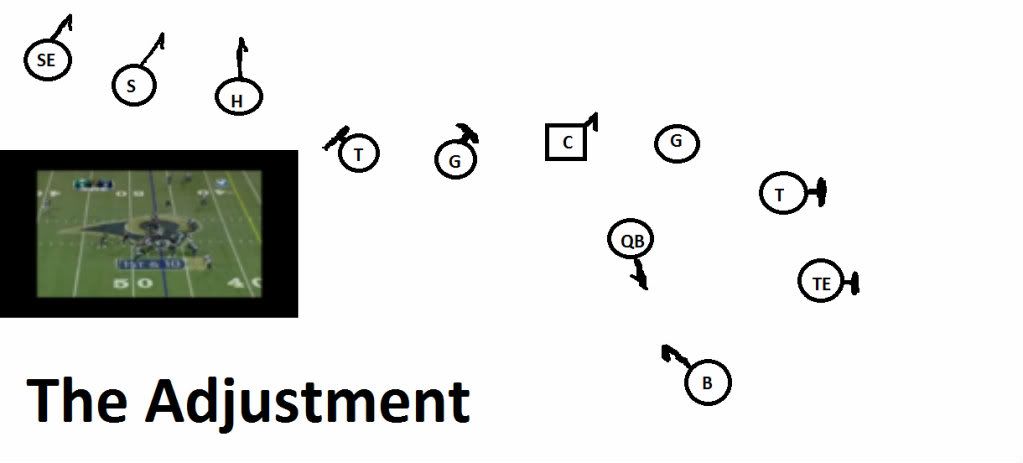 The Re-action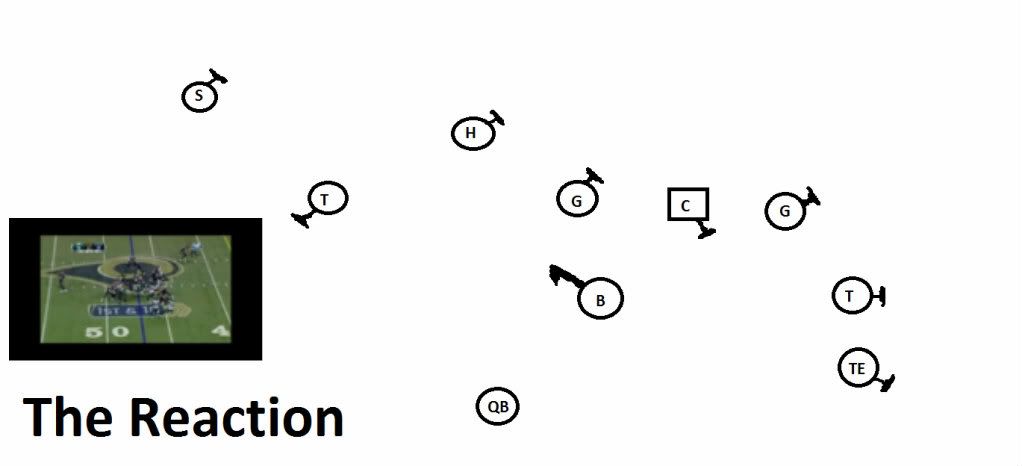 The Finish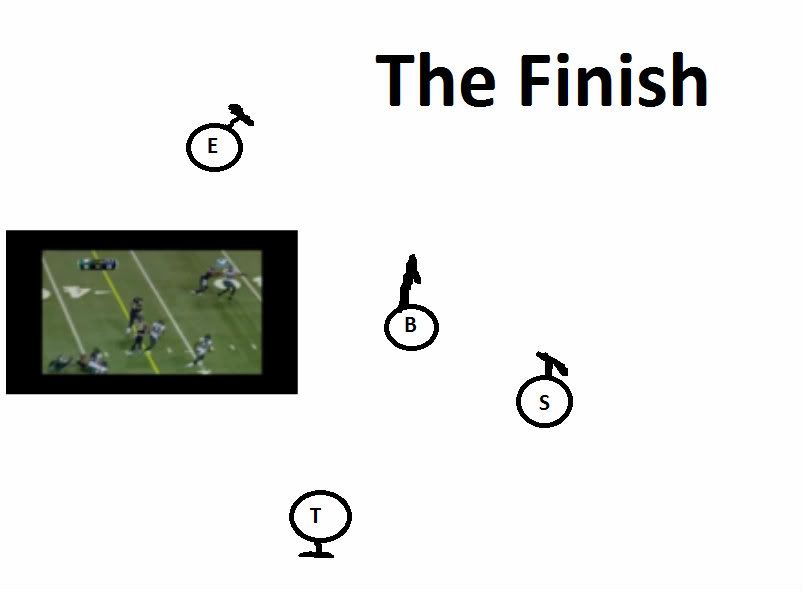 Introducing this years offensive line
In Closing
I've included this as hopeful inspiration for the Ram players, staff, front office and all my T.S.T. brothers here:
Choose You Attitude
The longer I live, the more I realize the impact of my attitude on life. Attitude, to me is more important than facts. It is more important than the past, the education, the money, than circumstances, than failure, than successes, than what other people think or say or do. It is more important than appearance, giftedness, or skill. It will make or break a company......a team....a faith.....a home. The remarkable thing is we have a choice everyday regarding the attitude we will embrace for that day. We cannot change people or the past.......we cannot change the fact that people will act a certain way. We cannot change the inevitable. The only thing we can do is play on the one string we have. And that is our attitude. I am convinced that life is 10% what happens to me and 90% of how I react to it. And so it is with you......we are in charge of our Attitude.