FA signings:
Courtland Finnegan
Projected:
Jason Jones DT
Mario Manningham or Steve Smith WR
Eric Winston OG/OT
Tracy Porter CB
John Carlson TE
Scott Wells C
Draft
Trade: The Kansas City Chiefs trade up to number six for Ryan Tannehill. The Chiefs give their 1st round pick, 2nd round pick, 5th round pick, and 2nd round pick for next year. We now have a few more picks to make something happen.
1.11 Courtney Upshaw OLB Ala- Upshaw fills a huge hole at OLB and will be an immediate starter. He is very athletic and is one of the best athletes. Upshaw might not be the best pick here but he makes the most sense considering our needs compared to who's available. The Rams would now have two really good OLBs.
2.33 Stephon Gilmore CB South Carolina- If Gilmore drops here I think the Rams will take him. He's a really good corner and I think that will translate quickly in the NFL. He would be a great consolation to Morris Claiborne. This would really strengthen our depth at corner.
2.39 Stephen Hill WR Ga Tech- Hill is possibly the biggest sleeper in the draft. He has the frame of an elite receiver and can make big plays. He is also very very fast and would be a burner with great size. Hill could end up being a Pro Bowl wide receiver.
2.44 Mike Adams OT Ohio St.- Mike Adams stock has been dropping ever since his unimpressive combine and that is a very good thing for the Rams. What people don't understan is that one performance at the combine doesn't decide who the player is. Adams was a great OT at OSU and he will be at least a good OT in the NFL, hopefully he .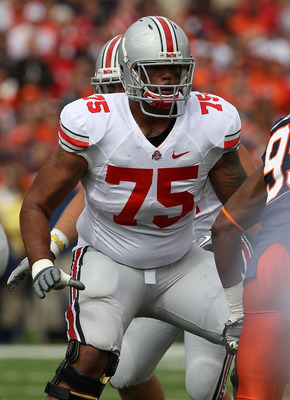 3.66 Bernard Pierce RB Temple- Unlike many other mocks that have the Rams taking a change of pace running back in the later rounds I have more of a power back here. He is the biggest running back in the draft at 6'0" 220 lbs. We know that you can find a good RB in the late rounds, it's happened before. Pierce is also pretty fast. He ran a 4.49 40 time. He would be a good pick here in my opinion and I hope that the Rams are able to make the pick for Pierce.
4.100 Emmanuel Acho OLB Texas- Another OLB is taken here, Emmanuel Acho. If he is anything like his brother, I hope we get him here. He will be part of a new world order at OLB. Now we at least have some more pieces to help fill up the need outside of JL.
5.138 Tommy Streeter WR Miami . – The rams pick up another WR. This one is taller and probably faster. He is huge and if he can be trained right can become a top receiver. He's just a raw player right now.
6.160 Michael Egnew TE Missouri- The Rams need more TE depth and Egnew is just another good TE that the Rams could use, but don't expect too much.
7.192 Lucas Nix Pit OT- Another OT that the Rams could try out for a spot at OT. Nix isn't a bad OT either he could end up being pretty good.
Please leave comments, I love feedback from you guys