Dilip Vishwanat - Getty Images
Can the St. Louis Rams stay above .500 with a Week 6 trip to Miami?
The Rams, in recent years, have had to heavily rely on the run in order to stay in games, or not get blown out of them. Steven Jackson has been a mainstay. Inconsistency in performance at the WR position, injuries, poor QB play, offensive line woes, a simple case of butter fingers, and a litany of other things, have made the passing game in St. Louis rather anemic for the better part of the last decade. And though the Rams have found a few bright spots in the WR department in 2012, establishing the running game is still essential for the Rams offense in order to win games. Would it surprise you to know that the Dolphins are probably glad to hear it?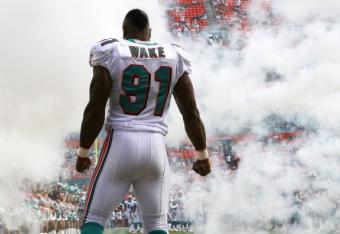 The Miami Dolphins, through the first five weeks of the season, have played Texans, Raiders, Jets, Cardinals, and Bengals. Outside of the Raiders, who have Darren McFadden, the list of the Phins opponents is a pretty respectable one. In Week 2, the Dolphins defense held Run DMC to just 22 yards rushing, and their ability to limit the opposition's running game is a large reason why they're ranked Number One in the NFL in rushing defense coming into Week 6. They've only allowed two rushing TD's through five weeks, and both of those came in Week 1, by way of Arian Foster who recorded 79 yards on the day. They're allowing their opponents, on average, 61.4 yards per game and at an extremely impressive 2.7 yard per carry. For the Rams, SJAX has yet to eclipse the 76 yard mark on the season, and is averaging 3.5 yards per carry.

The Rams, who will be without their most dangerous receiving weapon Danny Amendola, may find it easier to prove successful through the air than in weeks past. Aside from the their matchup against the Washington Redskins, Sam Bradford has faced some of the more respectable defenses in the NFL - in division rivals Seahawks and Cardinals - and despite less-than-stellar stat lines, has found a way to lead his team to victory. Sam eclipsed the 300 yard mark in Week 2, but has only surpassed 200 yards in one other game this season. This week, he may be able to expose a Dolphins secondary who are allowing nearly 282 yards per game [27th]. Opportunity knocks.

If the number one ranking for stopping the rush doesn't surprise you, then I suppose knowing that rookie quarterback Ryan Tannehill connecting with Brian Hartline for a league-leading 514 yards isn't startling either. To be fair, the majority [nearly half] of that yardage came in Week 4, when Hartline scorched the Cardinals D for 253 yards on 12 catches. The Rams have done an excellent job in limiting the big play ability of the NFL's best WR's thus far in the 2012 season. And though he's not Calvin Johnson or Larry Fitzgerald, Cortland Finnegan and Janoris Jenkins will need to cover Hartline as if he is. A quiet day for Hartline means more desirable matchups against the likes of Davone Bess and Anthony Armstrong for other members of the Rams secondary.


The Rams are, if they haven't already, gaining an identity for having a physical defense that capitalizes on pressuring the quarterback. Tannehill and his offensive line will have their hands full this weekend. Just ask Kevin Kolb. And the Rams secondary, who prior to last weeks sack-fest, had been the highlight of the defense, amassing eight INT's through it's first four games. If Chris Long and Robert Quinn aren't kept out of the backfield, rookie mistakes could lead to points for the Rams defense. The Rams defense are making us believe that they're winners. What is yet to be seen is whether or not they can make us believe they can win on the road. Outside of Week 15's matchup against the Bucs, this will most likely be their best chance to prove they can.