via media.mlive.com

Hey whats good everyone...
This week the Rams fired their Head coach Steve Spagnuolo and their General Manager Billy Devaney. Today the Rams Offensive Coordinator Josh McDaniels went to the Patriots, so we need an entirely new coaching staff. It has been reported that Jeff Fisher is close to being named the Rams new head coach. I like what he will bring to the Rams. He is more of a defensive coach, but he works on having a run first offense.
Also today, the Rams will be interviewing Ray Horton from the Cardinals. The Rams have asked the Falcons if they can interview Les Snead for the Rams general manager job. They have yet to answer the Rams request (probably due to the playoffs), but I think they will let the Rams interview him. In addition, the Rams should ask to interview Rob Chudzinksky, who is a very good offensive coach. So this is who the Rams could have for their coaching positions in 2012:
Head Coach: Jeff Fisher
General Manager: Les Snead
Offensive Coordinator: Rob Chudzinksky
Defensive Coordinator: Ray Horton
Team Keepers: These are the players i think the Rams will keep in 2012. Sam Bradford, Kellen Clemens Steven Jackson, Brit Miller. Greg Salas, Danny Amendola, Austin Pettis, Lance Kendricks, Rodger Saffold, Jason Smith, Harvey Dahl, Tony Wragge, Adam Goldberg, Chris Long, Robert Quinn, Gary Gibson Justin Bannan, Chris Chamberlain, James Laurinaitis, Bradley Fletcher, Josh Gordy, Ron Bartell, Jerome Murphy, Quinten MIkell, Darien Stewart, Craig Dahl, Josh Brown and Donnie Jones.
Free Agent Signings: Their are many players the Rams can grab in Free agency but these players will catch their eyes the most and upgrade their team. Mike Tolbert RB, Marques Colston WR, Carl Nicks OG, and Demetrius Bell OT.
Wants: The Rams signed 4 people that can help them right away. here are the wants we need. A running back. Getting a RB is more a luxury pick that can be addressed during Free agency. But if their are still good Running Backs on the board we should take a look at them. A Corner Back. We had 10 corner backs that went down on injured reserve this year and three of them had good talent Bradley Fletcher, Ron Bartell, and Jerome Murphy. Those three corners should be back and healthy next season. Ron Bartell has been reported to play next season. he just needs to heal a bit more. So if we get a corner it will also be more of a luxury than a need.
Needs: The Rams have talented players on their roster. Its just we are missing a few pieces to make this team a contender. So here are the needs we need to have to become a true contender. A true number one receiver. The Rams had one of the best receiving corps during "THE GREATEST SHOW ON TURF". But now we do not even have a number one receiver. Players like Salas, Amendola, and Pettis are good but they are not proven number one receivers. This season Sam Bradford had no body to throw to besides Brandon Lloyd. Salas and Amendola both went down on injured reserve which hurt their corps a lot. Also Brandon Lloyd stated were ever Josh Mcdaniels goes he will go and Mcdaniels went to the Patriots today so Lloyd is possibly going to end up in New England. So we need to get a receiver either in the first or second round. Defensive Tackles. We had no depth at all at the DT position this year. The only player we could have relied on was Justin Bannon. Fred Robbins played horrible this year because he is very old. Are rush defense was the worst this year. So in the draft getting 2 DTs will help us out well.
Rams are on the clock with the second pick. The Colts just selected Andrew Luck. What a shocker.. Anyways we got MANY trade offers today but their was one we could not say no to. The Browns offered both of their first round picks, their second round pick, their third round pick, and their first round pick in the 2013 NFL draft. So we said Hell yeah to the trade.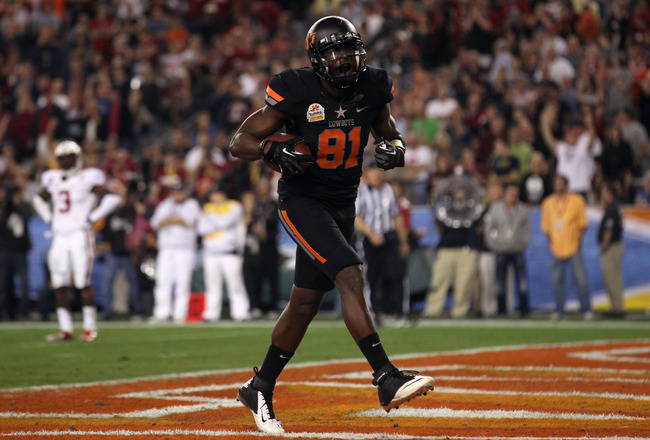 1A. Justin Blackmon WR
1B. Devon Still DT
2A. Zach Brown OLB
2B. Lamar Miller RB
3A. Trumaine Johnson CB
3B. Kawann Short DT
4. Michael Brewster C.
6. Ladarius Green TE.
7. Jeff Demps HB/ WR
All of these players he Rams drafted are very good and fill their holes. We get 2 DTs and that will help very much. We got a number one receiver in the first who will help Sam Bradford with a great target. In addition we drafted 2 RBs that are playmakers and one of them is elite. Also we added a corner back that could fill in for another corner back if one gets injured. Next we get the only offensive line position we need and thats a center. Finally we get a play maker ability tight end that will play great with Lance Kendricks and help Sam Bradford. This draft would be an easy. A+
Roster 2012: QB Sam Bradford, Kellen Clemens. RB Steven Jackson, Lamar Miller, Mike Tolbert, Jeff Demps. FB Brit Miller. WR. Justin Blackmon, Marques Colston, Greg Salas, Danny Amendola, Austin Pettis. TE Lance Kendricks, Ladarius Green. LT Demetrius Bell LG Carl Nicks C Michael Brewster RG Harvey Dahl RT Rodger Saffold LDE Chris Long LDT Devon Still RDT Kawann Short RDE Robert Quinn WOLB Chris Chamberlain MLB James Lauranitis SOLB Zach Brown CB Bradley Fletcher FS Quinten Mikell SS Darien Stewart CB Trumaine Johnson CB Ron Bartell Punter Donnie Jones Kicker Josh Brown Kick Returner Jeff Demps Punt Returner Jeff Demps.
Depth Players: Adam Goldberg, Tony Wragge, Gary Gibson, Justin Bannan, Jerome Murphy, and Josh Gordy.
Their you have it, Thanks For reading!! IN BRADFORD I BELIEVE