For anyone who hasn't yet read this piece by Adam Schefter of ESPN, I will recap the pieces that could be of interest to the Rams, even if Schefter did not include the Rams in his discussion.
Denver trades LB D.J. Williams and safety Brian Dawkins to the Eagles for a third-round pick: For simply one of the surplus of picks that they already have, the Eagles could get two players they need: the type of linebacker their defense lacks and the type of leader they should not have let go.
[+] Enlarge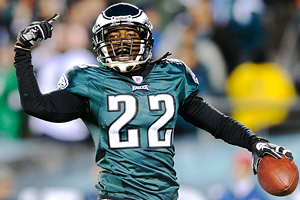 AP Photo/Michael PerezThe
Lions
could use a player like
Asante Samuel
, especially when they play the
Packers
.
• Philadelphia trades CB Asante Samuel to the Lions for a second-round pick: Few teams are as demanding in trade talks as the Eagles, but the day is going to come when they trade Samuel. And the Lions could use another premier cornerback to help battle the Packers in the regular season and, quite possibly, in the postseason.
• Kansas City trades WR Dwayne Bowe to the Titans for second- and fifth-round picks: Kansas City invested a first-round pick in wide receiverJonathan Baldwin and millions in free-agent wide receiver Steve Breaston. The Titans could use a replacement for Kenny Britt, along with some insurance in the event he encounters more legal issues.
Would any of these deals make sense for the Rams? Of course, we all now know the team has almost no cap space, which obviously presents an immediate problem. Could the team trade some players for picks, thereby freeing up cap space? Perhaps it doesn't work that way, or the likelihood of doing so is nil, ie nobody would trade a pick for Jason Smith and his contract. In any case, I thought these trade suggestions offer food for thought. The Rams could use all 5 of the mentioned players, and given the diminished faith by most on this site that the FO can successfully use the draft picks, what are your thoughts?