With the first round in the books, the Rams have their recently acquired QB Sam Bradford filling a major need.  Even though I was hoping somehow that The House of Spears (Suh) would be our pick, the best QB in the draft is hard to argue with.  


Let's take a look at the options the Rams have in the Second Round.  Keep in mind that there are several glaring needs that will need to be addressed-DE, OLB, back-up RB, DB, and RT (Sorry Barron your future is not with Rams horns much longer).  Anyhow lets look at what have to look forward to at #33, assuming that Billy D can not wheel and deal:
Sergio Kindle, OLB Texas
Hands down the best OLB left in the draft.  He is a big, strong, disruptive force, who applies exceptional pressure to opposing QB's.  Some may have thought his effectiveness was largely in part to Orakpo drawing so much attention last year, but he proved that to be false this year causing havoc all over the place.  Now, before someone chimes in and says that he is only a OLB in a 3-4 system, let me remind the group that he had 2 seasons at Texas where he played OLB in a 4-3.  He is not only comfortable with it, but says he enjoys dropping in coverage because he never has to leave the field.  Pairing him with JL would be a good thing for our future Defense.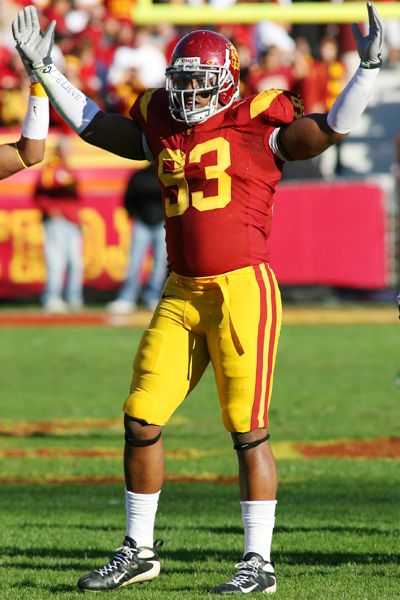 Everson Griffen, DE USC
A physical beast at DE, who has the ability to play all three downs.  Griffen finished the 2009 season with 45 tackles, including 9.5 tackles for losses and 8.0 sacks. In his career at USC, Griffen finished with 18 sacks.  There are questions about his work ethic and for those who watched USC the last two seasons, it would be hard to argue against that.  However, the last 8 games this last season we saw a more consistent effort and the potential that has been raved about since he came in as a freshman and earned a starting spot as a true Freshman (not an easy feat at USC). Now if there is any coach that can get the most out of his DEs, its coach Spags.  This guy kind of reminds me of a Justin Tuck make-up.  Long needs help on the other side of the line.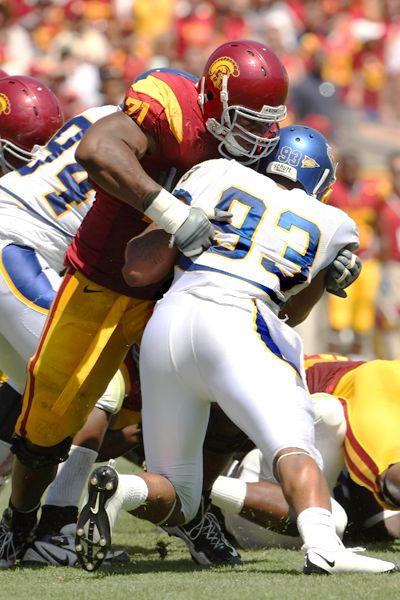 Charles Brown, OT USC
A very athletic OT, that like Jason Smith, transitioned from TE and became a successful OT.  He does well with long arms and a solid slide step.  His strength would have to be his pass blocking ability.  At the next level he may have trouble being a dominant run blocker, meaning he is not going to be opening up huge running lanes for SJ.  I don't know if he is the best match for us at RT, considering our pound the ball mentality, but there is no doubt he is a solid young talent.  
Carlos Dunlap, DE Florida
An absolute freak at DE with a great combination of size and speed (6'6, 277lbs).  He uses his hands well and causes problems for both Interior linemen and OTs.  He does a good job pressuring the QB, collapsing the pocket, and chalking up TFLs and sacks.  He does a good job of defending the run, although his pass rush is his strength.   He dose have some questions regarding his work ethic and character.  He passed out in his vehicle in the early hours of the morning while at a stop light....how much beer do you think it would take a 277 lb man to pass out?  A pony keg...I kid.  There is no doubting his ability.  He is a rare talent and if our brass feel that they can keep him on a straight and narrow, we would be coming up on one hell of a talent.  Plus he fits Spags desire for versatility along the D-line, offering max pass rushing ability.   When he gets his arms up, good luck getting the ball by that tower of power.  Plus, he is a special teams stud...4 blocked kicks says so.
Brian Price, DT UCLA- I don't think DT is a huge need for us right now, especially if his name does not translate to "House of Spears" (I think that is so cool...damn you Detroit)
Taylor Mays, S USC- We don't need a Safety that badly, assuming Togs signs something soon.  
Daryl Washington, OLB TCU- A bit undersized but a very productive OLB, with great athleticism.
Brandon Spikes, LB Florida- I personally love him for a SLB even though he mainly played MLB in college.  However coach Strong showed us for two years straight that Spikes can play anywhere in the front 7.  He is as good against the run as any LB in the draft.  I think he would be a great pick if we are able to move down in the 2nd.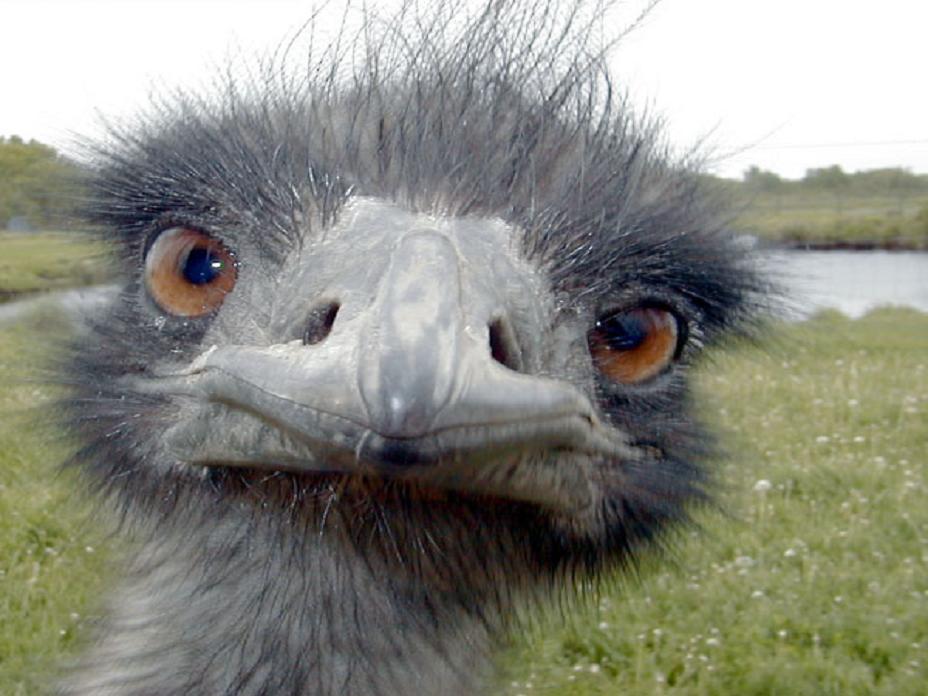 sorry had to do it... kudos to StopSpe for the pic.
Jimmy Clausen, QB ND-HAHA, I had to put this up.  I know he is a good player and an even better value for the 2nd round, but I also knew he was overrated as a predicted top 10 pick; and having seen this guy live 4 times and watched damn near every one of his games (GF and her family are ND fans) nothing changed that.  Sorry Midasknight, I just am not that high on the guy, but I hope he does well wherever he goes (unless he goes to someone in the NFC West).  
I look forward to tomorrow, even if I do have to go to the dentist before the draft.