I was discussing in an earlier post that Chauncey Washington was able to draw some attention during his time with the Jets this pre-season on Hard Knocks.  In their preseason game against Carolina, Washington was trying to earn his way to the roster on special teams.  He was sitting 5th on the depth chart, so ST was his shot.  On a punt return a Carolina Panther made a mistake of cutting back into Washington, who lit the guy up and caused a fumble.  He lowered his body and exploded through the guy knocking the ball loose.  With this play he not only made Rex extremely happy....."Holy Shit! Holy Shit! What a hit.  Holy Shit!"  came out of Rex's mouth, he also earned some time on the field.  "That kid wants to Play!"  They let Washington run the next few series and he ran relatively well.  He hit his holes hard and lowered his shoulder right into the defenders, all the while keeping his legs moving.  He showed patience behind his blockers and made sure that the defense dedicated multiple guys to bring him down.  He was given the gameball after the game.
I like the versatility out of the young 5'11, 222 lb RB.  Here is a bit of background for our new RB:
He committed to USC in the same class with a few names that you guys should know...Reggie Bush and LenDale White. His early years were plagued with injuries his freshman year and it only got worse from then on for him.  
Washington was ruled academically ineligible for the 2004 season and was redshirted. Washington was again academically ineligible for the 2005 season and lost his athletic scholarship. After considering entering the NFL Draft, leaving USC or transferring to a different school (with easier academic requirements), Washington was encouraged by his parents, teammates and university staff to stay in school and focus on academics while paying his own way through school. After much focus and hard work, Washington finally regained academic eligibility in the spring of 2006, and regained his scholarship that August.
Initially planned as the starting running back for the 2006 USC Trojans, the redshirt junior suffered a hamstring injury in pre-season practice, but had re-gained the starting position by midseason. He told the Los Angeles Times' Gary Klein that he had decided to forego the 2007 NFL Draft and return for his redshirt senior season.
Going into 2007 spring practice, Washington's grades again became a concern.[2] At the start of the 2007 season, Washington was again sidelined with an injury and did not play in the Trojans' opener. However, he rushed for over 900 yards and was a Pac-10 honorable mention player.
In that 2007 season, he was in another stable of RB's for USC and he definitely was able to shine.  
There is no doubting Washington has talent, however I wonder about his dedication in the studying department.  Is he going to be that guy watching lots of film to make sure he can not only pin point a defensive weakness, but also make sure that he can help out his QB, no matter what the defense throws at him.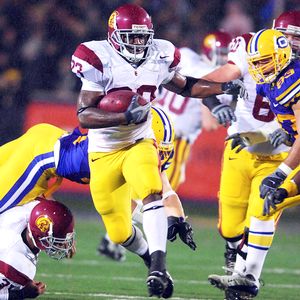 That being said, the NFL is all about opportunities....and we will be watching to see what Washington does with his.